Description
Arts Futures is a summer seminar series co-hosted by Interactive Ontario and the Cultural Human Resources Council in Toronto and Ottawa. It provides arts-focused digital skills and strategy training for artists, arts & culture organizations and interactive digital media producers. This session will wrap up the series and provide a great opportunity for networking. Your registration includes the keynote presentation, plus a reception with great food and drinks.
Our hope is that participants will connect with each other and perhaps spark the beginning of new collaborations under Canada Council for the Arts' Digital Strategy Fund.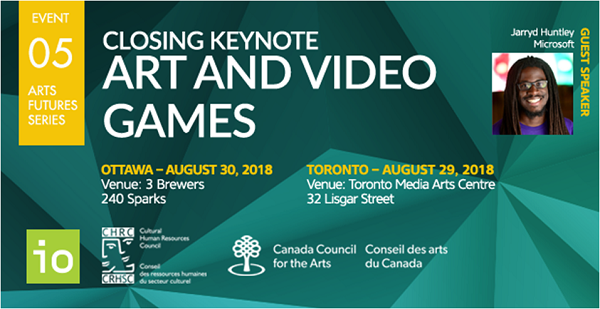 Arts Futures Closing Keynote with Jarryd Huntley – Arts & Video Games

Please note the special time: 6pm – 8:30pm.
Game development is an incredibly multidisciplinary field, bringing together creators with various backgrounds. Without formal training, it can be intimidating starting to learn skills in a new discipline. With experience teaching artists how to program in his book Game Programming for Artists, with teaching non-artists how to make art in his game Art Club Challenge(iOS), and with his background in education, Jarryd Huntley will share tips and suggestions when exploring a new field. He'll also offer practical advice on how to get started working in the medium of games.
Speaker Bio:
Jarryd Huntley, a Civic Tech Fellow at Microsoft, plays important roles in Cleveland's game development scene as both an academic by teaching game development at Lorain County Community College, and as an independent game developer. His studio, Polytundra LLC, just released their debut title Art Club Challenge, which was featured in the 2017 Smithsonian American Art Museum Arcade.
With talks at universities and conferences (including IndieCade and GDC), he brings a unique perspective by drawing on his experiences from software engineering and as a professional musician. In addition he recently finished co-authoring his first book, Game Programming for Artists, available now.
Presenting Partners


Event Partner