Description
Arts Futures is a summer seminar series co-hosted by Interactive Ontario and the Cultural Human Resources Council in Toronto and Ottawa (with a livestream of each session for those who can't join in person!). It provides arts-focused digital skills and strategy training for artists, arts & culture organizations and interactive digital media producers. Wondering about arts applications for digital technologies such as virtual reality or blockchain? Arts Futures has you covered!
Our hope is that participants will connect with each other and perhaps spark the beginning of new collaborations under Canada Council for the Arts Digital Strategy Fund.
If you can't join in person, sign up here to receive a reminder about the livestreamed sessions 15 minutes before they begin.


Session 4: Digital Discoverability - August 23, 2018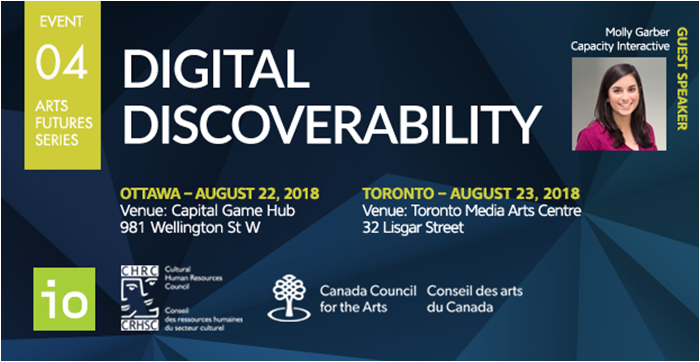 How Any Organization Can Win With Digital Marketing
With digital marketing, it's easy to get distracted by shiny buzzwords and new channels. Don't take the bait! In this session, discover how to prioritize digital marketing and leverage various platforms based on your organization's needs and budget. Understand why marketers must focus on mobile, social storytelling, search, video and digital infrastructure. Using data from CI's Digital Benchmark Study, Molly Garber will review why each area is important and provide relevant case studies from organizations of varying sizes. Learn how to get the biggest bang for your buck, set priorities for the year ahead and reach people in the moments that matter.
Speaker Bio:
Molly Garber is a Consultant at Capacity Interactive, working with leading arts institutions such as Jazz at Lincoln Center, Yale Repertory Theater, Jacob's Pillow Dance Festival, Vancouver International Film Festival, and The John F. Kennedy Center for Performing Arts. Prior to joining the CI team, she worked as a marketing specialist for a national professional services firm. Molly graduated from Boston University, College of Fine Arts, with a BFA in Acting. Though she isn't currently performing on stage, Molly is an active theater-goer, museum visitor, and ice-cream taste tester.
Venue

Toronto Media Arts Centre - 32 Lisgar Street
Toronto, Ontario

The main entrance is on the north side of the building, opening up onto Lisgar Park. The park is accessible from all sides via gently sloping ramp, but is mostly level with the sidewalk. The park is mostly flat, obstacle-free concrete. The main entrance to the building features three sets of doors. The one on the far left appears to be motorized, but the button has not yet been installed (as of March 2018). The other two double doors open fully and will be propped open during favorable weather. All of the doors open by pushing inward, not pulling. If you are arriving for an event, someone will be inside the entrance to assist you. If you encounter any issues, please call or text (416) 879-8942 and someone will be happy to meet you.
If you have any other requirements you feel comfortable sharing please contact joy[at]interactiveontario.com and we will do our best to accommodate them.

Schedule
11am - Doors open
11:15am - 12:45pm - Presentation by Molly Garber
12:45pm - 1:30pm - Networking Lunch
Click here to register for the Arts Futures Closing Keynote and Reception - featuring a presentation on Art & Video Games by Jarryd Huntley (Microsoft Civic Tech fellow; Author of Game Programming for Artists; Creator of the game Art Club Challenge)

Presenting Partner

We acknowledge the support of the Canada Council for the Arts, which last year invested $153 million to bring the arts to Canadians throughout the country.
Nous remercions le Conseil des arts du Canada de son soutien. L'an dernier, le Conseil a investi 153 millions de dollars pour mettre de l'art dans la vie des Canadiennes et des Canadiens de tout le pays.
Event Partner