Description
Arts Futures is a summer seminar series co-hosted by Interactive Ontario and the Cultural Human Resources Council in Toronto and Ottawa (with a livestream of each session for those who can't join in person!). It provides arts-focused digital skills and strategy training for artists, arts & culture organizations and interactive digital media producers. Wondering about arts applications for digital technologies such as virtual reality or blockchain? Arts Futures has you covered! Each session will feature two presentations related to the theme for that week and will offer a networking lunch between sessions.
Our hope is that participants will connect with each other and perhaps spark the beginning of new collaborations under Canada Council for the Arts Digital Strategy Fund.
If you can't join in person, sign up here to receive a reminder about the livestreamed sessions 15 minutes before they begin.
When registering for tickets, please ensure you select the date(s) that corresponds to the session or sessions you wish to attend.
Sessions and Dates

Session 3: Immersive Experiences - August 2, 2018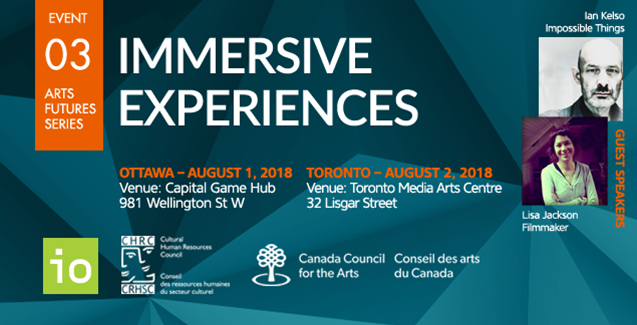 This session will offer a window into the use of technologies such as augmented and virtual reality for arts and culture.
Ian Kelso of Impossible Things will cover how augmented reality can transform the museum-going experience. He'll discuss his company's projects that blend physical and digital media, such as ReBlink, a massively successful project for the Art Gallery of Ontario that allowed patrons to interact with and remix class paintings.
Filmmaker Lisa Jackson will offer possibilities for storytelling using virtual reality, as she did on her project Biidaaban: First Light, which illuminates how the original languages of this land can provide a framework for understanding our place in a reconciled version of Canada's largest urban environment. Find out about the process of creating narratives in virtual reality and the collaborations required to bring them to life.
Speaker Bios:

Lisa Jackson
Filmmaker
Lisa Jackson's films have aired on many networks in Canada, screened at Berlinale, SXSW, Margaret Mead, London BFI, and Hotdocs, and garnered a Genie award for her short film SAVAGE. She works in fiction and documentary and her projects often cross genres. Her CBC documentary Indictment: The Crimes of Shelly Chartier (co-directed with Shane Belcourt) won Best Documentary at imagineNATIVE in 2017, her VR piece Biidaaban: First Light premiered at Tribeca in 2018 and will launch in Toronto in September 2018, and the 360 video HIGHWAY OF TEARS that she directed for CBC's The National toured the country and has been widely seen. Named one of 10 to Watch by Playback Magazine in 2012, she is an alumna of the TIFF Talent Lab, CFC Directors' Lab and was a fellow at the MIT Virtually There VR conference in 2016. She is a director mentor for the NSI IndigiDocs program and sits on the advisory committee for the NFB's Indigenous Action Plan.
Ian Kelso
Co-Founder of Impossible Things
For over two decades Ian has been unable to resist the compulsion to work with new technologies and platforms, ones that have reshaped the way we create, collaborate and communicate. Originally schooled in film, photography and live theatre, Ian became obsessed early on with new digital tools that had the power to reinvent the way we tell stories and learn. Over the years Ian has worked as a producer and an entrepreneur inside both startups and major media enterprises. An industry advocate, Ian also co-founded digital media associations at the regional and national levels in Canada.

In 2016 Ian co-founded Impossible Things with award-winning digital visionary Alex Mayhew. Their first project ReBlink "remixed" and brought to life ten classic paintings allowing museum visitors to engage, explore and interpret them in brand new ways. He is also co-organizer of AWE Night TO, an AR monthly event series based in Toronto.

Session 4: Digital Discoverability - August 23, 2018
Session details to be announced at a later date.


Session 5: Closing Keynote – Digital Arts & Culture - August 29, 2018
Please note the special time: 6pm – 8:30pm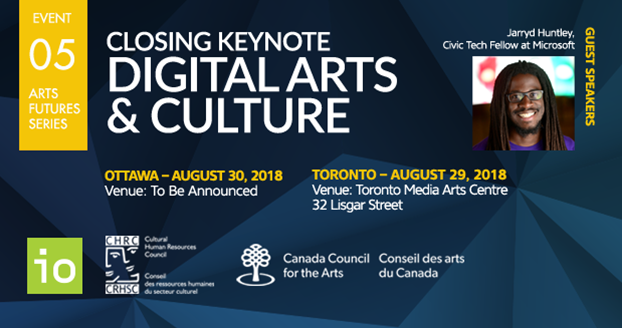 Game development is an incredibly multidisciplinary field, bringing together creators with various backgrounds. Without formal training, it can be intimidating starting to learn skills in a new discipline. With experience teaching artists how to program in his book Game Programming for Artists, with teaching non-artists how to make art in his game Art Club Challenge(iOS), and with his background in education, Jarryd Huntley will share tips and suggestions when exploring a new field. He'll also offer practical advice on how to get started working in the medium of games.
Speaker Bio:
Jarryd Huntley, a Civic Tech Fellow at Microsoft, plays important roles in Cleveland's game development scene as both an academic by teaching game development at Lorain County Community College, and as an independent game developer. His studio, Polytundra LLC, just released their debut title Art Club Challenge, which was featured in the 2017 Smithsonian American Art Museum Arcade.
With talks at universities and conferences (including IndieCade and GDC), he brings a unique perspective by drawing on his experiences from software engineering and as a professional musician. In addition he recently finished co-authoring his first book, Game Programming for Artists, available now.
Venue

Toronto Media Arts Centre - 32 Lisgar Street
Toronto, Ontario

The main entrance is on the north side of the building, opening up onto Lisgar Park. The park is accessible from all sides via gently sloping ramp, but is mostly level with the sidewalk. The park is mostly flat, obstacle-free concrete. The main entrance to the building features three sets of doors. The one on the far left appears to be motorized, but the button has not yet been installed (as of March 2018). The other two double doors open fully and will be propped open during favorable weather. All of the doors open by pushing inward, not pulling. If you are arriving for an event, someone will be inside the entrance to assist you. If you encounter any issues, please call or text (416) 879-8942 and someone will be happy to meet you.
If you have any other requirements you feel comfortable sharing please contact joy[at]interactiveontario.com and we will do our best to accommodate them.

Schedule
11am - Doors open
11:15am - 12pm - Series Topic with Speaker #1
12pm-12:45pm - Networking Lunch
12:45pm - 1:30pm - Series Topic with Speaker #2

Presenting Partner

We acknowledge the support of the Canada Council for the Arts, which last year invested $153 million to bring the arts to Canadians throughout the country.
Nous remercions le Conseil des arts du Canada de son soutien. L'an dernier, le Conseil a investi 153 millions de dollars pour mettre de l'art dans la vie des Canadiennes et des Canadiens de tout le pays.
Event Partner