A 4-day event focused on professional and creative development, industry knowledge and connections to potential future work opportunities!
About this event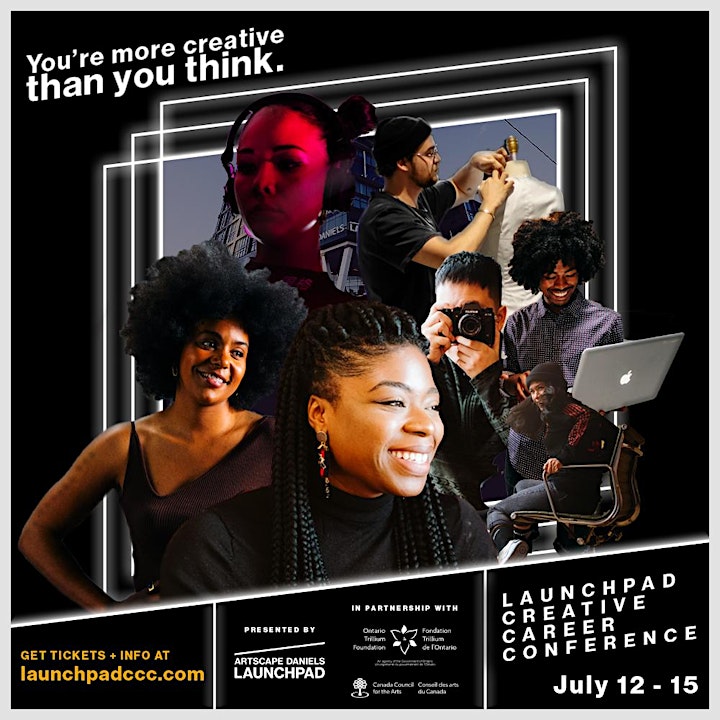 Launchpad Creative Career Conference is returning this SUMMER!
With four days of industry insights, professional growth and connections to potential future work opportunities, LaunchpadCCC was programmed to help the artists, designers and creatives most impacted by COVID-19. Attendees will get a first-hand opportunity to connect and learn directly from some of Toronto's leading organizations in branding, design, fashion retail, media, art, digital solutions and much more.
Speakers and workshops provided by Refinery29, Jam3, 4YE and Tier0
View the official Launchpad Creative Career Conference site here.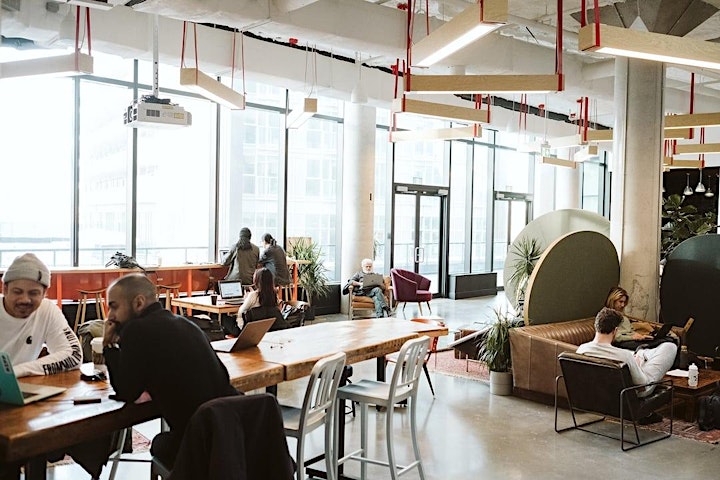 SCHEDULE
MONDAY, JULY 12
Refinery29 (12:00 PM – 1:00 PM):
Yazmin Butcher, Refinery29's Senior Art Director will present her thoughts and experiences in branding. She will define personal branding and identity growth as a BIPOC Professional. Answering the question, "how do you create a unique voice through your work and career?
TUESDAY, JULY 13
JAM3 (12:00 PM – 1:00 PM):
Geoff Snack is a strategist and professor, working for Jam3, Miami Ad School and OCAD. His talk will highlight the workings of strategy and partnership growth and sustainability. Where he will showcase how to develop strategy with brand partnerships to leverage influence that will impact the business and other relationships.
WEDNESDAY, JULY 14
4YE(12:00 PM – 1:00 PM):
Summer Ruddock-Ellis, who is the founder of both fashion brands By Pseudonym 4YE, as well as a stylist, will walk through her process of building a brand online. This includes understanding online marketing, wholesaling, and e-commerce. In addition, to business sustainability and navigating through cultural/economic shifts in the present day.
THURSDAY, JULY 15
TierZero (12:00 PM – 1:00 PM):
Jamal Burger is a photographer and founder of The Kickback and Tier Zero. Working in non for profit and creative production. Jamal will create a presentation that will speak on his experience marketing and managing multi-creative businesses. He will dive into his process of how he juggles various projects; their different goals; and multi-creative objectives. As well as what it means to balance these creative endeavours.
FAQ
Where is this year's event being hosted?
Launchpad Creative Career Conference will be hosted online through Launchpad's Zoom channel. Registration is required to receive access.
How will I receive access to these events?
Register for LaunchpadCCC through our online ticket portal. Once you are registered, you will receive confirmation via email. You will then receive critical updates and news through this email. You will also receive the Zoom link for your registered sessions the morning of the scheduled event . If you are not receiving emails and you registered, please contact ablairroberson@artscape.ca.
How much does it cost?
COVID-19 has had significant economic impacts on the creative community. To help remove as many barriers as possible, Launchpad Creative Career Conference 2021 has a pay-what-you-like ticket pricing model. As a non-profit organization, any funds that Artscape Daniels Launchpad receives go toward subsidizing this event (and others) for the creatives most impacted by this pandemic. We thank you in advance for your support!
Can I cancel or transfer my tickets?
Ticket purchases are non-refundable but you may transfer your ticket to someone else. Please follow Eventbrite's guide to transferring tickets here. We reserve the right to change the above policy at any time without prior notice. We also reserve the right to cancel the event, and if this occurs, we shall refund the total fees paid.
Who should attend Launchpad 's Creative Career Conference?
Anyone who is looking to achieve professional growth within their career can attend the Creative Career Conference. The conference will feature industry leaders from different parts of the creative industry, providing a unique set of teachings, experience and insights to the work they do as creative entrepreneurs.
Will these events be recorded if we cannot attend?
Unfortunately, due to privacy restrictions, we are unable to record the conference sessions. If you are unable to attend, Launchpad offers an array of public programming that focuses on career development and creative entrepreneurship through Launchpad Learning For more information visit www.artscapedanielslaunchpad.com/launchpad-learning/.
What is Artscape Daniels Launchpad?
Artscape Daniels Launchpad is a first-of-its-kind creative entrepreneurship hub designed to help emerging and established artists, designers and creators from all disciplines grow thriving careers. This unique facility on Toronto's waterfront brings together 30,000+ sq. ft. of state-of-the-art, multidisciplinary creative and technical studios; co-working space, meeting and event facilities; and specialized creative entrepreneurship programs, workshops and events--all designed to support and inspire creative experimentation, learning and collaboration. Launchpad offers members the chance to be part of a vibrant, diverse community of creators as well as to engage in mentorship, learning programs and wayfinding to plug into resources and business opportunities. Learn more about Launchpad and how to become a member at artscapedanielslaunchpad.com
Organizer of Artscape Daniels Launchpad Creative Career Conference
Artscape Daniels Launchpad is a first-of-its-kind hub for creative collaboration and entrepreneurship designed to empower emerging and established artists, designers and creators from all disciplines to forge a prosperous career. Launchpad offers one-stop access to specialized creative entrepreneurship programs and over 30,000 sq. ft. of coworking facilities and state-of-the-art creative and technical studios--all within a supportive, vibrant community providing opportunities to connect, collaborate and gain access to coaching, mentoring and business opportunities.
Launchpad, located on the fourth floor of the Daniels Waterfront – City of the Arts complex overlooking Toronto's waterfront at 130 Queen's Quay East, is operated by Artscape and is named in recognition of the outstanding financial support of The Daniels Corporation, the John and Myrna Daniels Foundation and WJ Properties.