A 4-day event focused on professional and creative development, industry knowledge and connections to potential future work opportunities.
About this Event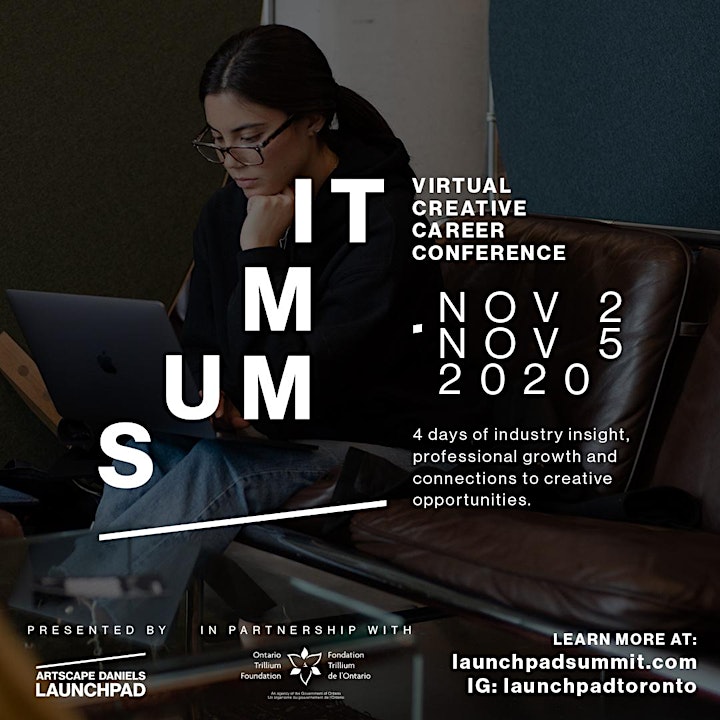 Launchpad SUMMIT is returning this year for their first virtual creative career conference.
With four days of industry insights, professional growth and connections to potential future work opportunities, SUMMIT 2020 was programmed to help the artists, designers and creatives most impacted by COVID-19. Attendees will get a first-hand opportunity to connect and learn directly from some of Toronto's leading organizations in branding, design, fashion retail, media, art, digital solutions and much more.
Speakers and workshops provided by AGO, Refinery29, Mo Bofill, Frontier, R3VE, VSP, Artscape and Robin Nishio of Common Good. View the official SUMMIT site here.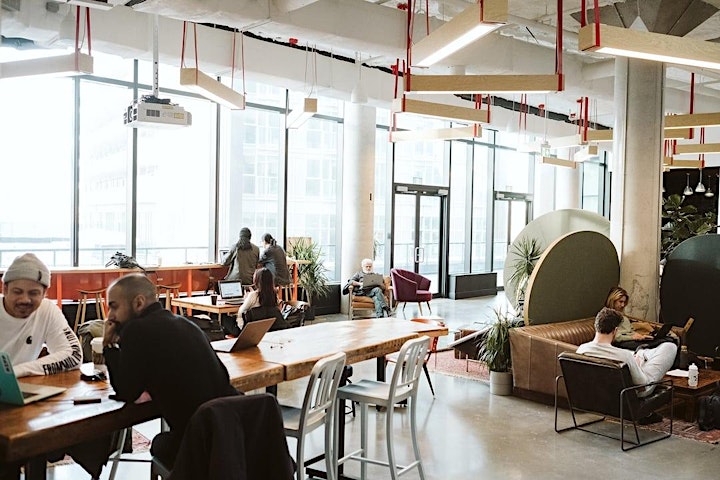 SCHEDULE
MONDAY, NOVEMBER 2
Mo Bofill (11:00 AM – 12:00 PM): Join Mo Bofill on understanding design as primarily a way of thinking about solutions, meaningful experiences, and cultural impact. She will break down on what is needed to building a strong portfolio to display your work and intention. Talking to clients and potential clients with confidence about your concepts, solutions and strategies.
Frontier (3:00 PM – 4:00 PM): Frontier leads a moderated discussion on the journey to crafting memorable and strategic stories for brands through design, including your own.
TUESDAY, NOVEMBER 3
R3VE (11:00 AM – 12:00 PM): R3VE leads a workshop on mapping out your own canvas as a creative entrepreneur, defining your unique value proposition and leveraging that to further position your business.
Artscape (11:00 AM – 2:00 PM): Tanya Sinclair will lead a workshop on what you need to know to best navigate the job market that is going through systemic changes. She will also provide a step by step on how to get comfortable with ourselves and our skills sets through unprecedented times.
WEDNESDAY, NOVEMBER 4
AGO (11:00 AM – 12:00 PM): AGO leads a workshop centring on exploring how art workers and artists can build community in new social landscape. Also unpacking the conversations that are being had and the personal knowledge required to be able to navigate opportunity and constraint in today's new territory. Answering the questions on what tools are needed to help support the arts and develop micro spaces as solutions for artists?
Robin Nishio (3:00 PM – 4:00 PM): Robin Nishio demonstrates the tools to bring your ideas of creation into the final product, from concept to execution. Diving into the understanding of leveraging your multidisciplinary creative skills. The power of being a Jack of All Trades, unifying the threads of all your mediums to build success.
THURSDAY, NOVEMBER 5
Refinery29 (11:00 AM – 12:30 PM): Kathleen Newman-Bremang leads a workshop in learning how to connect culture, community and experience to your work in ways that are relevant and intentional for your core demographic. Kathleen will also touch on the importance on creating empowering narratives for women in the field of art, culture and media.
VSP (3:00 PM – 4:30 PM): VSP leads a panel discussion on how to build progressive representation through fashion, clothing and consumer experiences. And discussing the process of building a multiple brand retailer's image and online experience, while navigating the fast pace changes in the fashion sector.
Universal Music Canada (5:00pm - 6:00pm): Universal Music Canada leads a discussion on where the music industry is going. Breaking down the understanding of creative vision and direction. Additionally diving into the concept of how to start, from noticeability, discovery, team building and planning ahead.
The panelist in the discussion are:
Kardinal Offishall // Senior Director of Urban A&R - Universal Music Canada
Ivan Evidente // Director, A&R - Universal Music Canada
Matt Sousa // A&R - Universal Music Canada
Andy Slater // Creative Director - Universal Music Canada
Kyla Mah // Visual Content Producer - Universal Music Canada
Yogi The Producer - Universal Music Canada
FAQ
Where is this year's event being hosted?
Launchpad SUMMIT: Virtual Creative Career Conference will be hosted online through Launchpad's Zoom channel. Registration is required to receive access.
How will I receive access to these events?
Register for Launchpad SUMMIT through our online ticket portal. Once you are registered, you will receive confirmation via email. You will then receive critical updates and news through this email. You will also receive the Zoom link for your registered sessions the morning of the scheduled event . If you are not receiving emails and you registered, please contact ablairroberson@artscape.ca.
How much does it cost?
COVID-19 has had significant economic impacts on the creative community. To help remove as many barriers as possible, Launchpad SUMMIT 2020 has a pay-what-you-can ticket pricing model. As a non-profit organization, any funds that Artscape Daniels Launchpad receives go toward subsidizing this event (and others) for the creatives most impacted by this pandemic. We thank you in advance for your support!
Can I cancel or transfer my tickets?
Ticket purchases are non-refundable but you may transfer your ticket to someone else. Please follow Eventbrite's guide to transferring tickets here. We reserve the right to change the above policy at any time without prior notice. We also reserve the right to cancel the event, and if this occurs, we shall refund the total fees paid.
Who should attend Launchpad SUMMIT: Virtual Creative Career Conference Summit?
Anyone who is looking to achieve professional growth within their career can attend the Virtual Creative Career Conference. The conference will feature industry leaders from different parts of the creative industry, providing a unique set of teachings, experience and insights to the work they do as creative entrepreneurs.
Will these events be recorded if we cannot attend?
Unfortunately, due to privacy restrictions, we are unable to record the conference sessions. If you are unable to attend, Launchpad offers an array of public programming that focuses on career development and creative entrepreneurship through Launchpad Learning For more information visit www.artscapedanielslaunchpad.com/launchpad-learning/.
What is Artscape Daniels Launchpad?
Artscape Daniels Launchpad is a first-of-its-kind creative entrepreneurship hub designed to help emerging and established artists, designers and creators from all disciplines grow thriving careers. This unique facility on Toronto's waterfront brings together 30,000+ sq. ft. of state-of-the-art, multidisciplinary creative and technical studios; co-working space, meeting and event facilities; and specialized creative entrepreneurship programs, workshops and events--all designed to support and inspire creative experimentation, learning and collaboration. Launchpad offers members the chance to be part of a vibrant, diverse community of creators as well as to engage in mentorship, learning programs and wayfinding to plug into resources and business opportunities. Learn more about Launchpad and how to become a member at artscapedanielslaunchpad.com