Description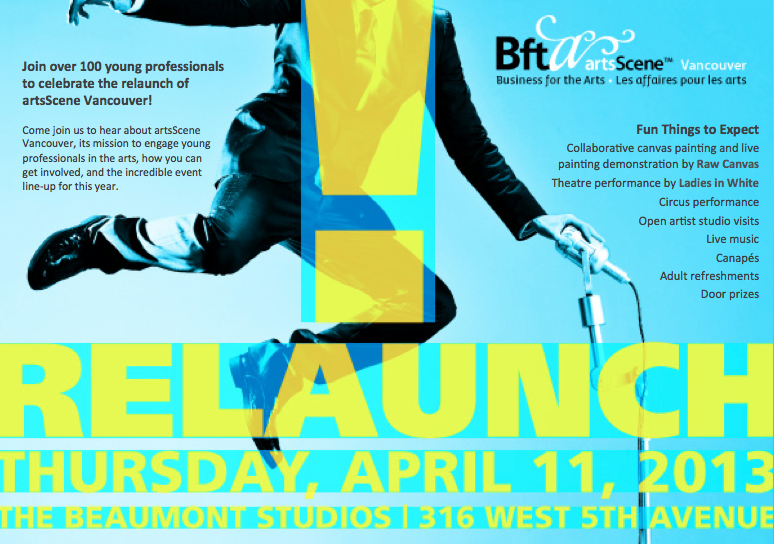 Join 100+ young professionals in Vancouver to celebrate the relaunch of artsScene Vancouver on Thursday, April 11, 2013 at The Beaumont Studios. artsScene is a national network of young professionals who support the arts. It was created by Business for the Arts, a 39-year-old national non-profit organization dedicated to the support and promotion of business involvement in the arts.
We're bringing artsScene to Vancouver this April. You'll be treated to an evening filled with unique art experiences, while you enjoy cocktails and canapés in the company of your peers and local artists. Come join us to hear about artsScene Vancouver, its mission to engage young professionals in the arts, how you can get involved, and the incredible event line-up for this year – including partnerships with the Arts Club Theatre, the Vancouver Art Gallery, the Vancouver Symphony Orchestra and more.
Almost every penny of your ticket price goes towards the artists performing that evening and the artist-run studio venue - come out and support the arts!
Fun Things to Expect
Collaborative canvas painting and live painting demonstration by

Raw Canvas

Theatre performance by

Ladies in White
Circus performance by Chris Murdoch

Open artist studio visits at

The Beaumont Studios

Graffitti artist demonstration and activity

Keynote speech on "Why a Triathlete man with a Degree in Finance became a clown for Ladies in White" by Alastair

Live music by the

Creole Jazz Band

Canapés and in-house chef demonstration by

Rockford Grill
Adult refreshments by Saxon Winery and Kronenbourg 1664.
Business card door prizes (Raw Canvas gift certificate, Vancouver Symphony Orchestra tickets, Snackbox by Food.ee, gift baskets, Gateway Theatre tickets to Don Juan)

Great networking opportunities with other young professionals!
Learn more about artsScene Vancouver at artsscenevancouver.com.