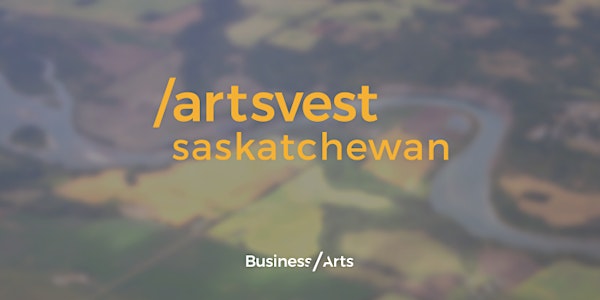 artsvest Saskatchewan Information Session
artsvest Saskatchewan Information Session - 2019-20 Program
Date and time
Mon, Sep 9, 2019 1:00 PM - Wed, Sep 25, 2019 4:00 PM CST
Location
Multiple locations and dates Swift Current, Regina, Melville, Estevan, Meadow Lake, Prince Albert, Saskatoon Various, SK S0N 2M0 Canada
About this event
You are invited to participate in artsvest Saskatchewan!
What is artvest?
artsvest is Business / Arts signature mentorship training program designed to build capacity in Canada's cultural sector. artsvest provides small to mid-sized arts, culture and heritage organizations with resources, expertise and training in marketing, board governance and sponsorship along with matching incentive funds and peer-to-peer networking. These components are thoughtfully created to build sustainable partnerships between arts and businesses and to spark sponsorship opportunities. As an added incentive, artsvest participants can apply for matching funds - for every one dollar raised in sponsorship, Business / Arts will match it with another dollar - doubling their sponsorship opportunity.
The program will continue in Saskatchewan for its seventh year from 2019-2020, providing local arts, culture and heritage organizations with:
Sponsorship Training Workshop
Individualized mentorship sessions with expert coaches and mentors who provide tools and resources on topics including marketing, board governance and sponsorship.
Peer-to-Peer training Workshops
Group mentorship webinars, marketing and branding tutorials
A resource bank of tools and templates
There is no cost to participants and the commitment to the artsvest program is approximately one year.
Matching incentive grants from $1,000 - $10,000 are available to selected participants who secure sponsorship from businesses throughout the 10-month program. Combined with sponsorships from local businesses, this will translate to a significant investment impact into the cultural economy over the period of one program year.
ARTSVEST ELIGIBILITY
for full program guidelines click here
Must be an arts, culture, or heritage organization operating in a region or municipality where the artsvest program is operating. The artsvest program is open to local arts, culture and heritage organizations with an annual budget of under $1.5M.
Must have been in existence for a minimum of one completed fiscal year with active programming.
Must provide arts, culture or heritage programming, products or services that are accessible to the public.
Must be an incorporated, not-for-profit organization, society and/or registered charitable organization with arts, culture or heritage as a part of their mandate and core activity and a publicly accountable structure with an active Board of Directors.
Organizations, groups, cooperatives and collectives which are not incorporated may apply under the umbrella of a local organization of their choosing.Indigenous arts groups are eligible to apply as incorporated not-for-profit organizations or unincorporated collectives which operate on a non-profit basis.
For artsvest application purposes, an umbrella organization is an incorporated not-for-profit organization or a registered charity that has been in existence for at least 2 years and can submit applications for and on-behalf of an unincorporated arts organization, cooperative, or collective in their local community. Umbrella organizations must complete an Umbrella organization application.
Please contact Program Manager, Wendy Thienes with any eligibility questions at wendy@businessforthearts.org.
INFORMATION SESSION AND WORKSHOP
Join us for an Information Session to learn more about artsvest Saskatchewan and how to apply!
Please note that your attendance at one of the Information Sessions is required if you intend to apply for artsvest 2019-2020 Application link will be provided after attending the information session.
Application Deadline: Friday October 25, 5pm (Central Standard Time)
Swift Current
Monday, September 9 | 1:00 - 4:00 p.m.
Art Gallery of Swift Current
411 Herbert St E
Estevan *NOTE CHANGE OF DATE*
Monday, September 16 (was Sept. 19) | 1:00 - 4:00 p.m.
Souris Valley Museum
Highway #39 1 km outside of Estevan, next to Redhead Equipment
Regina
Tuesday, September 17 | 1:00 - 4:00 p.m.
SaskExpress
2272 Pasqua Street
Melville
Wednesday, September 18 | 1:00 - 4:00 p.m.
Melville Community Works | Meeting Works North Room
800 Prince Edward Street
Meadow Lake
Monday, September 23 | 1:00 - 4:00 p.m.
Meadow Lake Museum | Lion's Den
9th Street West, off Highway #4
Prince Albert
Tuesday, September 24 | 1:00 - 4:00 p.m.
Mann Art Gallery | Education Studio
142-12th Street West
Saskatoon
Wednesday, September 25 | 1:00 - 4:00 p.m.
PAVED Arts | Event Space
424-20th Street West
SESSION DESCRIPTION
artsvest Information Session
This information session is mandatory for all organizations, whether you are new or returning to artsvest. We have made significant program changes that will be announced during this time.
The information session will provide important insight about how to successfully apply to artsvest and will present information about program offerings and timelines.
We strongly recommend that at least two team members attend the artsvest workshop on behalf of your organization. Program trends indicate that having more than one team member attend will improve your success in your application and eventual fundraising efforts. Note that only staff, board members and volunteers are eligible to attend on behalf of the organization.
For more information on the program and to view past results, please visit http://www.businessandarts.org/artsvest-regions
Questions may be directed to Wendy Thienes at wendy@businessforthearts.org
The Saskatchewan artsvest program is made possible with funding from the Government of Canada and the Government of Saskatchewan.