#ARTSVIRTUALREALITY- By VR Vision Inc. and FATMO Media Group
TORONTO'S EXCLUSIVE #ARTSVIRTUALREALITY EVENT HITS THE CITY ON AUGUST 30
About this Event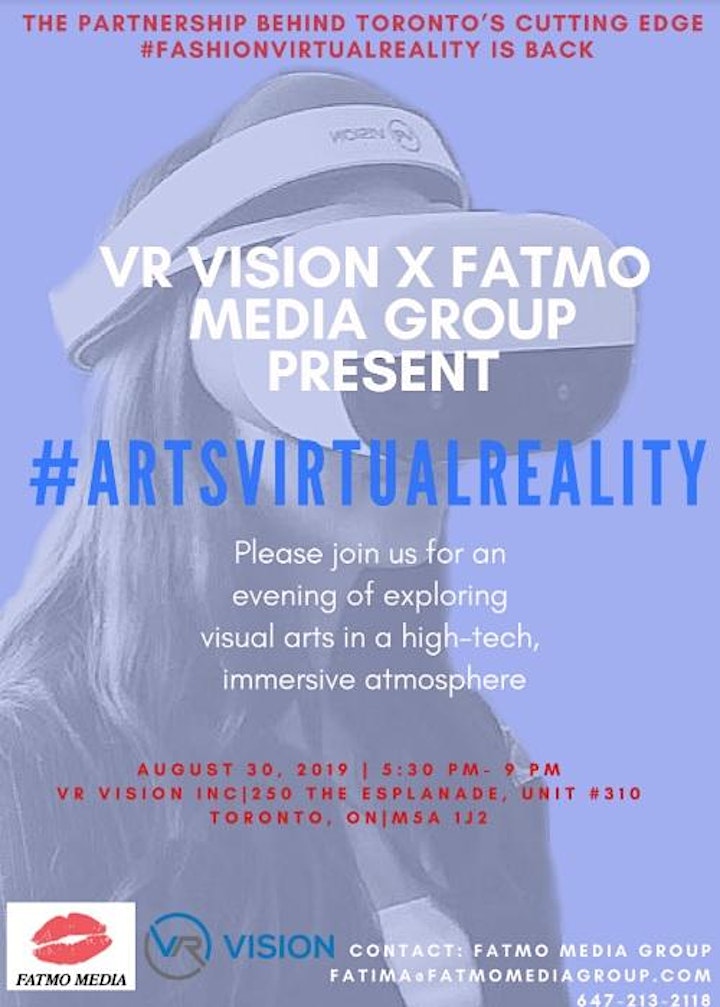 Last year, Toronto virtual reality firm VR Vision Inc. and Toronto media, communications and public relations company FATMO (FASHION ARTS TECH MEDIA OPERATIONS) Media Group officially launched the city's first ever exclusive fashion and VR event. Summer 2018's innovative, cutting-edge #FASHIONVIRTUALREALITY allowed emerging Toronto fashion, accessory and jewellery designers to have their designs showcased in VR, to an intimate crowd of bloggers, influencers and members of the fashion industry.
This year, the breakthrough event franchise is back bigger and better than ever before, with a new development- the introduction of #ARTSVIRTUALREALITY. Featuring an evening of artistic and creative presentations all filmed in 360 degree, VR video, both VR Vision and FATMO Media Group warmly welcome the Toronto public to stop by this exclusive special event.
Each ticket price includes drinks, appetizers and a memorable virtual reality experience which captures a new wave of advanced technology, combined with luxury and creativity. Please join us at VR Vision's sophisticated and contemporary office space after hours, for Toronto's biggest arts, lifestyle and tech event of Summer 2019.
For any questions about ticketing, parking, venue or other guest inquiries, please email Fatima Syed of FATMO Media Group at fatima@fatmomediagroup.com, or kindly call 647-213-2118.
We are looking forward to welcoming you for #ARTSVIRTUALREALITY!
Please follow FATMO Media Group on Instagram at @fatmo_media.
Please follow VR Vision Inc. on Instagram at @vrvisioninc.