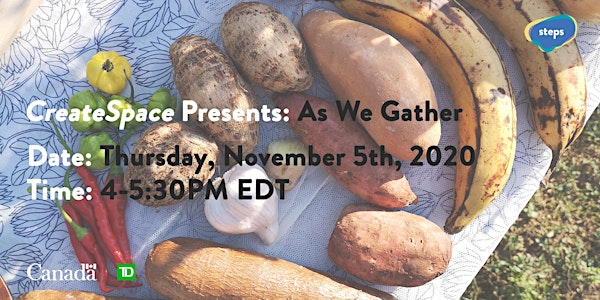 As We Gather: what we eat, how we move, where we move
As We Gather: what we eat, how we move, where we move - a conversation about food.
About this event
As we Gather is a conversation hosted by Anique Jordan, between 3 artists each exploring their connections to food, land and the multiple relationships we navigate. Invited artists include policy analyst and artist, Kosisochukwu Nnebe and chef and performance artist, Aisha Bentham.
It is part of CreateSpace, a series of online artist workshops and panel discussions hosted by STEPS.
Zoom Accessibility info: ASL interpretation will be featured throughout this session.
About the Host & Panelists:
Anique Jordan is an award-winning artist, writer and curator who looks to answer the question of possibility in everything she creates. Working for over a decade at the crossroad of community economic development and art, Jordan's practice stems from and returns to the communities that inform it. As an artist, Jordan's work plays with the foundations of traditional Trinidadian carnival and the theory of hauntology challenging historical narratives and creating, what she calls, impossible images. She works across temporalities bringing historical data towards a contemporary analysis. This work creates space to reinterpret the archives offering a new and speculative vision of the future.
Kosisochukwu Nnebe is a Nigerian-Canadian visual artist. An economist by training and a policy analyst by profession, her visual arts practice aims to engage viewers on issues both personal and structural in ways that bring awareness to their own complicity. Her work has been exhibited at AXENEO7, the Montreal Museum of Fine Arts, Place des Arts, the Art Gallery of Guelph, the Nia Centre, Studio Sixty Six, Z-Art Space, Station 16, and the Mohr Gallery in Mountain View, California,. She has given presentations on her artistic practice and research at universities across Quebec, including Laval, McGill and Concordia, and has facilitated workshops at the National Gallery of Canada, the Ottawa Art Gallery, and Redwood City High School in California. She is currently based in London, UK.
Aisha Lesley Bentham is an internationally trained artist-scholar, creator and vegan chef from Toronto, Ontario and has earned her BFA Honors Acting degree with a minor in Women and Diaspora Studies from the University of Windsor. Aisha has studied the works of Suzuki, Viewpoints, Laban, Contact, Commedia Dell'Arte and neutral mask and attended the world renowned company Arthaus Berlin(formerly known as LISPA) in Berlin in 2016 where she studied Devising Theatre and Performance with Thomas Prattki. In summer of 2016, she founded a residency for multi-disciplinary artists/creators called RootReach which allowed creators to work in a hybrid environment where they developed solo pieces. Aisha uses media, sound, visuals and props to create and manipulate her performances. In 2020, Aisha completed her MA in Theatre and Performance program at York University where she is investigating the intersections of cooking and Performance. Her love for food, art and lifestyle inspired her to create a vegan food company in 2017, formerly known as HUE Foods but now called choosing.hue, a vegan food and lifestyle brand that inspires vegan meals, offers tips and tools on how to be a more sustainable and aware consumer. Aisha recently joined the TEDx family 2018 and had the opportunity to be a competitor on Season 7 of Amazing Race Canada.
-------------
Join us for our second CreateSpace panel discussion with Anique Jordan on November 26, 2020 at 6pm.
--------------
Event image courtesy of Aisha Bentham.
This project has been made possible [in part] by the Government of Canada.
Ce projet a été rendu possible [en partie] grâce au gouvernement du Canada.