Sales Have Ended
Ticket sales have ended
Thank you for you support of community theatre in Moncton.
Sales Have Ended
Ticket sales have ended
Thank you for you support of community theatre in Moncton.
Hubcity Theatre presents: As you like it
About this event
About the Play
As You Like It contains one of Shakespeare's most prolific lines: "All the World's a Stage". And so it is in this hilarious production directed by Hubcity Theatre Artistic Director, JB Vanier starring Teagan Anderson Leger as the seminal Rosalind and Samuel Grove as the heroic Orlando.
In a comically dystopian society, the nefarious Duke Frederic has usurped his brother Duke Senior and exiled him to the Forests of Arden, leaving his daughter Rosalind to stay as a glorified prisoner with her cousin Celia. Meanwhile, the equally villainous Oliver has arranged for his younger brother, Orlando, to face down death by fighting the Duke's champion wrestler, Charles the Mighty.
Our heroes all find themselves forced to escape an increasingly dangerous city by fleeing to the Forest of Arden. Rosalind chooses to disguise herself as a young man and puts to work her plan to win the dashing Orlando's heart, while all around her the cast of fools and romantics must contend with love triangles, close calls with secret identities, and survival in the forest. Filled with lots of silly laughs and over the top nonsense, this play is sure to delight and entertain!
Location
This year we will be in Centennial Park.
We are a short 3 minute walk from the Centennial Pool Parking lot (P2) in the upper picnic area.
Please note that the bridge over Jonathan Creek is closed, so if you park at the Splash Park (P1), you will need to walk south towards St George Blvd and go around the lake.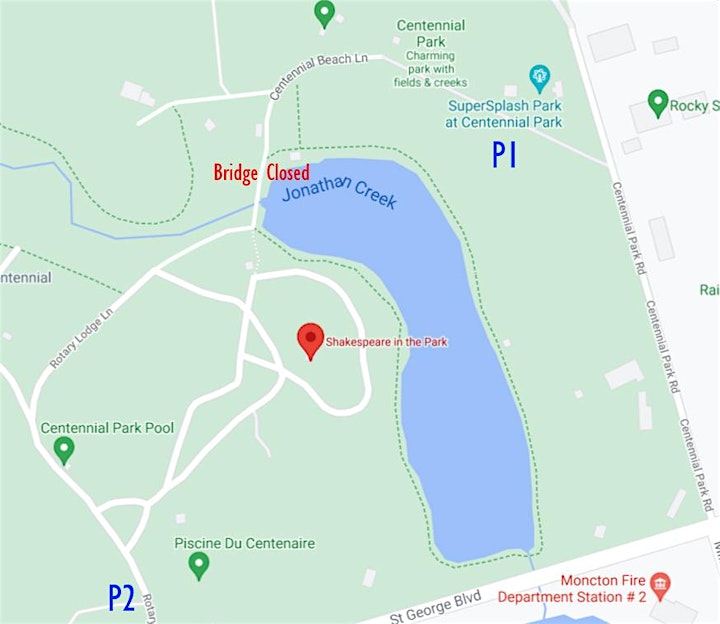 What to expect
Shakespeare in the park is a bring your own seating event (chair/blankets).
Many people also bring bug repellent and sunscreen.
Please do not bring umbrellas/sunshades as these block the view for those behind you.
This year's show does not travel through the park.
There is no intermission. It runs approximately 2.5h.
You are welcome to bring drinks/snacks.
Washrooms are available within the park.
COVID-19 audience safety.
Groups will be seated by volunteers to maintain 2M distance from each other. Please limit your group size. Immediate families can sit together, friends should limit to groups of 4 or fewer.
All audience groups will need to provide one name and phone number for contact tracing. Your contact information given here will be shared with Public Health only if Hubcity Theatre is contacted for the purposes of contact tracing. Please ensure your information is accurate.
We ask you wear a mask while checking in and settling into your spot. You may remove your mask while you are seated. If you need to move during the show, please wear your mask until you are once again able to maintain 2M distance.
Cast and Crew COVID-19 Safety
Please be aware that throughout the rehearsal process for this show, all cast and crew have been diligently following public health guidelines. Some members of our cast have chosen to bubble with small groups of cast mates for the purposes of some close contact acting. Their safety has been our priority as we navigate ever changing regulations.
Programme
This year we will not have printed programmes. Please click the link to view on our website.
Organizer of As You Like It