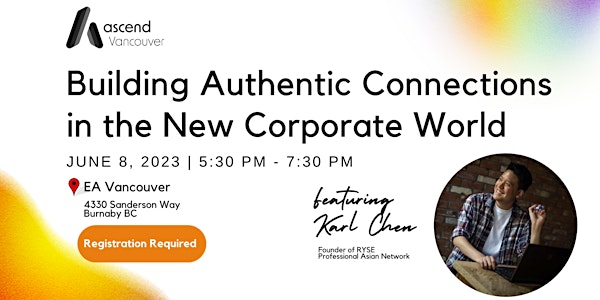 Ascend Vancouver: Building Authentic Connections in the New Corporate World
Join Ascend Vancouver for a networking event to learn how to truly develop authentic, meaningful relationships in the workplace.
Date and time
Thursday, June 8 · 5:30 - 7:30pm PDT
Location
EA Vancouver 4330 Sanderson Way Burnaby, BC V5G 4X1 Canada
Agenda
5:30 PM - 5:45 PM
Arrival & Check-In
5:45 PM - 6:15 PM
(Optional) EA Vancouver Office Tour
6:15 PM - 7:00 PM
Networking Workshop + Fireside Chat
7:00 PM - 7:30 PM
Light Snacks, Refreshments & Open Mingler
About this event
Networking in the workplace has always been a hidden art form that's not explicitly taught through formal education or training. Nonetheless, research shows that a critical component in career advancement and professional success is how you build strong connections with your boss, leaders, and colleagues. In fact, 80% of professionals consider networking important to career success (LinkedIn) while 70% of jobs are never published publicly (CNBC). These facts, combined with a new post-COVID working model (whether that means collaborating via virtual conferencing tools, in-person meetings, or a combination of both), further exacerbates the challenge of building strong connections in the workforce.
This begs the question: How can we break down barriers to networking and truly develop authentic, meaningful relationships in the workplace?
To answer the question above, Ascend Vancouver is excited to bring back in-person events with our first networking workshop of the year that aims to connect members through our shared culture & heritage, discussing ways to navigate opportunities during economic downtimes through networking, and building authentic connections. We are also excited to feature an optional tour of the EA Vancouver campus!
Topics we'll cover
Importance of networking in the Western world and corporate North America
Overcoming cultural influences and unconscious biases towards networking
Using networking as a vehicle to promote personal branding and unlock career advancement opportunities
Strategies to build meaningful and authentic relationships with anyone, including your boss, leaders, and colleagues
About the speaker
Karl Chen (they/he) is a community builder whose work focuses on advancing the lives of marginalized communities and social justice. Karl is the founder of RYSE - Professional Asian Network, a community of 67,000+ sharing their experiences as racialized individuals in professional settings and uplifting each other through networking, dialogue, and mentorship. Stemming from RYSE, the Asian Unification Project (AUP) was formed during the pandemic to support visibly racialized individuals who are elderly, immunocompromised, or disabled during the rise of hate crimes against POCs. Karl is also the host of Ganbei, a podcast dedicated to amplifying the voices of Asian professionals as they explore the intricacies of their Asian identities.
About Ascend
Ascend Canada is a non-profit organization with the mission to develop and advance pan-Asian talent through partnership with other Canadian and like-minded organizations. With more than 3,000 members and numerous corporate partners, Ascend Canada's objectives are to develop the full potential of our members by leveraging our networks and providing programs and events that inspire, as well as educate.
Our Vision
To have a diverse and inclusive Canada where Pan-Asian talent can achieve their full potential.
Our Mission
Partner and progress with Canadian organizations to develop and advance Pan-Asian talent.
Visit us at https://ascendleadership.ca or contact us at vancouver@ascendleadership.org with any questions.
Frequently asked questions
How do I get to the venue?