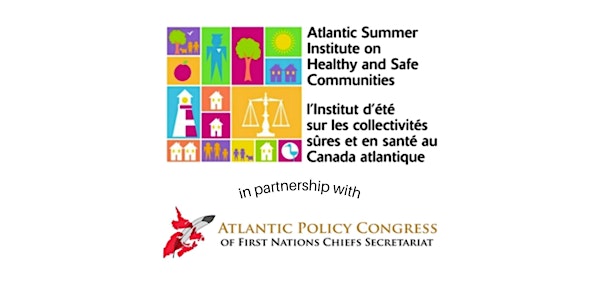 ASI Atlantic First Nations Online Workshop
In partnership with ASI, the Atlantic Policy Congress of First Nations Chiefs is inviting you to participate in a regional online workshop.
By Atlantic Summer Institute on Healthy and Safe Communities/l'Institut d'été sur les collectivités sûres et en sécurité au Canada atlantique
Date and time
Thu, Mar 9, 2023 6:00 AM - 8:00 AM PST
About this event
This Atlantic First Nations Online workshop will introduce you to the policy brief; engage your participation in small group discussion to explore programs promoting of infant, child and youth mental health in First Nations communities; and recommend next steps in implementing "upstream" policy from a First Nations perspective.
This is an opportunity to network, learn and to have your voice heard!
Your input will be used to inform the Atlantic Policy Congress of First Nations Chiefs, Atlantic Council of Premiers and other Atlantic policy makers of the importance of upstream investment in mental health promotion.
There is no fee to register. Registration is limited to 40 people, first come first served. If you are not able to attend, please encourage someone else from your organization to register. Please register as soon as possible.
Dedication to Eva Sock
The Board of Directors of the Atlantic Summer Institute on Healthy and Safe Communities (ASI) is mourning the loss of one of our valued and respected members, Eva Sock, who passed away on January 28, 2023. Eva was a resident of Elsipogtog First Nation in New Brunswick. She was extremely dedicated to working for her home community and for the betterment of all Indigenous people. She had served on the ASI Board since 2020, helping us to build working relationships with indigenous people and organizations as we work together to improve the health and well-being of our children, youth, families and communities. This workshop is one expression of our work together. We would, therefore, like to dedicate this workshop to the memory of Eva Sock. As she was known to say: "If it is to be, it is up to me."
About the organizer
The Atlantic Summer Institute (ASI) on Healthy and Safe Communities brings together community groups, researchers, practitioners, educators, police and government representatives - all the people and sectors that are working toward creating safer and healthier communities in Atlantic Canada.

ASI programs are a real opportunity to strengthen collaboration across sectors in a meaningful way, ultimately leading to the creation of healthier and safer communities in Atlantic Canada and beyond. The Institute incorporated in 2008 and is managed by a Board of Directors.

Contact the Atlantic Summer Institute on Healthy and Safe Communities:
info@asi-iea.ca   (902) 894-3399
www.asi-iea.ca

---------------------------

l'Institut d'été sur les collectivités sûres et en santé au Canada atlantique rassemble les groupes communautaires, les chercheurs, les praticiens, les éducateurs, le service de police et les représentants du gouvernement - toutes les personnes et tous les secteurs qui collaborent afin de créer des collectivités sûres et en santé au Canada atlantique.

Les programmes IEA sont une véritable occasion pour renforcer la collaboration entre les secteurs de façon significative, qui se traduirait finalement par la création de collectivités plus saines et plus sûres, au Canada atlantique et ailleurs. L'Institut d'été incorporé en 2008 et il est géré par un Conseil d'administration.

Contactez l'Institut d'été sur les collectivités sûres et en santé au Canada
info@asi-iea.ca   (902) 894-3399
www.asi-iea.ca