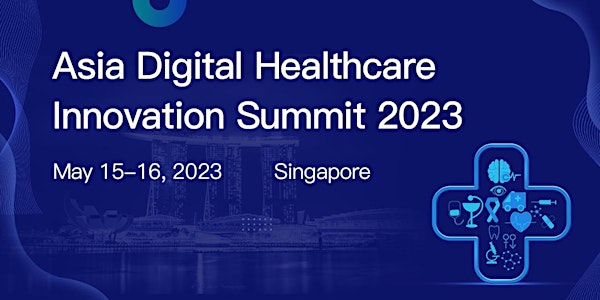 Asia Digital Healthcare Innovation Summit 2023
In this summit, we bring you the latest insights and expert perspectives on how pharma and medical device can keep up with digital health
When and where
Location
123 Singapore 123 123, 123 123 Singapore
Refund Policy
Contact the organizer to request a refund.
About this event
1 day 21 hours

Mobile eTicket
Background
COVID-19 has ushered in a new wave of healthcare innovations from technological adoption to regulatory updates across the pharma and medical device industry in Asia.
In this summit, we bring you the latest insights and expert perspectives on how pharma and medical device can keep up with digital health; how they can create patient-centered digital health innovations; and how they can activate new business segments via digital health to drive business digital growth.
Hot Points
Patient-centric Digital Healthcare
HCP Engagement Innovation
Digital Marketing
Digital Therapeutics
Pricing and Market Access
Healthcare Regulations
Day 1
1.The Future of Healthcare in Asia: Digital Healthcare Ecosystems
2.The post-Covid Leapfrog: How Pharma is Ready for Healthcare Digital Transformation in Southeast Asia
3.A Brave New World: Embracing Hybrid HCP Engagement in Singapore and Malaysia
4.Personalized HCP Engagement Brought by the On-going Pandemic in the Evolving Indonesian Healthcare Landscape
5.How to Transform Customer Engagement Strategies for an Omnichannel World in SEA
6.The Omni-channel Healthcare Model in SEA
7.How can Internet Platform Support Digital Patient Engagement
8.Patient Lifecycle Digital Management Solution
9.Social Media Intelligence for Pharma to Make Effective Commercial Decisions across the Drug Lifecycle
10.HCP MCM Optimization Solution
11.Panel Discussion: Omni-channel Marketing of Pharma and Medical Devices in Asia
Day 2
12.Navigate Market Access by RWD in Asia
13.How to Increase Patient Access and Adherence to Your Brand
14.Data & Analytics Solutions for Market Access Strategy
15.Integrate Data & Optimize Insights to Improve Business Outcomes
16.Using Connected Intelligence to Improve Decision-Making
17.Digital Therapeutics in Chronic Disease Management
18.Fireside Chat: How can Pharma and Medical Devices Extend Digital Therapeutics Based on Product Lines?
19.Compliance Orchestration across the Device Lifecycle
20.Fireside Chat: How Pharma can Harness AI & Machine Learning to Analyze Vast Customer Data Sets while still Adhering to Data Privacy Laws?
Wonderful Reviews
•  Offline sharing + online live streaming
•Medical giants such as AstraZeneca、Sanofi、Pfizer、UCB、GE Healthcare and Philips Healthcare explain the most useful and practical knowledge
Who Should Attend?
•  Title Distribution
Retail Manager、Director;Marketing Manager、Director、GM、VP;Digital Transformation Manager、Director;Omni-channel Manager、Director、VP;Multi-channel Marketing Manager...;Ecommerce Manager、Director;Commercial Manager、Director...;Go-to-market manager;Others
•  Industry Distribution
Phama;Medical Device;Hospital;DigitalSolution;Internet platform;Insurance;Consulting
ABOUT ECV DIGITAL HEALTHCARE
So far, ECV Digital Healthcare has successfully held five China digital healthcare industry summits.
The summit aims to gain insight into the latest development of the international medical industry from the digital transformation! Focus on many hot topics such as digital medical strategic transformation, digital therapy, digital growth of pharmaceutical machinery enterprises under the background of VBP, digital chronic disease management, medical technology innovation, digital marketing and retail innovation of medical devices, and jointly discuss how to ride the wind and waves and win the future under the tide of digital medical treatment.
The previous industry summits gathered leaders of internet medical industry such as Baidu Health, WeDoctor, Tencent Health and JD Health, as well as many pharmaceutical giants such as AstraZeneca, Sanofi, Novartis pharmaceutical, MSD and BeiGene, as well as representatives of medical devices such as Siemens Healthineers, Bristol Myers Squibb, Medtronic and Stryker to present the most cutting-edge industry trends and interpret the most burning dry goods for the guests.
Contacts
Marketing
Phone: +86 -15950466513
Email: harperw@ecvinternational.com
Official website for more details:http://www.ecvinternational.com/AsiaHealthcare/