Asian Canadian Artists Against Racism: an Evening for Resistance!
An Evening for Resistance, featuring performances by Asian Canadian Artists!
About this event
Join us for an evening of resistance against racism!
In light of increased violence against Asians in Canada during the COVID-19 pandemic, ACLA BC invites you to consider how art can be used to organize against racism and imagine ideas of solidarity and community care. The all-ages event will feature creative performances (e.g. spoken word, video, and more), community resource-sharing, an open mic, and resistance actions!
RSVP: https://asiansagainstracism.eventbrite.ca
*Only registered attendees will receive the Zoom link, which will be emailed prior to the panel.
*Accessibility: If you have any accessibility needs, please email us at aclainbc@gmail.com. We are able to provide ASL and other language interpretation/translations for this event.
*Open Mic: If you would like to perform during the Open Mic portion of the event, please email aclainbc@gmail.com by May 19th to get on the lineup!
*This panel will not be recorded. We ask participants to respect others' privacy by not recording any part of the event (e.g. via video, photography, screenshotting, etc.) unless consent is requested and given.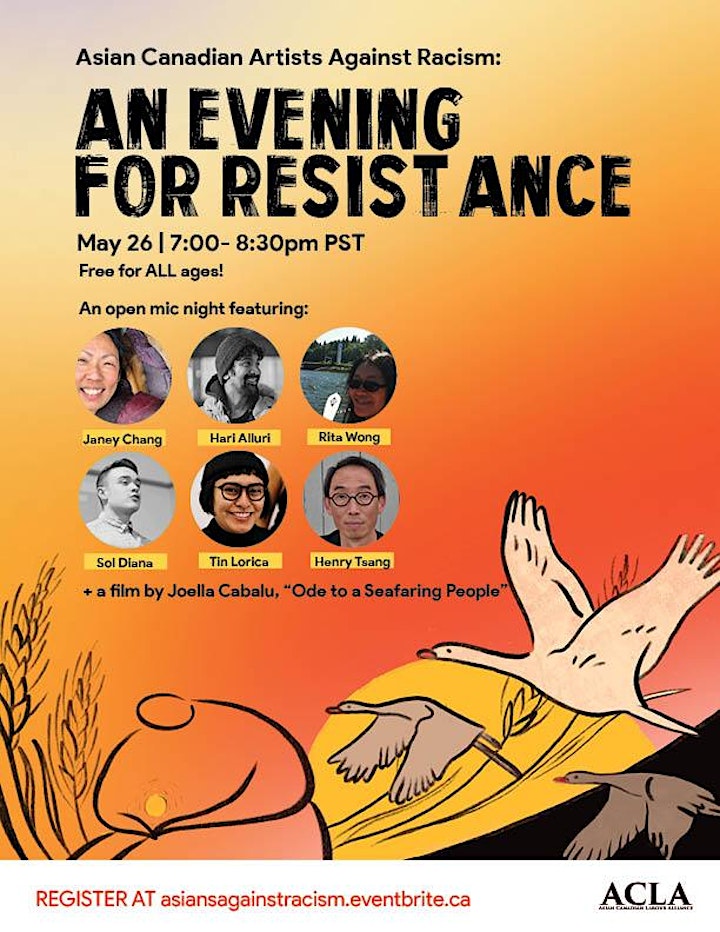 Featuring Performances by:
Hari Alluri
Hari Alluri (he/him/siya), author of The Flayed City (Kaya), lives and writes on unceded Coast Salish Territories, specifically Qayqayt First Nations land. A winner of the 2020 Leonard A. Slade, Jr. Poetry Fellowship for Poets of Color and an editor at Locked Horn Press, his recent collabos are with BIPOC Writing Community, Community Building Art Works, The Cultch & Soft Cedar, The Digital Sala, and Massy Books. His work appears in Apogee, Four Way Review, Prism International, Tinderbox, and elsewhere. Keep up with Hari at linktr.ee/harialluri.
Janey Chang
Janey Chang is an Artist and Fish Skin Leather Revivalist on a path to remembering how to be human and alive through the (re)learning of ancestral skills. She is a first generation Chinese Canadian woman living on beautiful Skwxwú7mesh and Tsleil-Waututh Territory at the foot of the mountains and close to the ocean. Her main art form is salmon skin leather, where she gives new life to salmon skins that are destined for waste from the restaurant industry. Learning this traditional ancestral skill has helped to connect her to her Chinese heritage as well as to K'emk'emelay/Vancouver, the land she calls home. This passion has evolved into her livelihood, and she has had the honour of teaching fish leather classes to many humans, including indigenous communities who have distant memories of this old ancestral skill.
Sol Diana
Sol Diana is a spoken word artist born and raised on the traditional, ancestral, unceded, and occupied lands of the Musqueam, Squamish, and Tseil-Waututh First Nations. He is of mixed Filipino and Scottish background and credits the Filipino artists he grew up around as his biggest influences. Sol's biggest hope is for a future where diasporic Filipinx youth are connected as a cohesive community, their voices are heard, and their humanities are affirmed.
Tin Lorica
Tin Lorica is a queer Filipinx comedian and poet who lives on the unceded territories of the Musqueam, Squamish, and Tsleil-Waututh. In the Before Times, they co-hosted and produced Millennial Line, a monthly comedy and poetry series at Red Gate Arts Society in Vancouver. This past October, Tin released a poetry chapbook called "Soft Armour". They have a non-ironic degree in women's studies, and aspire to earn a living wage.
Henry Tsang
Henry Tsang is an artist and occasional curator whose projects explore the spatial politics of history, language, community, food and cultural translation in relationship to place. His artworks take the form of gallery exhibitions, pop-up street food offerings, 360 video walking tours, curated dinners, ephemeral and permanent public art, employing video, photography, language, interactive media, food and convivial events. Projects include: Tansy Point, a video installation of the site of the 1851 treaty signings by the Chinook peoples and the US government that were never ratified, and 360 Riot Walk, a 360 video walking tour of the 1907 Anti-Asian Riots in Vancouver, Canada. Henry teaches at Emily Carr University of Art & Design.
Rita Wong
Rita Wong lives and works on unceded Coast Salish territories, also known as Vancouver. Dedicated to questions of water justice, decolonization, and ecology, she is the author of monkeypuzzle, forage, sybil unrest (with Larissa Lai), undercurrent, perpetual (with Cindy Mochizuki), and beholden (with Fred Wah), as well as the co-editor of downstream: reimagining water (with Dorothy Christian). She serves as steward and co-president of her union, the Emily Carr University of Art and Design Faculty Association. See 1308trees.ca for what she has recently been working on.
+ a film by Joella Cabalu, Ode to a Seafaring People
Poster designed by Rachel Cheang
Endorsed by: AOEC (Anti-Oppression Educators Collective), VESTA (Vancouver Elementary School Teachers Association), CTA (Coquitlam Teachers Association), UFCW (United Food and Commercial Workers) Local 247, PSAC (Public Service Alliance of Canada) in BC, CULE (Canadian Union of Labour Employees), VDLC (Vancouver and District Labour Council), NVTA (North Van Teachers Association), STA (Surrey Teachers Association), BCGEU (BC Government and Service Employees' Union), VSTA (Vancouver Secondary Teachers' Association), and Victoria Labour Council.
Organizer of Asian Canadian Artists Against Racism: an Evening for Resistance!
The Asian Canadian Labour Alliance is a national organization that has existed for two decades. In 2020, with the spike in Anti-Asian racist incidents in British Columbia, a small group of Asian Canadian activists began to reach out to get ACLA active again in B.C. to further ACLA's goals and advance economic and racial justice in our communities and in the labour movement. We welcome all Asian Canadian workers in B.C. (unionized or not, union staff or rank-and-file members) to join our efforts. Please connect at ACLAinBC@gmail.com and follow/like us at https://www.facebook.com/AsianCanadianLabourAlliance