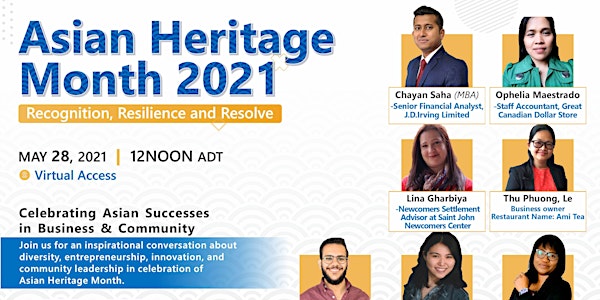 Asian Heritage Month Celebration in Saint John New Brunswick
Asian Heritage Month 2021, "Recognition, Resilience, and Resolve" - Celebrating Asian Contributions in Business & Community of Saint John.
About this event
Asian Heritage Month 2021
Join us for an inspirational conversation about diversity, entrepreneurship, innovation, and community leadership in Saint John New Brunswick through this month's celebration of the Asian Heritage Month 2021 in partnership with the Saint John Region Chamber of Commerce, Asian Heritage Society NB Saint John Chapter, PRUDE Inc, the Saint John Newcomers Center, Union of Youth Newcomers and Think New Brunswick.
We have speakers from the Asian Community here in Saint John New Brunswick to share their stories, journeys, challenges, successes, and contributions in our Saint John Community.
Registration is free. The first thirty people to register will be automatically entered into a draw for 4 persons to win $25 gift card each, to be redeemed at any local Asian restaurant in Saint John, New Brunswick Canada.