Description
"Asian Tradition Meet Pop" - By Infiniti Melody of Bamboo Music
A perfect breakthrough from Asian traditional and classical music with thousands years of history, mixing with popular and world music elements, giving a new impression of Asian music.
The concert mainly features Chinese Wind Instruments Sheng and Xiao, Plucked stringed instruments guzheng and yangqin, Stringed instrument erhu. All the repertoires will be rearranged and recomposed, and collaborate with some western musical instruments such as piano, cello, etc. The concert will be diverse, fascinating, and compelling.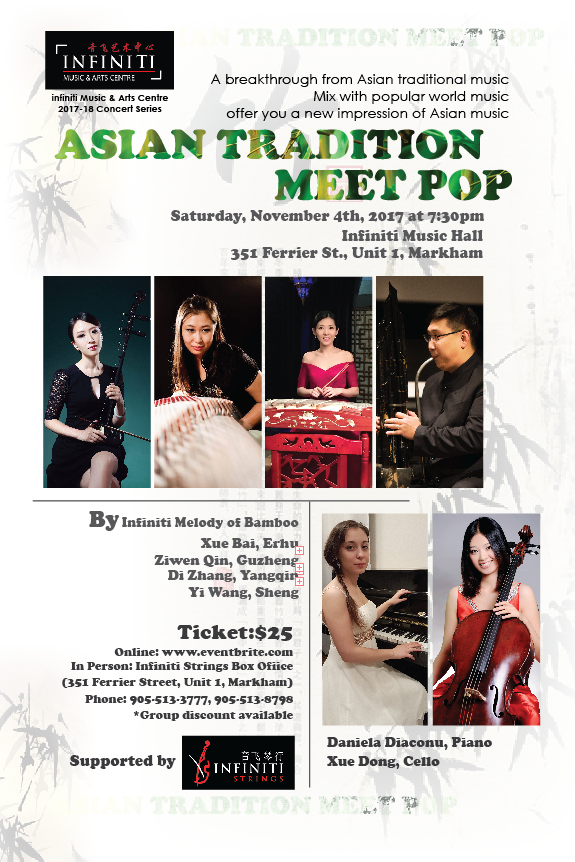 A great concert consist of Asian tradition and pop music. DO NOT MISS. COME AND JOIN US.
Infiniti Melody of Bamboo Music
Melody of Bamboo Music (Zhu Yun Fang), is a band of Chinese traditional music established in 2011 by a group of young Chinese music artists with same goals and interests. These Chinese music artists were all graduated from top Conservatory of Music in China. Their accomplishments and quality are built on solid skills over 20 years. They are able to perform diverse music styles skilfully with their own understanding and expression of the music. That makes the music more compelling, beautiful, diverse and special. Since its foundation, Melody of Bamboo Music has performed and invited for different kinds of performance art, shows, concerts, for charity fundraising, and multiculture activities. They are devoted to promoting Chinese traditional culture, spreading and inheriting Chinese national arts. While based on essence of Chinese culture, they can also keenly understand and express the pop and world music. Heightened by modern electronic music, their brilliant stage style and stunning playing skills, the romantic passion and lively character are fully expressed and performed from reformed traditional music.