About this Event
We are committed to supporting the betterment of the security industry through collaborative and educational events. Support of sponsors enables the chapter to grow, serve and support its members. Sponsorship also supports operational costs associated to the volunteer organization.
Over the year contributions from ASIS 162 Sponsors have supported 2019 chapter highlights such as increased Luncheon attendarce was up 57% from 2018. The 2019 Golf attendance increased 33% from 2018. 2019 delivered a brand-new professional website, and evening/mixer events well attended with feedback following events has been positive. The Chapter has seen an increase in new faces showing at Luncheons/Mixers.
Sponsoring the Calgary/Southern Alberta Chapter 162 offers the following benefits, up to and incuding:
Recognition on the ASIS Chapter 162 Web Site as the Sponsor.
Opportunity to have their banner placed at the front of the room during the monthly Luncheons
Table Top Poster at the registration table to all ASIS Chapter 162 events, including Luncheons
Displaying your company's banner at the Annual Golf Tournament during the banquet
A one (1) time free luncheon registration for four (4) people of the Sponsors choosing, and with previous arrangements having been made with the Chapter, where the sponsor will be recognized as a Gold Level Sponsor for the Chapter (available to Gold only)
Space for a company write up on the sponsorship page
A link to the sponsor's web page added to the sponsors section of the ASIS web site
Available sponsor levels are identified and available by selecting Sponsorship Ticket. Term of sponsorship 2020 calendar year.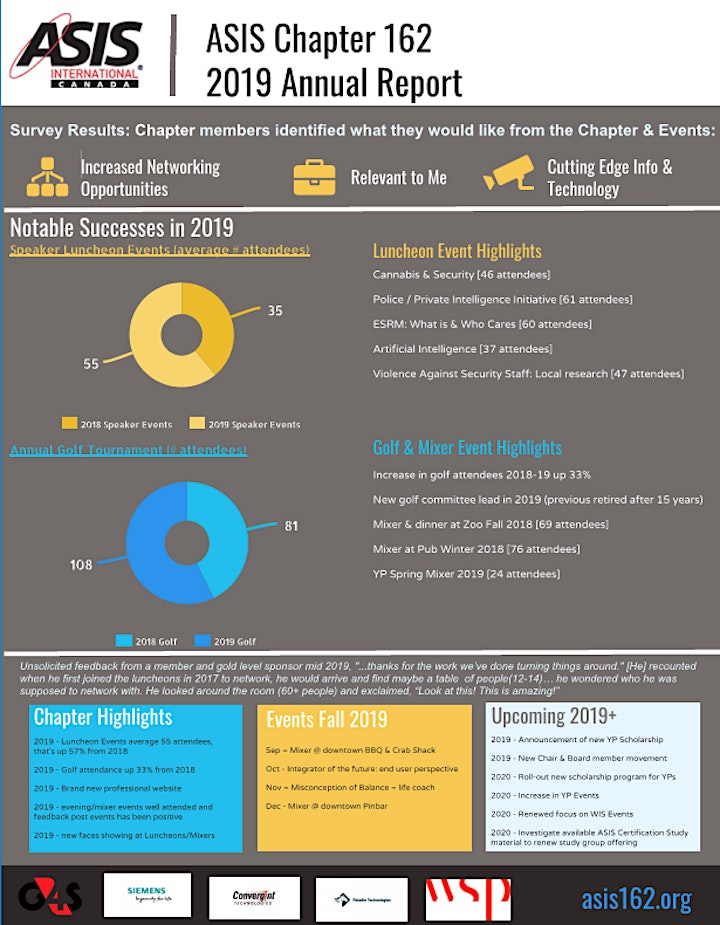 Date and Time
Refund Policy