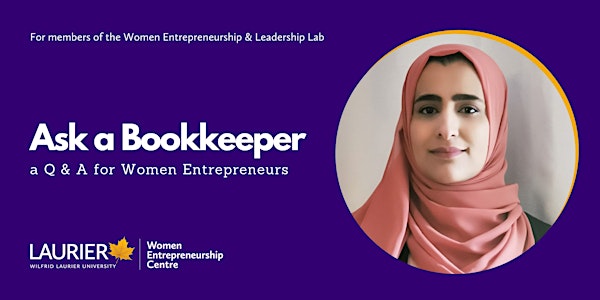 Ask a Bookkeeper: a Q & A for Women Entrepreneurs
A members only event for those in the Women Entrepreneurship & Leadership Lab about cash management, budgeting, profit, cashflow and more!
About this event
A members only event for members of the Women Entrepreneurship & Leadership Lab.
Bookkeeping is not just about plugging in numbers but it is a process that helps the business owner take right and timely action for the success and continuity of their business.
Questions that may be covered during this session include but are not limited to:
How would a company's plan for a budgeting process look?
What is the difference between profit and cash flow?
How does a business owner pay themselves?
What's the best way to keep good records?
Would reducing the costs be more beneficial to the company than increasing revenue, or vice versa?
Bring your questions and see you in the WELL!
Our Presenter
Hello! My name is Benazir and I am the owner of AZON Bookkeeping Services Inc., a virtual accounting agency based in Durham, Ontario that helps Canadian small business owners and entrepreneurs achieve their financial goals and freedom.
My love for Mathematics and Science grew from a very young age. After several educational years of learning, I found my passion in Accounting and earned a Bachelor's Degree from Oxford Brookes University in the United Kingdom. Shortly after, I started my career in the field and entered the corporate world.
As an immigrant and a BIPOC woman in the industry, I faced many challenges throughout my journey. With a lack of acknowledgement, mentor ship, financial support and opportunities for growth, I felt that the corporate world was inhibiting my potential and could not challenge me on an intellectual level. Thus, I decided to start my own business to maximize my potential and to support other aspiring entrepreneurs facing similar challenges. Using my 8+ years of professional experience, I launched AZON Bookkeeping Services Inc. in May 2020 at the height of the COVID pandemic.
Important Information
Attendees of the event do need to be paid members of the Women Entrepreneurship & Leadership Lab (the WELL) to join us.
The Women Entrepreneurship & Leadership Lab (the WELL) brings together women and non-binary entrepreneurs to connect and collaborate in a dedicated space, so that we can grow our businesses, inspire and motivate each other, network and gain new business opportunities from the relationships we create.
Membership is $40/month, with a 30 day free trial and instant access to the WELL including:
Experience exclusive content and conversations you can't find anywhere else.
Meet women and non-binary entrepreneurs who share your interests and care about the same topics.
Make better, more well-informed decisions about the things that are most important to you.
Swap stories, experiences, and ideas (not necessarily advice).
Find a little inspiration, thought-provoking conversations, and expert perspective each and every day.
Please join the WELL here in order to attend our monthly networking events:
https://thewell.honeycommb.com/login
The Women Entrepreneurship Centre (WEC), part of Wilfrid Laurier University, is dedicated to empowering women and non-binary entrepreneurs of every age, stage and culture to achieve their business dreams. We believe in fostering leadership. We believe that everyone deserves an equal opportunity to succeed. We believe in connecting you with the right people, skills and support to make it happen.