Ask a Lawyer - Questions about COVID-19 w/ Jelena Urosevic & Omar Ha-Redeye
About this Event
Legal questions about Employment Law or about Immigration & Travel Restrictions related to COVID-19?
Join us for a Virtual Meeting with Jelena Urosevic (Rashid Urosevic LLP) & Omar Ha-Redeye (Board Member of the Canadian Association of Black Lawyers)
DATE: Wednesday, April 15
TIME: 7:00pm - 8:00pm (EST)
Link to be sent prior to the meeting.
Jelena Urosevic & Omar Ha-Redeye will be discussing the following:
**COVID-19 travel restrictions for Canadians, permanent residents and temporary residents (workers, students and visitors)
**Impact of COVID-19 measures on new applications for Canadian work permits, permanent residence and citizenship
**COVID-19 obligations for Canadian businesses who employ foreign nationals
For more information, please contact us info@BlackChamber.ca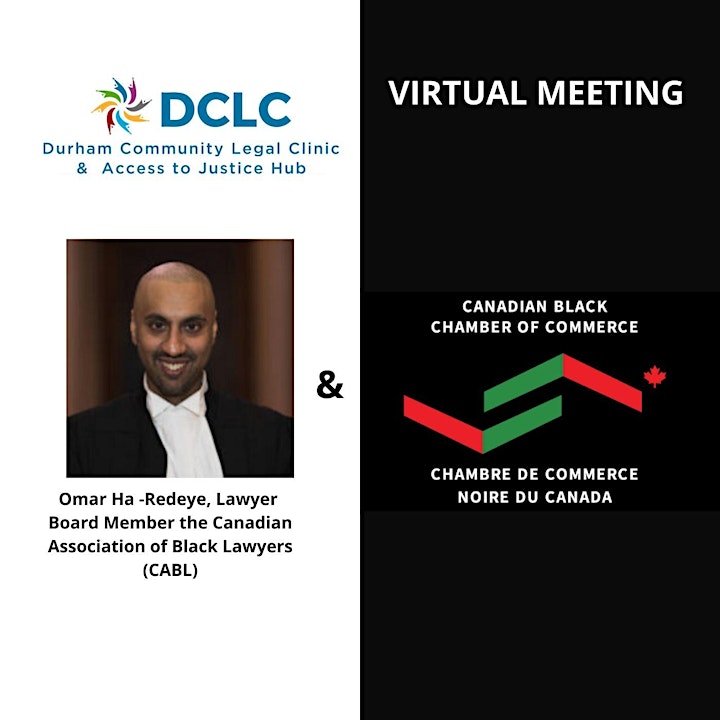 Omar Ha-Redeye, Lawyer Board Member the Canadian Association of Black Lawyers (CABL)
Omar Ha-Redeye​ is a Toronto and Durham Region lawyer and legal academic. He holds a JD from Western Law and an LLM from Osgoode Hall.
He is the Executive Director of the Durham Community Legal Clinic in Oshawa and teaches part-time at Ryerson University.
Omar is actively involved in the legal profession and has held various leadership positions in several different advocacy and professional organizations. He is frequently interviewed by the media on legal issues.
He was named in 2011 one of the top 12 social media influencers practicing law in Canada. In 2012, he was awarded Queen Elizabeth II, Diamond Jubilee Medal, for promoting access to justice and advocacy on behalf of marginalized and discriminated populations. In 2015, he was awarded the OBA Foundation Award for exceptional contributions to improving the justice system and public legal education. In 2017, Omar received the Ted Rogers School of Management Teaching Award for Contract Lecturers at Ryerson University. In 2018, Omar was recognized by the Canadian Law Blog Awards (the Clawbies) for the Best Blogger in a Group Blog or Platform.
Omar is a regular blogger with legal websites such as Slaw​ and is frequently contacted​ by the media. He has several publications in the areas of health law, online reputation, and labour law. He is repeatedly invited to judge legal competitions for law students across North America.
Personal Website: http://www.omarha-redeye.com/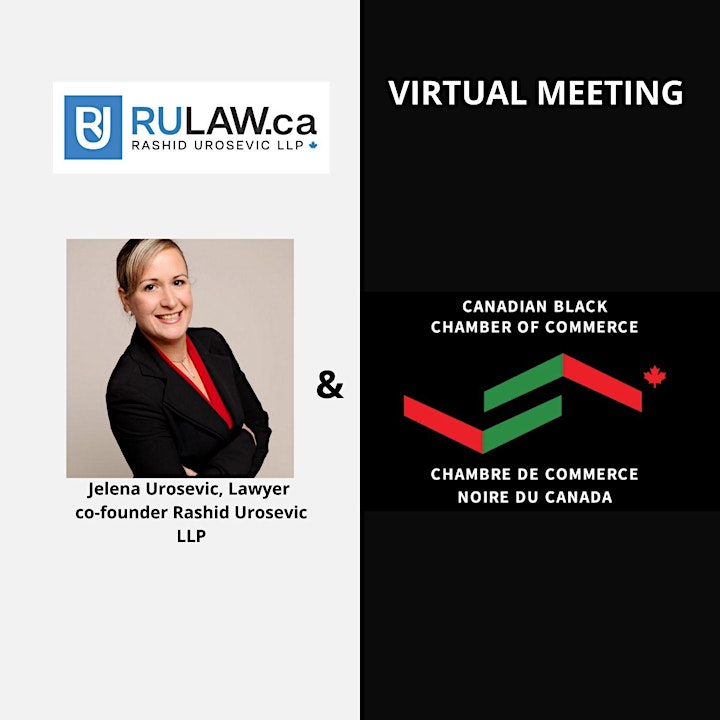 Jelena Uroservic, Lawyer co-founder Rashid Urosevic
Jelena immigrated to Canada from the former Yugoslavia in 1994. She developed an interest in immigration law and policy at an early age as she observed her mother's experiences as a skilled worker and the experiences of many other immigrants and refugees from her country. She has always been enthusiastic about helping individuals understand the Canadian immigration system and successfully integrate into Canadian society.
Jelena obtained her law degree from Osgoode Hall Law School in 2007 and was called to the Ontario Bar in 2008. She completed the Immigration and Refugee Law Intensive Program in law school, with a placement at the Immigration Appeal Division of the Immigration and Refugee Board. In 2010, Jelena started her immigration law career as Counsel in the Immigration Law Division at the Department of Justice Canada. For over six years, she represented the Minister of Immigration, Refugees and Citizenship and the Minister of Public Safety and Emergency Preparedness in hundreds of immigration, refugee and citizenship cases before the Federal Court of Canada and several cases before the Federal Court of Appeal. Her desire to help individuals understand the Canadian immigration system and the options available to them lead Jelena to leave public service and co-found Rashid Urosevic LLP in 2016. Jelena handles all types of Canadian immigration, citizenship and refugee matters, including litigation. She helps individuals apply for Canadian permanent residence or for temporary status as workers, students or visitors. She also assists Canadian businesses in obtaining authorization to hire foreign workers to fill their labour shortages.