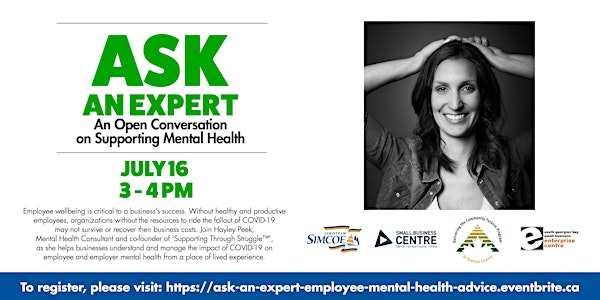 Ask an Expert: An Open Conversation On Supporting Mental Health
Join Hayley Peek, mental health expert as she helps businesses manage the impact of COVID-19 on employee and employer mental health.
About this event
Employee wellbeing is critical to a business's success. Without healthy and productive employees, organizations without the resources to ride the fallout of COVID-19 may not survive or recover their business costs.
Join Hayley Peek, Mental Health Consultant and co-founder of 'Supporting Through Struggle™', as she helps businesses understand and manage the impacts of COVID-19 on employee and employer mental health from a place of lived experience.
In this session, Hayley will provide information and insights regarding:
Managing employee stress regarding return to work
Supporting employees that are going back to work
Managing employee concerns about being exposed to COVID-19
Addressing the impact of working from home and isolation
How business owners /sole proprietors can manage their own mental health
Answer questions about mental health in the workplace
We are taking questions in advance that can be submitted when you register. For more information, please contact edo@simcoe.ca
Details for accessing the session will be sent in advance.
This session is part of the 'Ask an Expert' series presented in partnership with the Small Business Centre of Barrie, Simcoe County and Orillia, South Georgian Bay Small Business Enterprise Centre, Orillia Area Community Development Corporation, Nottawasaga Futures, North Simcoe Community Futures Development Corporation and the Centre for Business and Economic Development.