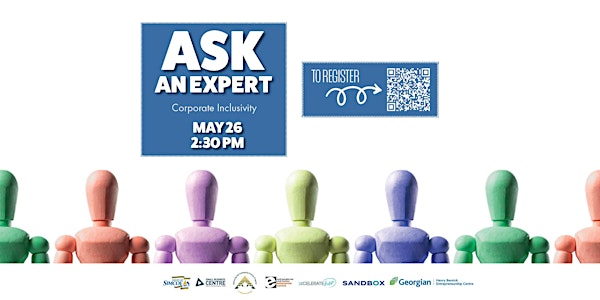 Ask An Expert: Corporate Inclusivity
Join us on May 26 at 2:30pm to learn how businesses can break down prejudice, promote unity, and foster compassion in our world.
About this event
Join Get REAL, a Canadian non-profit focused on combatting 2SLGBTQ+ discrimination, racism, and bullying to learn how businesses can break down prejudice, promote unity, and foster compassion in our world.
Through this Ask an Expert session, participants will gain:
Increased knowledge of 2SLGBTQ+ identities, terminology, and language to help avoid costly PR missteps externally with clients, customers, and partners
Practical steps and creative ideas on how to improve company culture internally to increase staff retention and performance
A chance to work through realistic and customized workplace scenarios
The opportunity to ask questions anonymously and get advice from two highly experienced "Get REAL" speakers, including a transgender speaker
Speakers
Monica Henao is Get REAL's Content Manager and Lead Speaker. She is a Media Communications graduate from the University of Guelph-Humber and has brought her multifaceted experience to Get REAL. Born in Colombia, and raised in Canada, Monica embraces all parts of her identity and wants youth to do the same. Her passion for human beings - hearing their stories, their experiences, their struggles, & their triumphs gives her the drive to continue to create and amplify content that highlight the voices we don't hear everyday.
Jonas Stark (he/him) has been a Get REAL speaker since his graduating year of high school. Inspired by seeing a Get REAL workshop when he was a student himself, Jonas joined Get REAL as its youngest facilitator. His work ethic, skill as a public speaker and ability to relate to audiences all across Canada has led to him being a leader within the organization, speaking to tens of thousands of youth in BC, Manitoba, Ontario, and Nova Scotia over the years. Born and raised in Toronto, Jonas is passionate about mental & physical health within the trans community, and overall, young queer folks as a whole.
As a trans man, Jonas is passionate about being a speaker because he believes that everyone deserves to feel valid and accepted, no matter how they express themselves. Passionate about systemic inequalities, Jonas is working to complete his undergraduate degree in Politics and Public Policy.
This session is part of the "Ask an Expert" series presented in partnership with the County of Simcoe, the Small Business Centre of Barrie, Simcoe County and Orillia, South Georgian Bay Small Business Enterprise Centre, Orillia Area Community Development Corporation, Nottawasaga Futures, North Simcoe Community Futures Development Corporation, Community Futures South Georgian Bay, Sandbox Centre and Henry Bernick Entrepreneurship Centre - Georgian College