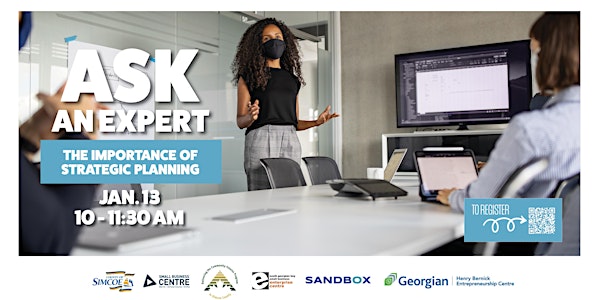 Ask an Expert: Navigating 2022- The Importance of Strategic Planning
Join us on January 13th, 2022 from 10:00 am-11:30 am to learn about steps and considerations for business strategic planning.
About this event
As businesses begin to think about their year end, leaders should consider creating a strategic plan. Many leaders find it difficult to prioritize strategic planning in the face of urgent operational challenges that compete for attention. However, the COVID-19 pandemic has emphasized the need to be agile and prepared, and the long-term growth and sustainability of any team, group or organization depends on having alignment to a compelling vision and well formulated plans to achieve it.
Without a clear and detailed strategic plan you are at risk of diluted and unproductive efforts while likely experiencing the confusion, frustration and fatigue that come from lack of clarity and accountability.
Why do a strategic plan?
Thrive State's four-step strategic planning process
Common strategic planning pitfalls and their mitigation
Strategic planning example
Attendees can expect to take the following away from the session:
Understanding of a simple, four-step strategic planning process
A strategic planning example and templates to help them with their strategic planning process
Contact information for strategic planning expertise if needed
This session is open to all businesses in Simcoe County.
Our Expert:
About the Expert Presenter:
Brian Faulkner is a seasoned business leader with over 30 years of experience in the global engineering and construction industry. In 2014 Brian initiated a business management consulting practice with a focus on organizational performance assessments; innovative approaches to strategy development and planning; facilitation of planning focused workshops; establishing visible metrics to track progress towards goals; executive coaching and mentoring for sustainable success; succession planning and transition management. In addition to his practical experience leading large and complex businesses, Brian is a skilled facilitator and personal coach who has a tremendous passion for helping people and the organizations they lead achieve transformative change.