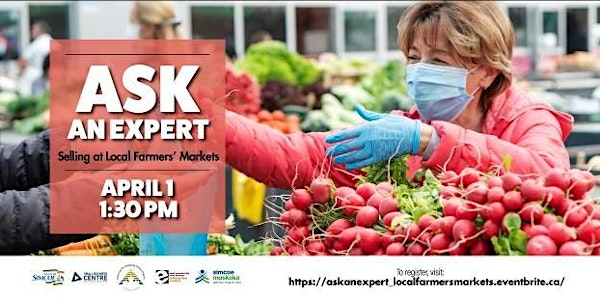 Ask an Expert: Selling at Local Farmers' Markets
Join us on April 1st from 1:30pm to 3:00pm for this virtual session on everything you need to know to sell at Farmers' Markets this season.
About this event
As the warmer weather approaches, local farmers and artisans are preparing their products for their local farmers' markets. The COVID-19 global pandemic continues to rage on with new variant strains, raising several questions about how to sell local product safely this summer. This session will help local sellers understand required safety protocols and practices to follow at farmers' markets in 2021.
Join representatives from Simcoe-Muskoka District Health Unit as they discuss everything you need to know to sell at local farmers' markets this season. The session will be held on April 1, 2021 from 1:30pm to 3:00pm.
This session is part of the 'Ask an Expert' series presented in partnership with the Small Business Centre of Barrie, Simcoe County and Orillia, South Georgian Bay Small Business Enterprise Centre, Orillia Area Community Development Corporation, Nottawasaga Futures, North Simcoe Community Futures Development Corporation and the Centre for Business and Economic Development. For more information and to view recordings of previous sessions visit: www.simcoe.ca/askanexpert.