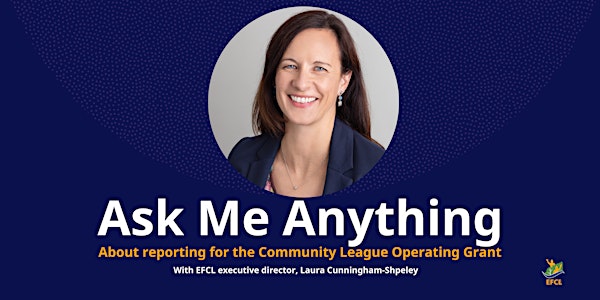 Ask Me Anything about reporting for the Community League Operating Grant
Learn how the new Tripartite Agreement changes League reporting for the Community League Operating Grant.
About this event
Join the EFCL for an ask anything session on how the new Tripartite Agreement will affect your Community League.
What's changing?
The EFCL will now gather the information that Leagues previously provided to the City of Edmonton
The information that Community Leagues gather will be the same as before – except for additional information about the League's plan for the year ahead.
The way this information is shared will shift to an EFCL form that walks you through, step by step.
Do you have questions?
EFCL's executive director, Laura Cunningham-Shpeley, is hosting four Ask Me Anything sessions to help clarify changes and give you answers.
January 26 at 12-1pm
February 1 at 7-8pm
February 17 at 12-1pm
February 22 at 7-8pm
You can also send us an email at leaguesupport@efcl.org.
What's the Tripartite?
The EFCL and the City of Edmonton have worked for nearly two years to negotiate the 2022-2031 Tripartite land-use agreement. This work has been to ensure the agreement continues to meet the needs of all three parties and to provide new opportunities for Leagues.