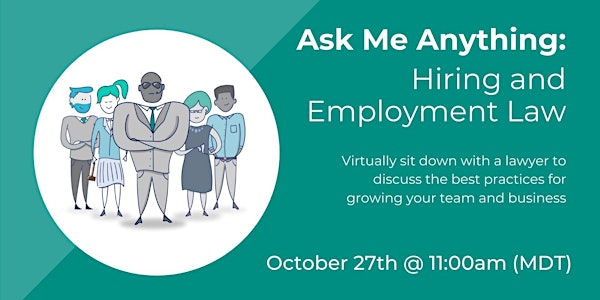 Ask Me Anything: Hiring and Employment Law
Virtually sit down with a lawyer to learn more about the best hiring practices in order to grow your business.
About this event
Let's face it; you have a million and one things to do to grow your business. Maybe you are looking for product-market fit, trying to attract investors for another round of funding, or still building your MVP. At any stage, you must keep yourself and your business protected. That is where your Lawyer in shining armour comes in; meet Goodlawyer.
So, take a breath, brew yourself a cup of tea and virtually sit down with Goodlawyer for our "Ask Me Anything" forum. With topics revolving around business law, Goodlawyer will help demystify this broad and continuously evolving field.
What to Expect in this Session:
If you're considering attending this webinar that most likely means your business is growing or you are dreaming bigger than your current one-person operation - either way, congrats!
While the prospect of expanding your business can be an exciting milestone, it can also induce anxiety if not approached tactfully. In this AMA, our Good Lawyer will help you understand how to grow your business regarding hiring and employment while protecting you and your business.
Already jotting down your questions for our Good Lawyer? Pre-submit your questions here to make sure they don't get missed!
Who Should Attend?
No matter what stage your business is in, Goodlawyer is eager to guide you on the right track. This webinar is open to everyone but would be most useful if…
You're considering growing your small business.
You already have employees.
You are suffering from information overload and don't know where to start.
Agenda - MDT (Calgary/Edmonton time)
11:00 AM: Introductions and ground rules
11:15 AM: - Recruiting tactics/key hiring considerations, compensation practices, employee vs consultant considerations, minimum wage requirements,on-boarding and key documents, tax advantages of various stoke based composition plans
11:45 AM: Presubmitted Questions & Open discussion
11:55 AM: Conclusion
Lawyer
FAQs
Frequently asked questions can be found on our event page below "Upcoming events."
Webinar Zoom Link:
https://zoom.us/j/91402373822