ASQ TORONTO DINNER AND NETWORKING EVENT: Members Appreciation and Recogniti...
Description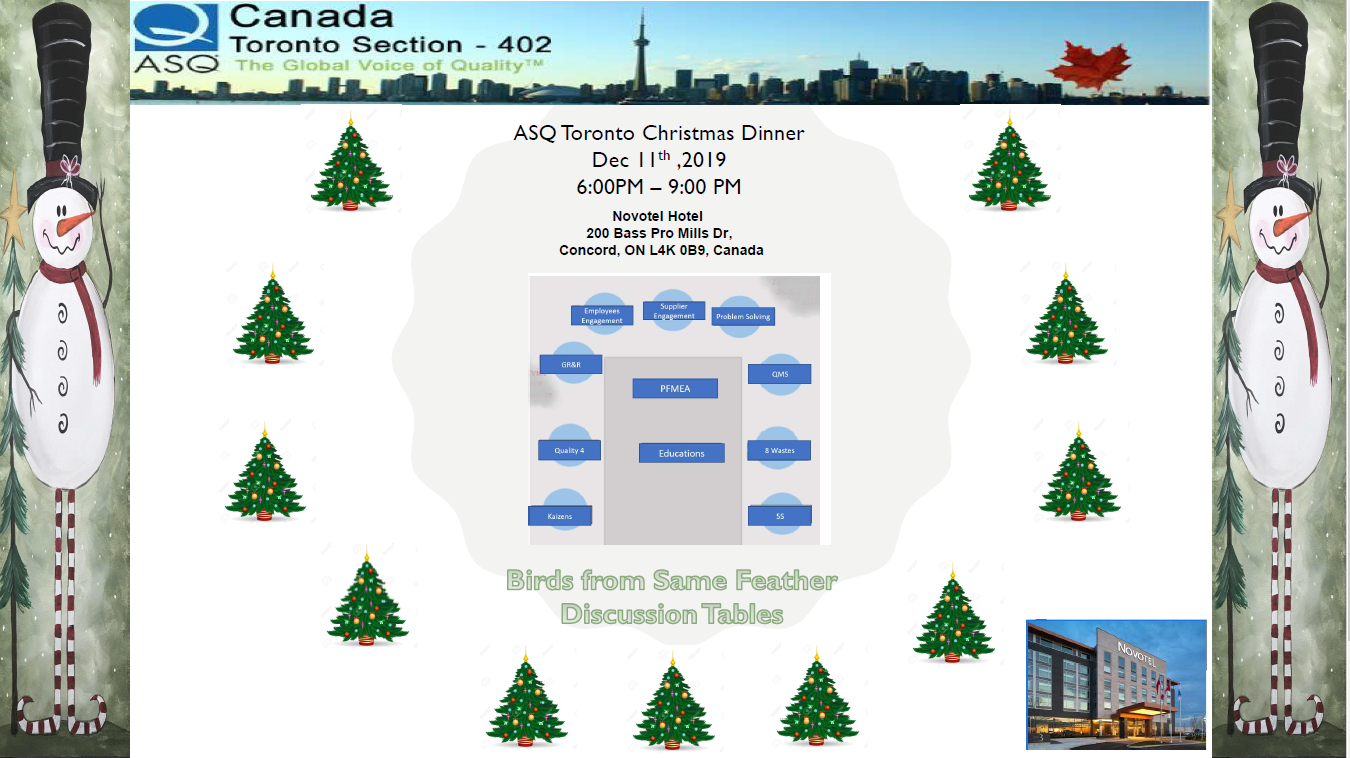 Join us for a silver Bells Buffet as we host the Annual Member's Appreciation and Recognition Dinner Event in honour of the American Society for Quality Toronto section members and guests.
The night offers an evening of Quality networking with Industry colleagues and features a moment with Chaitanya Baliga, ASQ Toronto Chair and Savita Despande, ASQ Toronto Chair-Elected.
*** Buffet Dinner is served with various options.
*** Cake will be cut and placed on buffet for guests.
Registration is open for the ASQ Toronto Section Annual Member's Appreciation and Recognition Dinner Gala on Wednesday, December 11 at the Novotel Toronto Vaughan.
Please save the date by clicking on the registration tab.
The deadline for this event is EOD Saturday, December 7.
Pre-registration is required.
RSVP now as space is limited, and this is an event you do not want to miss!
ASQ Toronto members: $25
Non-members: $30
Registration after Dec 7: $35 (Members and Non-members)
All applicable taxes included.
Registration for this event is at a minimal cost to members and Non-members: a large portion of which is subsidized by the ASQ Toronto section.
Timing: 6:00-8:30 PM
Location: Novotel Toronto Vaughan, 200 Bass Pro Mills Dr, Concord, ON L4K 0B9
Parking is free.
**More information to come.
We look forward to seeing you there.
For verification of your ASQ Toronto Section Membership, please go to www.asq.org and log into your profile or call 1-800-248-1946.
You are receiving this email from the ASQ Toronto Chapter because you are an active member of the email list maintained by ASQ. If you would like to unsubscribe to this mailing list, please send an email to program@asqtoronto.org with the subject line UNSUBSCRIBE. If you have other comments/questions, please feel free to email as well.