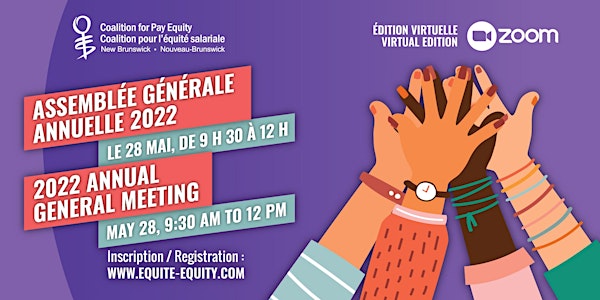 Assemblée générale annuelle · 2022 · Annual General Meeting
Assemblée générale annuelle de la Coalition pour l'équité salariale du N.-B. · 2022 · NB Coalition for Pay Equity's Annual General Meeting
About this event
Il nous fait plaisir de vous inviter à la 15e Assemblée générale annuelle (AGA) de la Coalition pour l'équité salariale du Nouveau-Brunswick Inc., qui aura lieu en ligne le samedi 28 mai 2022, de 9 h 30 à midi.
Veuillez noter que cet événement est réservé aux membres. Veuillez consulter notre site web pour devenir membre.
Les AGA sont essentielles à la santé et à la continuité de notre organisme – merci de faire partie de notre coalition.
Nous avons hâte de vous voir le 28 mai !
*
It is our pleasure to invite you to the 15th Annual General Meeting (AGM) of the New Brunswick Coalition for Pay Equity Inc. to be held online on Saturday, May 28, 2022, from 9:30 a.m. to noon.Please note that this event is for members only. Please visit our website to become a member.
AGMs are vital to the health and continuity of our organization—thank you for being part of our coalition.
We are looking forward to seeing you on May 28th!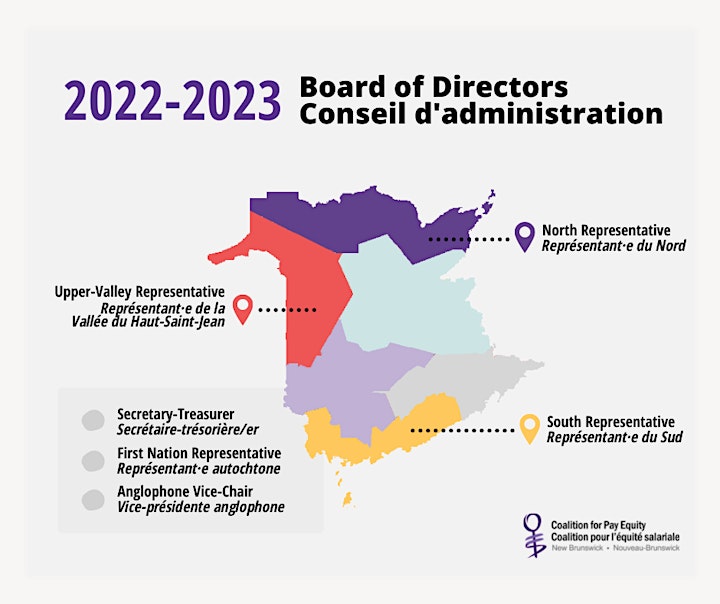 Si vous avez déjà envisagé de faire partie de notre équipe, voici votre chance ! Les mandats des membres du conseil d'administration sont d'une durée de deux ans et les postes suivants feront l'objet d'élections cette année :
Vice-présidence anglophone
Secrétaire-trésorière ou secrétaire-trésorier
Représentation autochtone
Représentation du Nord
Représentation du Sud
Représentation de la Vallée du Haut-Saint-Jean
Contactez-nous si vous souhaitez en savoir plus ou si vous voulez poser votre candidature !
*
If you have ever considered joining our team, this is your chance! Board members serve two-year terms and the following positions will be up for election:
Anglophone Vice-Chair
Secretary-Treasurer
First Nation Representative
North Representative
South Representative
Upper-Valley Representative
Contact us if you're interested of if you want more information!