Description
À la splendide Résidence au bord du lac Léman de Monsieur Stephen de Boer, Ambassadeur et Représentant permanent du Canada auprès de l'Organisation mondiale du commerce.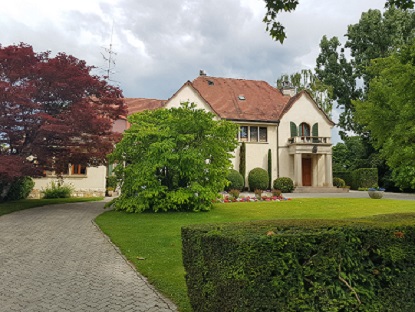 At the beautiful lakeside residence of Stephen de Boer, Ambassador and Permanent Representative of Canada to the World Trade Organization.
18:00 Inscription - Registration
18:30 Mot de bienvenue de l'Ambassadeur de Boer et du Président de la CCCS suivi de l'Assemblée générale

Word of welcome from Ambassador de Boer and the CSCC President followed by General Assembly

19:15 Cocktail dinatoir - Dinner cocktail
21:00 Fin - Close
Les frais de participation* de CHF 50 pour les membres et CHF 65 pour les non-membres comprennent:
l'inscription, le cocktail dinatoire et les breuvages.

----
Participation fee* of CHF 50 for members and CHF 65 for non-members includes:
registration, cocktail dinner and drinks.
*Inscription obligatoire. Remboursable jusqu'à 72 hrs avant l'événement
*Registration mandatory. Refundable up to 72 hrs before event