Asset Based Community Development with Dan Duncan

Thursday, 9 January 2014 from 9:00 AM to 5:00 PM (PST)
Event Details
 Join us on January 9 and 10, 2014 for two inspiring days of Building Stronger Communities through "Asset Based Community Development" (ABCD).
Effective Community Partnership: How Residents and Organizations Can Work Together for Great Impact by Using The Principles Of Asset-Based Community Development
To improve lives of families and their members in today's world requires neighborhoods and their residents to be involved as coproducers of their own and their community's well-being and it requires agencies and institutions to "lead by stepping-back" to create space for resident action and engagement.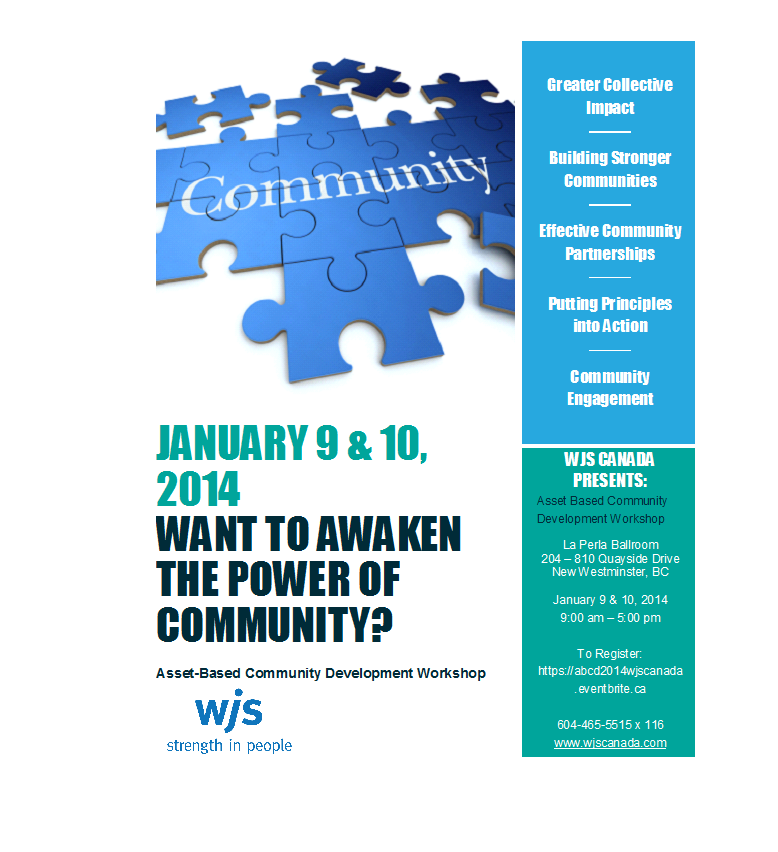 This 2 day workshop will provide an overview of the principles of ABCD and the tools organizations and communities can use to achieve greater impact and results.
WORKSHOP TOPICS:
Collective Impact Today

Introduction to ABCD – Definitions & Principles

Examples of ABCD in action

Why Place-Based Strategies and Community Engagement are Critical

The roles of Residents in Building a Stronger Community

The New Role of Institutions – How Institutions Can Use All Their Assets to Build a Stronger Community

Tools for Agencies - Leading By Stepping Back

Asset Mapping – Discover-Ask-Connect – From Mapping to Mobilizing
WHAT IS ABCD:
The belief that healthy communities are built by focusing on the strengths and capacities of the citizens and associations that call the community "home."

The belief that the assets of a community's institutions can be identified and mobilized to build community.

A range of approaches and tools, such as asset mapping and community engagement that can put these beliefs into practice.

ABOUT THE FACILITATOR
H. Daniels Duncan
Dan Duncan has extensive professional management experience in the nonprofit and for-profit professional service sectors.Since the mid 90's Dan has been helping communities, funders, nonprofits and governmental entities, both nationally and internationally, create greater community change through the principles of Asset Based Community Development (ABCD). As a faculty member of John McKnight and Jody Kretzmann's Asset Based Community Development Institute at Northwestern University, Dan has worked to help neighborhood residents use what they have to become producers of their own and their community's well-being. He has also been instrumental in helping funders, government entities and nonprofits achieve greater results and more effectively support resident engagement.
Dan has a long history as a neighborhood organizer, nonprofit agency and United Way CEO, and university adjunct faculty member. He has used this experience to provide training and consultation both nationally and internationally to help communities; nonprofits and governmental organizations enhance their community work through the use of the principles of Asset-Based Community Development.
Dan´s areas of expertise include: Asset-Based Community Development; Outcomes-Based Grantmaking; Results-Based Accountability™; Relationship-Based Fundraising; and Organizational and Board Development.
He has authored sections on "Community Development and Organizations" and "Advocacy and Nonprofit Organizations" in the Philanthropy in America, A Comprehensive Historical Encyclopedia and "Redefining the Role of United Ways with Results Based Accountability and Asset Based Community Development," for the Results Leadership Group®.

Session sign in will start at 9:00 am both days. Lunch will be provided both days.
The La Perla Ballroom is located at 810 Quayside Drive in New Westminster BC, on the second floor of the Market Place. Paid parking is located in front of the Inn at the Quay hotel to the left of the Market.
When & Where

La Perla Ballroom
810 Quayside Dr
New Westminster, BC V3M 6B9
Canada

Thursday, 9 January 2014 from 9:00 AM to 5:00 PM (PST)
Add to my calendar
Organizer

Good people strive to be better.
Learning is more than a lifelong process. It's a lifelong passion. At WJS Canada we engage, educate and empower individuals to maximize their potential through innovative learning.
Mission Statement:
WJS Professional Development provides innovative training to fill job market gaps.
Vision Statement:
WJS Canada is dedicated to providing the highest standard of professional development services in BC.
Strategic Intent
We equip our employees, the employees of other agencies, and individuals from the community with the tools to carry out their professional duties. Our instructors are carefully selected for their teaching skills as well as their knowledge and expertise.  WJS Professional Development is cost effective, embraces current best practices and reflects the highest possible standards.