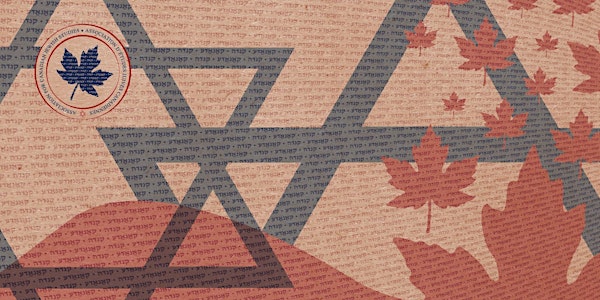 Association for Canadian Jewish Studies 2022: "Gatherings: Then and Now"
Join the ACJS for another round of stellar presentations and discussions from our brightest scholars!
About this event
Scroll down for the ACJS 2022 conference schedule or find it at this link.
Given the sad reality that we will not gather in person for a third consecutive year, we thought an interesting theme this year would be "Gatherings: Then and Now". We want to learn about significant gatherings in Canadian Jewish history up into the present: religious, secular, political, academic, familial, and everything in between.
We welcome and encourage submissions in English and French on any topic relating to Canada's Jews. This year, there are once again no limitations related to travel or funding, so brew up some coffee, stock up on your favourite conference treats, and enjoy some stellar scholarship with friends and colleagues!
Given the lack of overhead costs involved with travel, accommodations, and physical space, we are not charging a standard rate this year. Pay what you can; when you reserve your ticket, you'll be prompted to enter an amount of your choosing. For reference, our suggested donation is $18. Alternatively, you will see an option to register for free.
PLEASE NOTE: When you order your ticket, Eventbrite tells you that your amount includes fees. That is not your ACJS membership fee; it's simply the behind-the-scenes fees related to hosting registration on Eventbrite.
Schedule
Online
May 29-31, 2022 | du 29 au 31 mai 2022
All times EDT
Please note the fifteen-minute gaps between sessions. This is meant to give you a short break to refresh or prepare for the following session, but we will keep the session open for anyone who would like to "schmooze" and get to know one another.
SUNDAY, MAY 29 | DIMANCHE LE 29 MAI
12:00 – 1:30 PM: Welcome and Session 1: Literature
Jonathan Slater (SUNY Plattsburgh), Naïm Kattan and the Canadian Comet
Simone Grossman (Bar Ilan University), Déchirement et perdition chez les jeunes filles hassidiques dans Yiosh ! de Magali Sauves
Hadassah Danit O'Reilly (Independent), Considering Jews as the Target of Christian Antisemitism Confirmed in the Christie Pits Graphic Novel
1:45 – 2:45 PM: Session 2: Songs
Miranda Crowdus (Concordia University), The Musical Tastes of Jewish Montrealers: Preferences and Practices during the Pandemic
Mariana Dobreva (University of Toronto), Songs of the Plague
3:00 – 4:30 PM: Session 3: Antisemitism and Holocaust Commemoration
Sean Remz (Concordia University), The Hungarian Martyrs Synagogue and its Sisterhood: a locus of Holocaust commemoration avant la lettre
jason chalmers (Concordia University), Decolonising the Montreal Holocaust Museum
Megan Hollinger (University of Ottawa), Combating Antisemitism in Contemporary Canada: Lessons Learned and Future Directions
4:30 – 5:00 PM: Break/Open Schmooze Session
5:00 – 6:30 PM: Session 4: Roundtable on Canadian Jewish Studies and Australian Jewish Studies
Chair: David Koffman (York University)
Mort Weinfeld (Social Science)
Adina Bankier-Karp (Social Science)
Yolande Cohen (Sephardi History)
David Graham (Demographics)
Dara Solomon (Museums, Holocaust Edu)
Breann Fallon (Museums, Holocaust Education)
6:30 – 8:15 PM: Louis Rosenberg Canadian Jewish Studies Distinguished Service Award Presentation to Michael Brown, followed by:
"The Backwards March": an Interactive Evening with KlezKanada
Hosted by Hernan Tesler-Mabé, with Avia Moore and guests
MONDAY, MAY 30 | LUNDI 30 MAI
8:30 – 10:45 AM: Annual General Meeting and Open Board Meeting
10:45 AM – 12:15 PM: Session 5: Roundtable: Gender and Canadian Jewish Studies: a Conversation about Present and Future Directions
Moderated by: Valentina Gaddi (Université de Montréal)
Deidre Butler (Carleton University)
Anne Letourneau (Université de Montréal)
Jessica Roda (Georgetown University)
12:15 – 2:00 PM: Lunch Break and Online Cooking Class: Kosher Poutine with Lori Hoch Stiefel from PJ Library
2:00 – 3:45 PM: Session 6: Canadian Jewish History 1
Ira Robinson and Yosef Robinson (Concordia University), Maimonides for the Masses?: Rabbi Chaim Kruger, the Keneder Adler, and Medieval Jewish Philosophy
Emily Belmonte (York University), Gender & the Canadian Jewish Fur Trader Experience: Expansion & Colonialism in British North America – 1759 to 1812
Michael Kent (Library and Archives Canada), A Marriage Campaign: Anxieties over Singlehood Found in the Jewish Times
4:30 – 6:00 PM: Session 7: Roundtable on Canadian Jewish History & Australian Jewish History
Chair: David Koffman (York University)
Rebecca Margolis (Monash University)
William Rubinstein (Aberystwyth University)
Hernan Tesler-Mabe (University of Ottawa)
Suzanne Rutland (University of Sydney_
Richard Menkis (UBC)
TUESDAY, MAY 31 | MARDI 31 MAI
9:00 - 10:30 AM: Session 8: Roundtable: The Role of Storytelling Traditions in Canadian Life Writing about the Holocaust
Chair: Stephanie Corazza (Azrieli Foundation)
Vardit Lightstone (University of Toronto and Hebrew University of Jerusalem)
Rebecca Margolis (Monash University)
David Koffman (York University)
Kalman Weiser (York University)
10:45– 12:30 PM: Session 9: Roundtable: Challenges and Opportunities in Contemporary Jewish Education: Cross-Sector Perspectives from the GTA
Chair: Yael Bendat-Appell (UJA Federation of Greater Toronto)
Evan Mazin (UJA Federation of Greater Toronto)
Dr. Amy Platt (Paul Penna Downtown Jewish Day School)
Rabbi Yael Splansky (Holy Blossom Temple)
Rabbi Seth Goren (Hillel Ontario)
12:30 – 1:30 PM: Lunch Break/Open Schmooze Session
1:30 – 3:00 PM: Session 10: Canadian Jewish History 2
Tyler Wentzell (University of Toronto), 'The Vanguard of the Vanguard of the Vanguard': Revolutionary Jewish Youth in Interwar Toronto, Montreal, and New York
Saundra Lipton (University of Calgary), Let My People Go: Gatherings in Calgary in Support of the Free Soviet Jewry Movement
Irving Rosen (University of Toronto), The Rise and Fall of Joseph Baruch Salsberg, The Seer of Spadina
Participants
We wish to thank our sponsors | Nous remercions sincèrement nos commanditaires:
Concordia Institute for Canadian Jewish Studies, Concordia University
The Israel and Golda Koschitzky Centre for Jewish Studies, York University
Vered Jewish Canadian Studies Program, University of Ottawa