Description
This is a Soul Purpose Alignment/Karmic Life Path reading & Energetic Shift by phone or audio web call, based on your astrological birth chart and your desired area of focus.
In addition, I am guided by the intuitive insight that comes through in your Akashic Record and will let you know when there is a healing opportunity so you can shift the energy right on the call (and release the emotions, thoughts, and energies that no longer serve you in order to create space for more love, ease, grace, peace, and forgiveness to joyously come through).
A recorded MP3 audio file (easy-breezy weblink) of each session is emailed to you after the call.
---


In these transformational calls, you will receive and be guided to remember with more ease, clarity, and confidence:
30 minutes reading (Karmic Path & Gifts) CAD $147
Your past life karmic pattern that needs to shift to create more flow in your life

Your soul purpose, gifts, and the greatest growth opportunity in this lifetime

Intuitive guidance on your 1+ personal question
60 minutes reading (Soul Purpose & Energetic Shift Session) CAD $247
Your past life karmic pattern that needs to shift to create more flow in your life and biz
Your soul purpose, gifts, and the greatest growth opportunity in this lifetime

What you are here to create, master, and shift in life/business to create joyous abundance

Energetic shift to help awaken new awarenesss and remembrance of your soul purpose

Energetic shift and holding sacred space for accelerating deep healing of your relationship soul contracts

Intuitive guidance on your 2+ personal questions (plus energetic support to shift energy right on the call)
90 minutes reading (Soul Purpose Alignment, Life Path, Energetic Shift) CAD $347
Your past life karmic pattern that needs to shift to create more flow in your life and biz

Your soul purpose, evolutionary intention, and the greatest growth opportunity

What you are here to create, master, and shift in life/business to create joyous abundance

Energetic shift to help awaken new awareness and remembrance of your soul purpose

Energetic shift and holding sacred space to accelerating deep healing of your relationship soul contracts

How to navigate and plan the upcoming 12 months with harmony and ease

Intuitive guidance on your 3+ personal questions (plus energetic support to shift energy right on the call)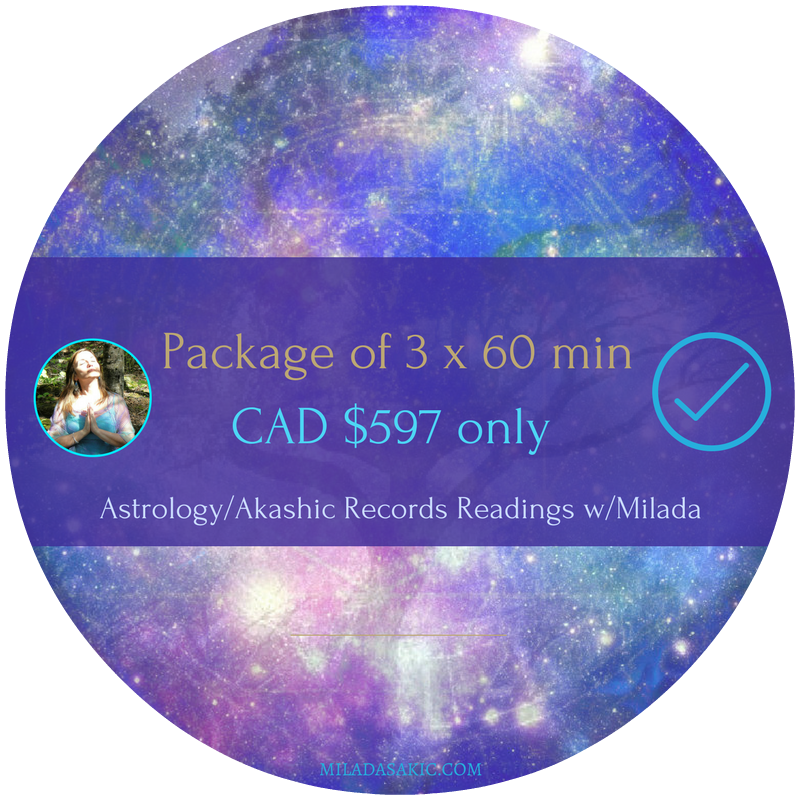 3 x 60 min sessions (Soul Purpose Alignment, Life Path, Energetic Shift) CAD $597
3-session intuitive coaching session package (reg: $741)

A recorded MP3 audio file (easy-breezy weblink) of each session is emailed to you after the call
Each session includes:
60 minutes reading (Soul Purpose & Energetic Shift Session) valued @ CAD $247
Your past life karmic pattern that needs to shift to create more flow in your life and biz

Your soul purpose, gifts, and the greatest growth opportunity in this lifetime

What you are here to create, master, and shift in life/business to create joyous abundance

Energetic shift to help awaken new awareness and remembrance of your soul purpose

Energetic shift and holding sacred space for accelerating deep healing of your relationship soul contracts

Intuitive guidance on your 2+ personal questions (plus energetic support to shift energy right on the call)

A recorded MP3 audio file (easy-breezy weblink) of each session is emailed to you after the call
---