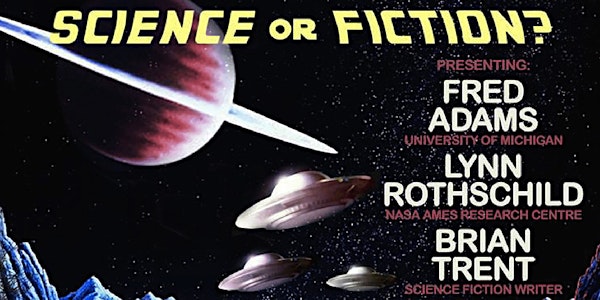 ASX 13th Annual Symposium "Astronomyths: Science or Fiction?"
Event Information
Location
JJR MacLeod Auditorium (MS 2158)
1 King's College Circle
Toronto, Ontario M5S1A8
Canada
Description
This is the 13th annual symposium organized by ASX and this year we'll be asking "is this science or fiction?" about topics from aliens to cosmology. We are excited to announce that Justin Trottier, the co-founder of ASX, will be our MC for this year's event. Come join us for an exciting night! Please note the event schedule at the bottom of this page.

We are honored to be featuring Professor Fred Adams, cosmologist at the University of Michigan and co-author of "The Five Ages of the Universe"; Professor Lynn Rothschild of the NASA AMES Research Centre; and Brian Trent, science fiction writer and author of "The Nightmare Lights of Mars".
Date and time
Location
JJR MacLeod Auditorium (MS 2158)
1 King's College Circle
Toronto, Ontario M5S1A8
Canada