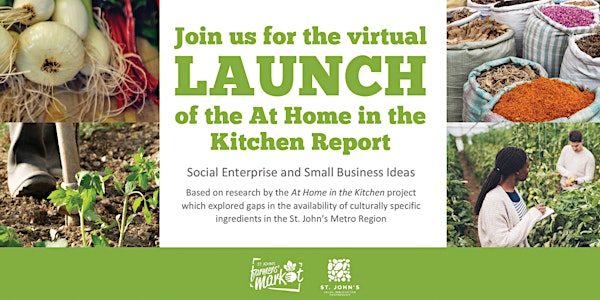 At Home in the Kitchen - Access to Cultural Ingredients in St. John's, NL
The results from At Home in the Kitchen - exploring gaps in cultural food ingredients and ideas for possible social enterprise in St. John's
About this event
Come join us Tomorrow, May 28th from 2pm - 3:30pm for the virtual launch of the At Home in the Kitchen Project Report
At Home in the Kitchen focused on what is missing in the St. John's area in terms of food ingredients for cultural communities and developed possible social enterprises based on that data.
We've taken all the raw data we gathered from our meetings and discussions with folks from many cultural communities and used it to develop four social enterprise business briefs that could be used as the starting point for new small businesses or social enterprises.
We'll be chatting about all we learned, and having a community discussion on where things could go from here.