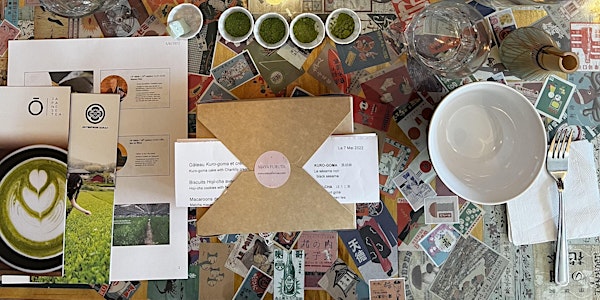 Atelier 201 Thé Matcha et desserts japonais par Reina Sakao et Maya Furuta
Location
Kokochi Izakaya
5145 Rue Wellington
Montréal, QC H4G 1Y2
Canada
Refund policy
Contact the organizer to request a refund.
Eventbrite's fee is nonrefundable.
Atelier 201 pour ceux connaissent plus sur le matcha et sur les ingrédients de base pour les desserts japonais.
About this event
(English message will follow)
Venez assister à notre Atelier 201 'Matcha accompagné par une dégustation de desserts.' Cet atelier est idéal pour ceux qui veulent découvrir les différentes variétés de Matcha.
Reina Sakao, connue sous le nom de Madame Matcha et Maya Furuta, une cheffe japonaise spécialisée dans la cuisine plant-based, collaborent pour vous offrir leur deuxième atelier de matcha et dessert.
Vous dégusterez
- 3 sortes de Matcha premium & Hojicha en poudre
- Assiette de desserts au yuzu dont gâteau au fromage au Yuzu végan et sans-gluten
Vous apprendrez:
- Comment préparer un matcha de qualité
- Le lien entre cérémonie du thé Matcha et la philosophie zen
- L'impact de la cérémonie du thé pour les japonais
- Tout ce qu'il faut savoir sur un agrume 'Yuzu'
Ce sera une occasion très spéciale d'essayer leur collection de matcha de qualité qui n'est pas disponible encore au public et d'apprendre comment utiliser le 'yuzu', un fruit très populaire au Québec depuis les dernières années.
Au plaisir de vous voir! (ou revoir!)
*AVISEZ-NOUS SI VOUS ÊTES ALLERGIQUE AUX NOIX.
BIOGRAPHIE:
Maya est une cheffe japonaise basée à Montréal. Elle s'engage à travailler avec des ingrédients locaux et biologiques de première qualité. Le bien-être à travers l'alimentation saine et le yoga sont ses piliers pour apprendre et partager des expériences culinaires.
Reina Sakao est de la quatrième génération de maison de thé au japon. Sa mission est partager sa culture japonaise, sa tradition familiale et sa passion à travers de thé.
*******************************************************************************************************
Come join our Matcha workshop 201 accompanied by dessert tasting. This is a perfect workshop for those who would like to discover different variety of premium Matcha.
Reina Sakao, known as Madame Matcha and Maya Furuta, a Japanese chef who specializes plant-based whole food cuisine teamed up to introduce the world of Matcha and Japanese dessert in this workshop.
You'll taste:
- 3 kinds of Matcha & powdered Hojicha
- A plate of desserts including vegan and gluten-free Yuzu cheese cake
You'll learn:
- How to prepare good quality matcha
- About how matcha/tea ceremony is related to zen philosophy
- About how matcha/tea ceremony has an impact on Japanese
- Everything about 'Yuzu' citrus
It is a very special opportunity to try their collection of premuim matcha which is not yet available to public and learn how to use 'yuzu' which has been very popular for the past years in Quebec.
Looking forward to seeing you !
*PLEASE LET US KNOW IF YOU ARE ALLERGIC TO NUTS.
BIOGRAPHY
Maya is a Montreal-based Japanese chef. She is healthfully committed to working with premium, locally-sourced, organic ingredients. Well-being via nutritious food and yoga are her pillars for learning and sharing delicious culinary experiences.
Reina is a fourth generation of tea house in Japan. Her mission is to share her Japanese culture, family tradition and her passion through tea.