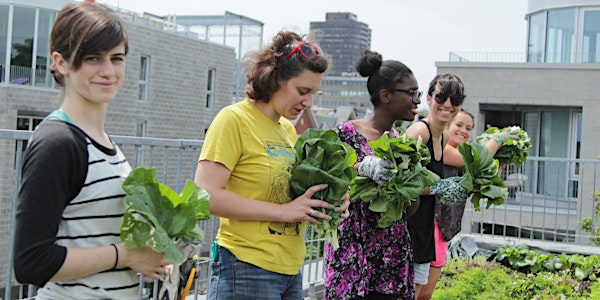 Atelier de jardinage 201 gardening workshop
When and where
Location
Santropol Roulant 111 Rue Roy Est Montréal, QC H2W 1M1 Canada
Description
Notre série d'ateliers d'agriculture urbaine continue avec un atelier Jardinage 201!
Venez en apprendre davantage sur l'univers du jardinage, nous serons là aussi pour répondre à vos interrogations potagères. L'atelier aura une partie théorique et une partie pratique où il sera possible de fabriquer son propre engrais et de le ramener à la maison.
Notez bien que le même atelier sera donné deux fois et il sera bilingue.
Quand : Le mercredi 12 juin OU le mardi 18 juin, les deux se feront sous une formule 5h30 à 19h30!
Où : 111, rue Roy Est
Coût : 10 à 15 $ suggéré (payez ce que vous pouvez!) + 5 $ de plus si vous ramenez votre engrais!
Les sujets abordés durant cet atelier seront : comment bien fertiliser vos plants, comprendre les carences potentielles, savoir bien récolter et connaître les rotations de cultures.
Pour toutes questions, vous pouvez appeler Marie-Anne au 514-284-9335 ou lui écrire à marianne@santropolroulant.org. Les places sont limitées!
---------------------------------------------------------------------------------------------------------------------
Our agriculture workshop series continues with the Gardening 201 workshop!
Come learn more about the gardening universe and get answers to all your veggie-related questions. The workshop will include a theoretical component and a practical component, with the chance to make your own fertilizer and bringing it home.
Please note that the same workshop will be offered on two dates, and both will be bilingual.
When: Wednesday June 12th OR Tuesday June 18th, both from 5:30 – 7:30 pm
Where: Santropol Roulant, 111 rue Roy East
Cost: 10$ – 15$ (suggested contribution, pay-what-you-can) + 5$ for your homemade fertilizer
The workshop will cover: how to fertilize your plants, potential nutrient deficiencies, how to harvest properly, and everything you need to know about crop rotation.
Places are limited! If you have questions, please call Marie-Anne at 514-284-9335 or write her at marianne@santropolroulant.org.