Location
Schulich School of Music
555 Rue Sherbrooke Ouest
C-304
Montréal, QC H3A 1E3
Canada
Refund policy
Contact the organizer to request a refund.
Eventbrite's fee is nonrefundable.
Pas de cordes ou de touches, le thérémine se joue sans aucun contact physique— découvrir la magie du premier instrument électronique !
About this event
English follows—
Le virtuose Français du thérémine Grégoire Blanc se joint au pédagogue et multi-instrumentiste Montréalais Aleks Schürmer pour un après-midi d'ateliers autour du premier instrument électronique de l'histoire, 100 ans après son invention.
Ateliers de découverte—
Organisés dans le prestigieuse Schulich School of Music de l'Université McGill (salle C-304), les workshops proposeront une introduction à cet instrument de musique unique en son genre, à son histoire et aux techniques de jeu en petits groupes (aucune compétence musicale particulière prérequise). Venez découvrir et explorer par vous même l'instrument oublié du XX° siècle, voyage magique entre science, musique et mouvement.
Les instruments seront fournis pour chaque participant (pensez à amener vos écouteurs / casques audio)
L'atelier dure 1h (40$ par étudiant) et sera proposé en groupe de huit personnes maximum
Classes de Maîtres—
Une classe de maître pour les musiciens de niveau intermédiaire ou plus avancé donnera l'occasion à chaque étudiant de jouer une courte pièce de musique de son choix, accompagnée au piano, pour bénéficier des conseils des deux professeurs.
Les participants au classes de maître devront amener leur propre instrument
La classe de maître durera 2h en tout (60$ par étudiant) et sera limitée à six étudiants.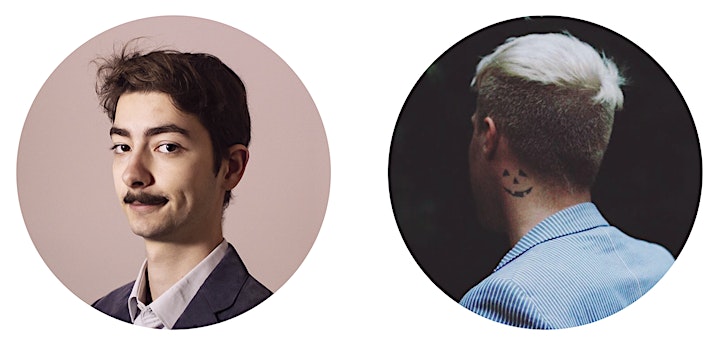 À propos des professeurs—
Avec plus de 19 ans d'expérience dans l'enseignement de la musique, Aleks Schürmer dispense ses cours à un large panel d'étudiants de niveaux variés en thérémine, flûte, piano, composition et production musicale. En tant que théréministe, il a entre autres joué en soliste avec l'Orchestre de la Francophonie, et participé à des projets de réalité virtuelle pour le Cirque du Soleil. aleksschurmer.com
Largement reconnu comme l'un des meilleurs théréministes du moment, Grégoire Blanc est fréquemment invité à se produire en Europe et dans le monde, de la Belgique au Kazakhstan, en passant par le Canada. gregoireblanc.com
Autour du thérémine—
Le thérémine fut le premier instrument électronique de l'histoire, et nous célébrons cette année le centenaire de son invention par le brillant physicien russe Lev Sergueïevitch Termen. Pas de cordes, de touches, de frettes, le thérémine se joue sans aucun contact physique. Le musicien interagit avec deux champs électromagnétiques et semble projeter une voix céleste dans l'air qui l'entoure. Grandement populaire dans les années 30, par effet de nouveauté et grâce aux performances de Clara Rockmore, la première virtuose de l'instrument, l'instrument s'est ensuite trouvé une place de choix dans le cinéma des années 50 et 60. On retrouve sa sonorité si particulière dans nombreux films de science-fiction hollywoodiens. Un peu tombé dans l'oubli depuis, c'est à Robert Moog, pionnier du synthétiseur moderne, que l'on doit la survie de l'instrument, toujours fabriqué par Moog Music Inc. Une poignée de talentueux musiciens continue à développer de nouveaux répertoires, de nouvelles techniques de jeu, de nouvelles idées musicales avec le thérémine, un instrument qui intrigue et surprend toujours son auditoire, autant qu'il le fit 100 ans plus tôt.
Concert de conclusion—
En guise de conclusion du Ether-weekend, Blanc et Schürmer joueront ensemble un programme de concert original pour thérémine, 2 altos, violoncelle et piano avec l'ensemble Hadron. « À ses pas, entrant dans la boue » sera présenté samedi 24 août à 20h dans la Salle Joseph Rouleau, à Jeunesses Musicales Canada.
Billets disponible ici— https://etherweekendconcert.eventbrite.ca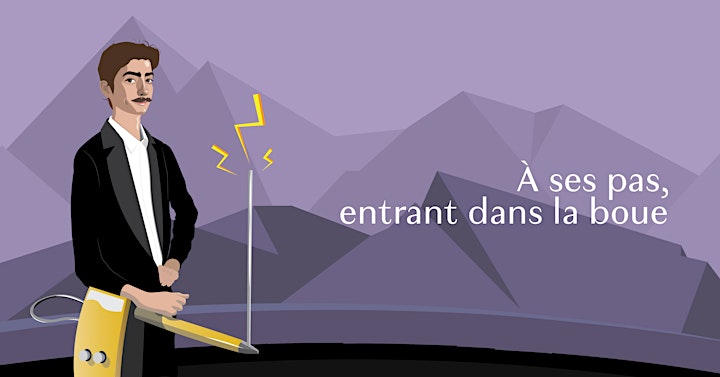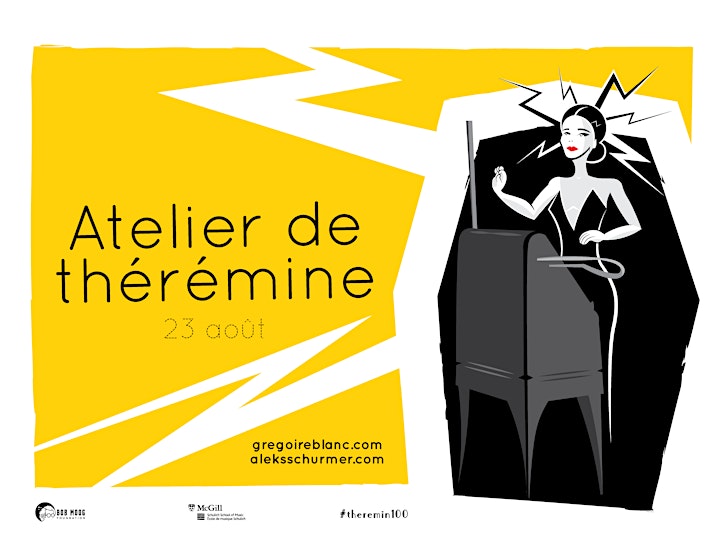 French theremin virtuoso Grégoire Blanc joins Montreal multi-instrumentalist and pedagogue Aleks Schürmer in an afternoon of mixed level theremin workshops to celebrate the 100 year anniversary of the world's first electronic musical instrument.
Introductory Workshops—
Held at the prestigious Schulich School of Music at McGill University (in room C-304), the workshops for children and adult beginners (no musical experience required) will introduce this unique and seemingly magical musical instrument, its history, and technique in small groups. Exploring science, music and movement, the theremin workshops are sure to spark the imagination— whether you are young, or simply young at heart !
Instruments will be provided for each participant (BYO headphones)
Duration is 60 minutes (40$ per enrolment)
Each workshop is limited to eight students
A masterclass for intermediate/advanced level students will give each student the opportunity to perform a short prepared work with piano accompaniment (provided) and receive feedback from the instructors.
Students must bring their own instrument (amps will be provided)
Duration is 120 minutes in total (60$ per enrolment)
Masterclass is limited to 5 students
About the Instructors—
Mr. Schürmer has over 19 years of teaching experience, maintaining a large studio of mixed level students on theremin, flute, piano, composition, and production. He has been a theremin soloist with the Orchestre le la francophonie, appeared in concert and on television with Klô Pelgag and recorded for Cirque du Soleil virtual reality projects. aleksschurmer.com
Mr. Blanc is widely considered among the best theremin players in the world with frequent festival invitations across Europe, accompanied by orchestras, chamber ensembles and pianists.gregoireblanc.com
About the theremin—
Celebrating the Centenary of its invention by Russian physicist Leon Theremin, the theremin was the first electronic musical instrument ever built. The theremin is the only musical instrument that is performed without any physical contact— without any strings or keys, the player appears to coax its haunting voice from out of thin air. While the instrument enjoyed wild successes in the 1930s, owing to the performances of Clara Rockmore (the theremin's first virtuoso) it fell into relative obscurity thereafter. A renaissance in the 1950s and 60s saw the theremin frequently participate in the scores of Hollywood Science-fiction and but through the development and conservation of the late electronic music pioneer Robert Moog, awareness of this unique musical instrument has slowly but steadily increased. Today, a handful of talented musicians have continued to push the artistic and technical possibilities of the theremin— an instrument who shocks and surprises its listener as much now as it did 100 years ago.
With support from the Bob Moog Foundation and the Schulich School of Music at McGill University.
As part of Ether-Weekend, Blanc and Schürmer will perform a concert programme of new chamber music for theremin, two violas, cello and piano with the multi-faceted Hadron ensemble. ‹‹ À ses pas, entrant dans la boue ›› will be presented on Saturday August 24 (8pm) at the Salle Joseph Rouleau of the Jeunesses Musicales Canada.
Tickets available here— https://www.eventbrite.ca/e/a-ses-pas-entrant-dans-la-boue-gregoire-blanc-fr-joue-aleks-schurmer-tickets-65100101155