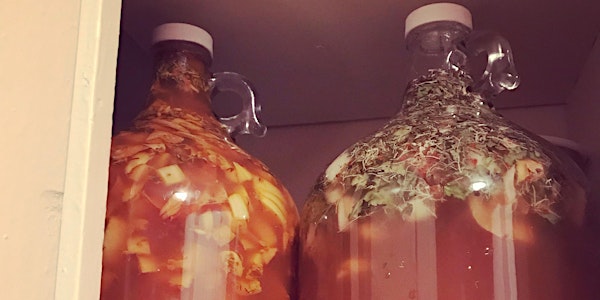 Atelier d'herboristerie : DIY Apple Cider Vinegar & Fire Cider
Participants will get to learn about the art of herbalism behind cider vinegar/ apprendre les bienfaits d'herboristerie du vinaigre de cidre
When and where
Location
santropol roulant 111 Rue Roy Est Montreal, QC H2W 1M1 Canada
About this event
(English will follows)
Maintenant que l'automne est bien établi et que nous fermons tranquillement les jardins, nous pouvons prendre le temps de relié notre série d'ateliers en agriculture urbaine à l'herboristerie.
Nous avons la chance d'avoir comme membre de communauté Pamela qui est herboriste avec son projet Bluberryjams.
Dans cet atelier, les participant.e.s vont apprendre à propos de l'art de la fermentation et les multiples utilisations du vinaigre de cidre de pomme en démarrant le leur. ♥
Le cidre de feu est un remède populaire. Il est utilisé comme un une aide tonique et digestive renforçant le système immunitaire.
Quand: Mardi le 26 Novembre, de 17:30 à 19:30
Où : Santropol Roulant, 111 rue Roy East : l'atelier e tiendra à notre deuxième étage qui est accessible de manière universelle.
Coût: 15$ – 30$ (contribution volontaire, payez-ce-que-vous-pouvez)
Quoi : Les participant.e.s recevront un pamphlet et pourront ramener à la maison leur vinaigre de cidre de démarrage et un petit cidre de feu. Il est donc important d'amener deux pots massons : un de 250 ml un de 500 ml.
* À noter que l'atelier sera présenté en anglais, mais qu'il y aura de la traduction disponible sur demande.
-----------------------------------------------------------------------------------------
Now that the fall season has take all the place and that we slowly close all the gardens, we can focus on urban agriculture workshop relate to herbalism with one of our member of the community Pamela from Bluberryjams.
In this workshop, participants will get to learn about the art of fermentation and the many uses of apple cider vinegar while making their own starter. ♥
Fire Cider is a folk remedy. It is used as an immunity boosting tonic and digestive aid.
When: Tuesday November 26th, from 5:30 to 7:30 PM
Where: In the Terraces Roy in front of Santropol Roulant, 111 rue Roy East
Cost: 15$ – 30$ (suggested contribution, pay-what-you-can)
What : Participants will get a zine and take home their ACV starter & make a small fire cider to take home. Please bring two jars – a 250ml jar and a 500ml jar.
*Please note that the workshop will be in English but can be translated by request.
This event takes place on unceded Indigenous lands. The Kanien'keha:ka nation is recognized as the custodians of the lands and waters on which we gather today. Montreal is historically known as a gathering place for many First Nations. Today, it is home to a diverse population of Indigenous and other peoples. We respect the continued connections with the past, present and future in the ongoing relationships with Indigenous and other peoples within the Montreal community.