Event Information
Refund Policy
Contact the organizer to request a refund.
Eventbrite's fee is nonrefundable.
About this Event
Organisé depuis Vancouver, en français
À propos de cet événement
Crée à partir des travaux du GIEC, "La Fresque du Climat" est un atelier ludique, participatif et créatif sur le changement climatique. Basé sur l'intelligence collective, il nous permet d'en apprendre beaucoup en très peu de temps sur le climat. Déjà 60.000 personnes initiées dans le monde !
Nous vous invitons à cette Fresque du Climat Connectée. C'est une initiation en 3 heures, adressée aussi bien aux novices qu'aux connaisseurs.
L'objectif
Comprendre la science et les enjeux du dérèglement climatique pour mieux décrypter les informations, se faire une opinion, et pouvoir y faire face en agissant efficacement sur le plan individuel comme sur le plan collectif.
Le principe du jeu
L'atelier s'anime autour d'un jeu de 42 cartes. Chaque carte représente un élément, une cause ou une conséquence du changement climatique. Le but du jeu est de les mettre en relation par lien de cause à effet. Les cartes sont distribuées progressivement par l'animateur, qui laisse le groupe tenter de reconstituer l'ensemble par l'intelligence collective et vient approfondir les points plus complexes selon les attentes du groupe.
Le déroulé:
Ice Breaker
Reconstitution de la Fresque
Débriefing, échange des ressentis, discussion sur les solutions
Infos pratiques
ATTENTION : L'atelier se déroulant en ligne, une bonne connexion internet est nécessaire pour assurer la fluidité des échanges. Un ordinateur est requis et la souris est recommandée (tablettes et téléphones déconseillés)
Veillez à bien avoir installé le logiciel zoom.us, plateforme de communication de l'atelier.
Le lien vers le tutoriel et l'évènement vous sera envoyé par mail par Eventbrite.
Merci d'arriver 5mn en avance pour commencer et terminer à l'heure.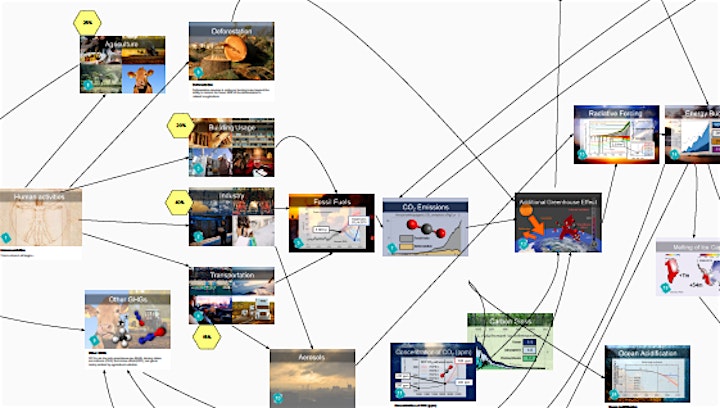 Location
Refund Policy
Contact the organizer to request a refund.
Eventbrite's fee is nonrefundable.