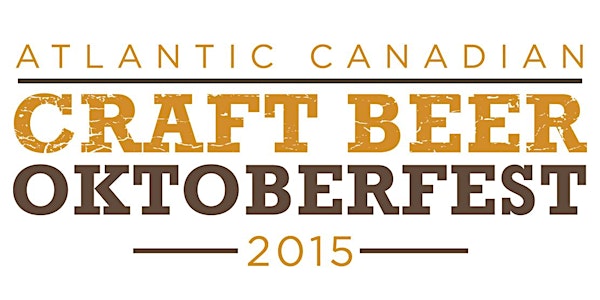 Atlantic Canadian Craft Beer Oktoberfest
When and where
Location
Crowne Plaza Moncton Downtown 1005 Main Street Moncton, NB E1C 1G9 Canada
Refund Policy
Contact the organizer to request a refund.
Description
The Moncton Beer League is proud to bring you the first Atlantic Canadian Craft Beer Oktoberfest on Friday, October 9th at the Crowne Plaza Moncton downtown to support United Way of Greater Moncton and Southeastern New Brunswick! This event will be set up like a trade show – similar to a beer festival, but local food stations prepared by Chef Brad Strugnell will be interspersed between craft beer stations.
This event is being planned to showcase local Atlantic Canadian products including craft beer and food, all while raising funds for United Way during their 2015 campaign. United Way works to improve communities in Southeastern New Brunswick (Kent, Westmorland and Albert counties). It creates long-term, positive change; moving people from poverty to possibility, building strong communities, and ensuring that kids be all that kids can be. Working for over 60 years in Southeastern New Brunswick, United Way partners with over 28 community agencies and helps fund over 30 programs and initiatives to make this change possible. For more information, please visit http://www.gmsenbunitedway.ca/
The regular session from 7:30-10pm allows you unlimited beer samples in your custom take-home glass from Jym Line Glassware. The VIP ticket gets you a special glass, along with an industry panel discussion and exclusive guided beer tasting in addition to the regular session. This is a 19+ event. Please drink responsibly and be sure to arrange your safe ride home. Taxis will be stationed outside.
Regular session tickets are on sale for $58+fees and VIP tickets are $68+fees. Ticket sales are final. No refunds. Select merchandise available for purchase on site. Any tickets remaining can be purchased at the door cash only for $63 regular session 7:30-10pm or $73 VIP 6:30-10pm with industry panel discussion and guided beer tasting in a special Munique style glass.
Atlantic Canadian Craft Brewers:
Acadie-Broue Inc.
Celtic Knot Brewing
Distillerie Fils du Roy Inc.
Grimross Brewing
Les Brasseurs du Petit-Sault
Pump House Brewery
Atlantic Spirits & Wines (Propeller Brewing Co.)
Bad Apple Brewhouse
Boxing Rock Brewing Co.
Garrison Brewing Co.
PEI Brewing Co.
New Brunswick Food:
Degenhardt's European Sausage Farm Limited pork sausages w/
Lewis Mountain Fresh Farm sauerkraut
La Ferme du Diamant duck foie gras and chicken liver pate canapés
Oliver's German Bakery old fashioned soft pretzels
Stephen Taylor's Farm pulled chicken sliders
Wolfhead Smokers Ltd. hot and cold smoked salmon canapés
VIP Panel:
Todd Beal, Maritime Beer Report blogger
Stephen Dixon, Grimross Brewing
Andrew (Esty) Estabrooks
Patrice Godin, BJCP, Acadie-Broue
Henry Pedro, Boxing Rock Brewing
Keep up with us on Facebook or use the hashtag #AtlanticCraftOktoberfest on Twitter!
Le Moncton Beer League est fier de présenter le tout premier Oktoberfest de la bière artisanale du Canada atlantique, le vendredi 9 octobre prochain au Crown Plaza du centre-ville de Moncton, en soutien à Centraide du Grand Moncton et du sud-est du Nouveau-Brunswick. Les brasseurs seront sur place pour vous faire déguster leurs produits et des kiosques de nourriture seront dispersés entre les kiosques des différentes brasseries.
L'évènement mettra en vedette des bières et de la nourriture du Canada atlantique tout en amassant des fonds pour la campagne 2015 de Centraide. Centraide travaille à améliorer les communautés du Sud-est du Nouveau-Brunswick (les contés de Kent, de Westmorland et d'Albert). Le changement est durable et améliore les conditions de vie, crée les communautés solides et assure la réussite des jeunes. Ici dans la communauté depuis 60 ans, Centraide s'associe aujourd'hui avec plus de 28 organismes communautaires et est investi dans plus de 30 programmes et initiatives. http://www.gmsenbunitedway.ca/accueil/
La séance régulière se déroule de 19h30 à 22h et donne accès à des échantillons illimités de bière servis dans votre propre verre fait spécialement pour l'occasion par Jym Line Glassware. Le billet VIP vous donne droit à un verre particulier, à une discussion d'un panel d'experts et à une dégustation guidée exclusive en plus de la séance régulière. Cet évènement s'adresse aux 19 ans et plus. Assurez-vous de boire de façon responsable et d'avoir un moyen sécuritaire de retourner chez vous après la soirée. Des taxis seront disponibles sur place.
Les billets pour la séance régulière se vendent 58,00$ plus frais de service et les billets VIP sont 68,00 $ plus frais de service. Toutes les ventes de billet sont finales. Une sélection d'articles seront en vente sur place.