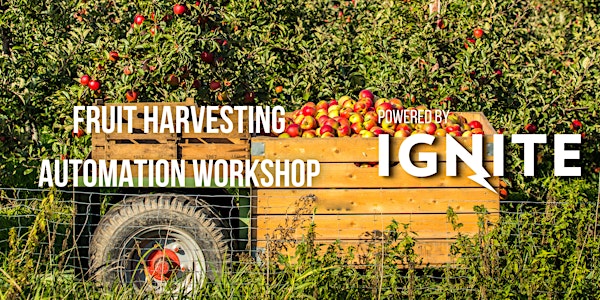 Atlantic Food Automation Series - Fruit Harvesting & Processing Workshop
Join us on October 27th and 28th for IGNITE's Food Automation Workshop event and learn about the Fruit Harvesting & Processing industry!
When and where
Location
Acadia University 15 University Ave Wolfville, NS B4P 2R6 Canada
About this event
On October 27th and 28th, IGNITE will host an Atlantic Food Automation Workshop event to learn more about the Fruit Harvesting & Processing industry.
Throughout the Fall of 2021, IGNITE will host the Atlantic Food Automation Program across the pan-atlantic provinces. Each of these workshops will focus on a different food industry, highlighting the automation and digital advancements that are available in Atlantic Canada. Attending this event will give you access to automation firms and digital experts that can help grow your business and reduce the strain of labour shortages. Join us as we learn more about the products and services on the market, hear from organizations about their funding programs and tour automated facilities.
This two-day event will consist of virtual and in-person elements, due to COVID-19 restrictions this event will only allow 25 attendees in-person. (Masks will be mandatory at all in-person events.)
Location: This event will be held in Wolfville, Nova Scotia. Lunch will be provided for in-person attendees. Please email kiah-jade@igniteatlantic.com if you have any dietary requirements or allergies.
Day 1 is our demo day! Automation and tech experts will be joining us both virtually and in-person to showcase their impressive products. This will include live demos from local solution providers that will highlight products relevant to common challenges faced in the Fruit Harvesting & Processing industry.
Day 2 will begin with a tour of a local facility that has adopted automation and advanced technologies. As you walk through a familiar setting, you'll have the opportunity to ask questions about the process of integration and determine whether this solution would work for your business. Back at IGNITE, we will hear from our partners about funding programs and you will have a chance to talk with our integration experts.
Both days will run from 10am-4pm and will require registration for both in-person and virtual access. Unable to join us in Wolfville? No worries! Register as a virtual attendee today and we will be in contact to set you up on Distantly to enjoy the conference from your own office!