Atlantic Immigration Summit / Sommet sur l'immigration Atlantique
Description
Le français suit
MONCTON NB, MAY 23 and 24 2018
Help shape Atlantic Canada's future.

On May 23 -24, 2018, 300 business and community leaders from across New Brunswick will gather in Moncton for the Atlantic Immigration Summit.

This provincial summit will play a major role in the economic prosperity of our province. The Atlantic Immigration Summit will focus on innovative, practical, and actionable solutions to strengthen Atlantic Canada's immigration system and improve economic performance while building inclusive communities.

Join us in discussing how we, as a community, can work together to grow our economy and help shape an inclusive Atlantic Canada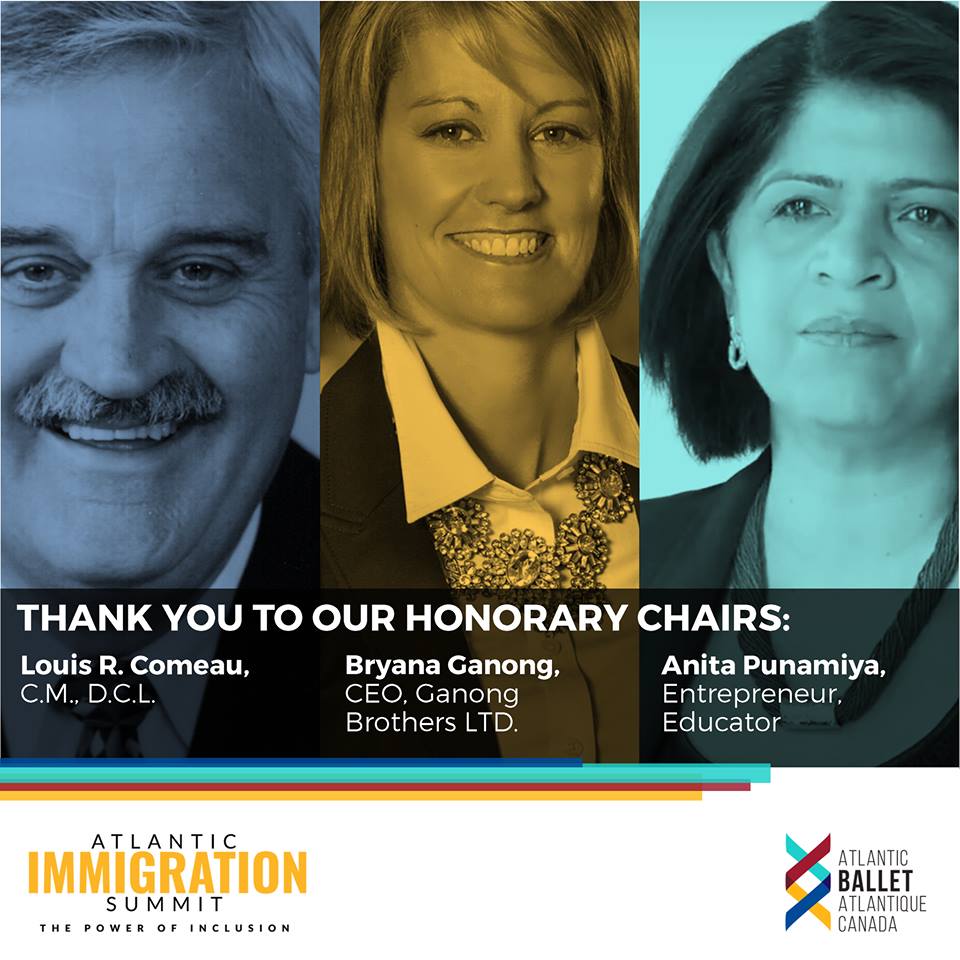 We have a full lineup of more than 60 Speakers, Meet some of them.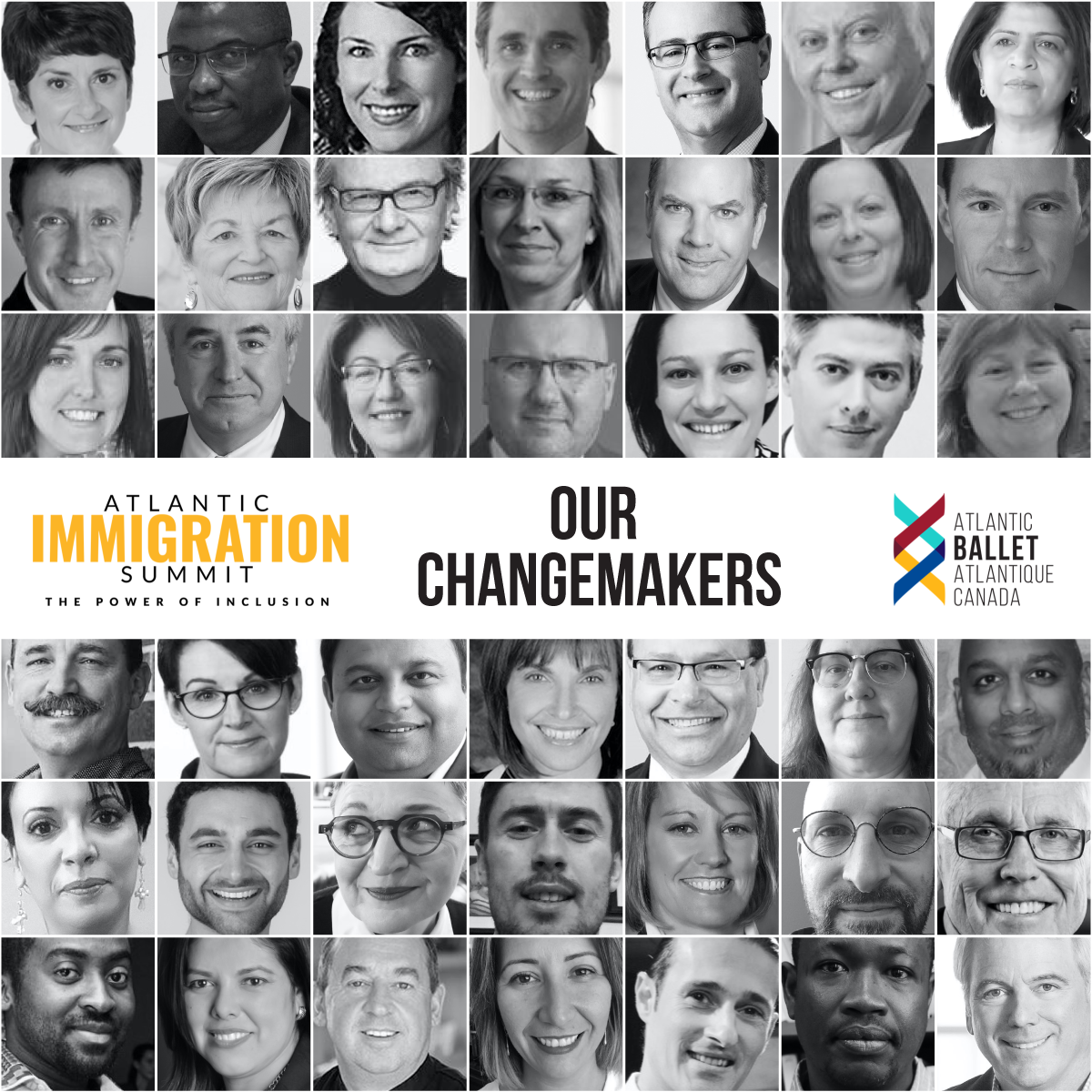 The Atlantic Immigration Summits will convene a cross section of business leaders, entrepreneurs, municipalities, educational institutions, newcomers, students, settlement agencies, industry specialists and citizens for a proactive dialogue and exchange on immigration, diversity and inclusion.

Atlantic Canada has been profoundly shaped by immigration. Today attracting newcomers to live and work in the region is a key pillar in the Atlantic Growth Strategy. The Atlantic Immigration Pilot will see the influx of 2,000 immigrants over three years to the Atlantic region.
How can cross-sectoral stakeholders best work together to help immigrants and refugees succeed and want to stay in Atlantic Canada?

• How can we strengthen partnerships to enhance the immigration process?
• How can we address labour force shortages through immigration?
• How can we increase understanding of immigration and diversity in Atlantic Canada including identifying critical
issues to workplace and community integration?
• How can we share and evolve best practices that can feed in to policy and business priorities while building community?

Why Attend

• Network with potential partners and collaborators
• Learn the key immigration issues, best practices, and innovative solutions
• Gain insights on the programs and services available to help employers and immigrants
• Access new tools, techniques and approaches that will empower newcomers and better leverage their skills, talents, and connections in NB
• Learn what employers are looking for and how to find meaningful work in the New Brunswick context
• Help shape recommendations to help guide the policies, programs and strategies for the future immigration system
ALIEN
CHOREOGRAPHY: Igor Dobrovolskiy

The summit will include Igor Dobrovolskiy's newest work on themes of immigration. ALIEN is an intimate exploration of the human side of immigration. As a newcomer to Canada in 2000, Igor understands well the many challenges that new immigrants face when they leave their home in search of new life. What happens when you leave your home behind? What happens when you are out of context? What happens when you lose your identity?
AGENDA
Day One – ( May 23, Capitol Theatre, 811 Maint Street)
5:30pm Opening Reception
6:30 Welcome- Co-Chairs: Anita Punamiya and Louis R. Comeau
6:45 Onstage panel moderated by Stephen Lund, CEO -Opportunities NB with:
Bernard Lord, CEO Medavie;

Susan Wilson, Director of Immigration J.D. Irving Ltd.;

Gerry Pond, Chairman and Co-Founder Mariner;

Mike Timani, CEO Fancy Pokket;

Anita Punamiya, Entrepreneur and Educator;

Dr. Jacques Paul Couturier, Acting President, Université de Moncton
7:45 Ballet ALIEN on the immigration experience.
9:30 Gathering at BLUE OLIVE with live music.
Day Two - Summit ( May 24, Delta Beausejour, 8am )
8am Continental Breakfast
8:30 Welcome- Co-Chairs: Bryana Ganong and Louis R. Comeau
8:45 "New Conversations: Lessons Learned from 15 Community Conversations About Welcoming More People for a Stronger Future." Speakers – Alex LeBlanc, Executive Director, New Brunswick Multicultural Council and Pascale Paulin, Facilitator, New Conversations Tour
9:00 Keynote: Francis McGuire- Framing the Conversation on Immigration
9:30 Themed Roundtables each hosted by a business/community leader and a newcomer
10:30 Break
12:00 Lunch and Trade Show Room
1:15pm Dr. Leeno Karumanchery, Chief Diversity Officer Enkidu Inc.
1:30 Themed Round Tables
2:30 Break
3:30 Themed Round Tables - Actions
4:30 Wrap-up & Closing Remarks
For student pricing or to purchase corporate table please contact Louis-Philippe Dionne @ louis@atlanticballet.ca or by phone at (506)383-5951 Ext.102
Contribuez à façonner l'avenir du Canada atlantique

Le Sommet sur l'immigration Atlantique réunira des chefs d'entreprise, des entrepreneurs, des municipalités, des établissements d'enseignement, des nouveaux arrivants, des étudiants, des organismes d'aide à l'établissement, des spécialistes du secteur ainsi que des citoyens dans le but d'échanger sur l'immigration, la diversité et l'inclusion.

Il sera axé sur des solutions innovantes, pratiques et concrètes visant à renforcer le système d'immigration dans le Canada atlantique ainsi qu'à améliorer le rendement économique en mettant l'accent sur la création de collectivités inclusives.
L'immigration a profondément façonné le Canada atlantique. Attirer de nouveaux arrivants dans la région pour y vivre et y travailler constitue un des grands piliers de la Stratégie de croissance pour l'Atlantique. Le programme pilote relatif à l'immigration Atlantique permettra à quelque 2 000 immigrants de venir dans la région au cours d'une période de trois ans.
Nous vous invitons donc à vous joindre à nous pour discuter de ce que nous pouvons faire ensemble pour stimuler notre économie et contribuer à façonner un Canada atlantique inclusif.

Voici un aperçu de nos 60 agents de changements qui seront présent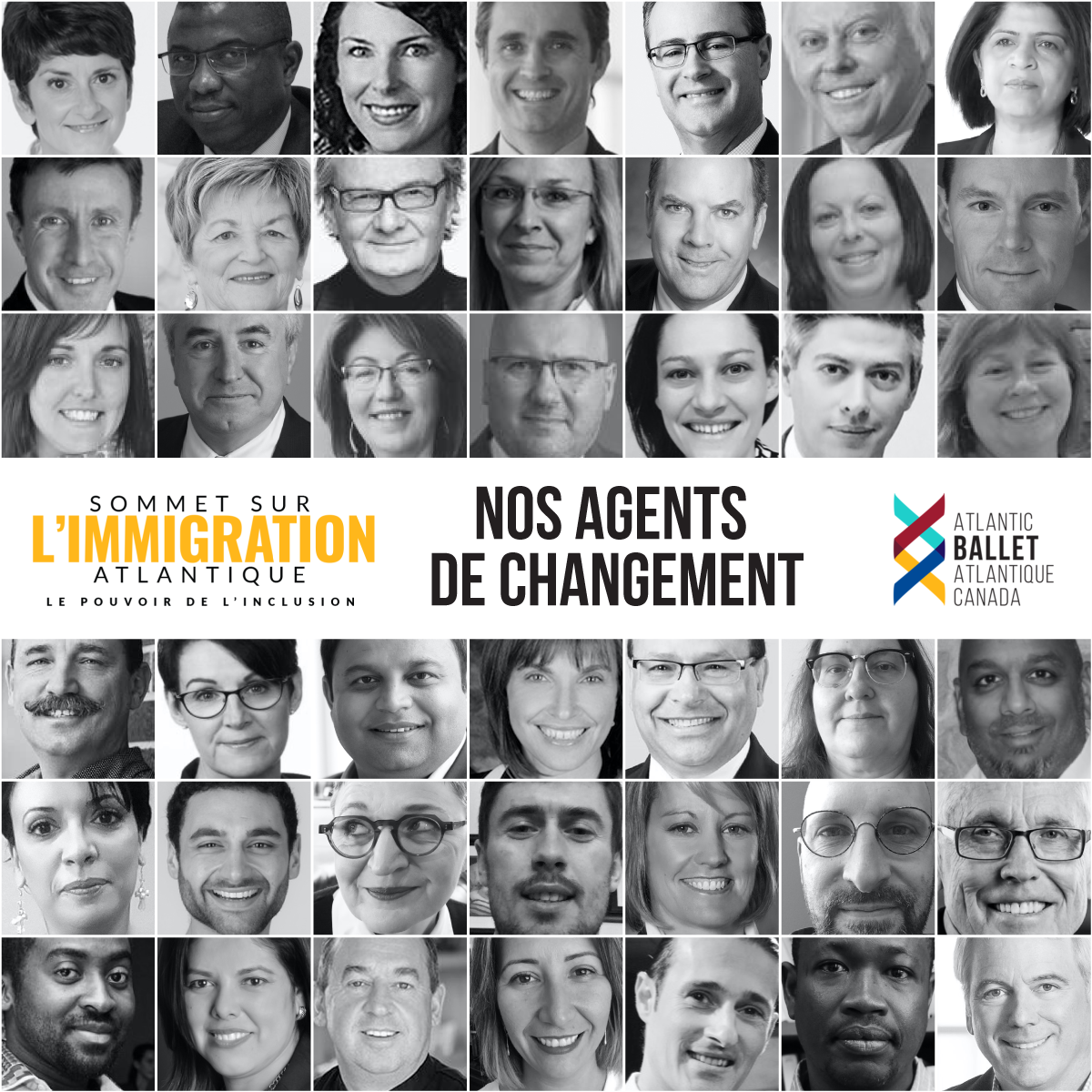 Comment des acteurs de secteurs très divers peuvent-ils collaborer au mieux pour aider les immigrants et les réfugiés à réussir dans le Canada atlantique et à s'y établir?
• Comment peut-on renforcer les partenariats pour améliorer le processus d'immigration?
• Comment peut-on remédier aux pénuries de main-d'oeuvre grâce à l'immigration?
• Que peut-on faire pour aider les gens à mieux comprendre l'immigration et la diversité dans le Canada atlantique ainsi que les questions cruciales en matière d'intégration au travail et dans la société?
• Comment peut-on partager et faire évoluer les pratiques susceptibles d'orienter les priorités des entreprises et politiques tout en renforçant les collectivités?

ALIEN - CHORÉGRAPHIE : Igor Dobrovolskiy

Le travail le plus récent d'Igor Dobrovolskiy, qui porte sur l'immigration, sera présenté lors du sommet.
Le spectacle ALIEN explore de manière intime le côté humain de l'immigration. Arrivé au Canada en 2000, Igor Dobrovolskiy comprend les nombreux défis auxquels sont confrontés les immigrants lorsqu'ils quittent leur pays pour rechercher une vie nouvelle.
Que se passe-t-il lorsqu'on laisse derrière soi son pays d'origine? Que se passe-t-il lorsqu'on se retrouve dans un pays étranger? Que se passe-t-il lorsqu'on perd son identité?

Pourquoi participer?
• Rencontrer des partenaires et des collaborateurs potentiels
• Découvrir quels sont, en matière d'immigration, les grands enjeux,les pratiques exemplaires et les solutions innovantes
• Obtenir des informations sur les programmes et les services qui existent pour aider les employeurs et les immigrants
• Découvrir des techniques, des approches et des outils nouveaux pour permettre aux nouveaux arrivants de devenir indépendants et de mettre à profit leurs compétences, leurs talents et leurs relations au Nouveau- Brunswick
• Découvrir ce que les employeurs recherchent et comment trouver un travail intéressant au Nouveau-Brunswick
• Contribuer aux recommandations pour orienter les politiques, les programmes et les stratégies du futur système d'immigration.
Programme
Jour 1 - ( 23 mai, Théâtre Capitol, 811, rue Main)
17 h 30 Réception d'ouverture
18 h 30 Mot de bienvenue des coprésidents : Anita Punamiya et Louis R. Comeau
18 h 45 Panel d'experts - Modérateur : Stephen Lund, PDG d'Opportunités NB - Participants :
Bernard Lord, PDG, Medavie;

Susan Wilson, directrice de l'immigration, J.D. Irving Ltd.;

Gerry Pond, président et cofondateur, Mariner;

Mike Timani, PDG, Fancy Pokket;

Anita Punamiya, entrepreneure et éducatrice

Dr. Jacques Paul Couturier, recteur par intérim, Université de Moncton
19 h 45 Ballet ALIEN sur l'expérience de l'immigration
21 h 30 Rencontre au Blue Olive - Musique en direct
Jour 2 - Sommet ( 24 mai, 8H, Delta Beausejour )
8 h 00 Petit déjeuner
8 h 30 Mot de bienvenue des co-présidents Bryana Ganong et Louis R. Comeau
8 h 45 « Nouvelles conversations : Leçons à tirer de 15 conversations communautaires sur l'accueil d'autres personnes pour renforcer notre avenir » Conférenciers – Alex LeBlanc, directeur général, Conseil multiculturel du Nouveau-Brunswick et Pascale Paulin, animatrice, Tournée Nouvelles conversations
9 h 00 Conférencier principal : Francis McGuire- Formuler la conversation sur l'immigration
9 h 30 Tables rondes thématiques, chacune animée par un ou une chef d'entreprise et un nouvel arrivant ou une nouvelle arrivante
10 h 30 Pause
12 h 00 Dîner et salon d'exposition
13 h 15 Dr. Leeno Karumanchery, directeur responsable de la diversité, Enkidu Inc.
13 h 30 Tables rondes thématiques, suite
14 h 30 Pause
15 h 30 Tables rondes thématiques - Actions
16 h 30 Mot de la fin et clôture
Pour prix étudiant ou pour acheter des tables corporatives, veuillez contacter Louis-Philippe Dionne @ louis@atlanticballet.ca ou par téléphone au (506)383-5951 poste 102