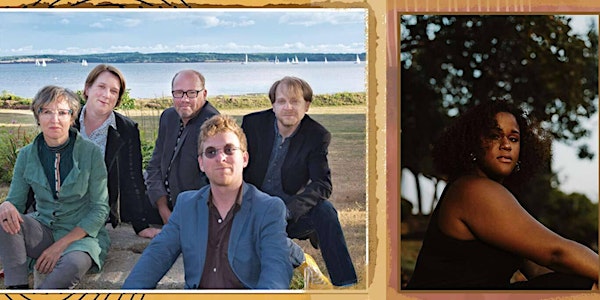 Atlantic String Machine w/ Special Guest Kierrah - April 11th - $30
Atlantic String Machine will present the third concert of their 2022-23 Season: Coming Together with special guest Kierrah.
Date and time
Tuesday, April 11 · 8 - 10pm ADT.
Location
Trailside Music Hall 155 Kent St. Charlottetown, PE C1A 1N5 Canada
About this event
Kierrah and Atlantic String Machine at the Trailside Atlantic String Machine will present the third concert of their 2022-23 Season: Coming Together at 8pm on Thursday, March 23 at the Trailside Music Hall. Following collaborations with Sirens for a winter themed choral program and with Cameron MacDuffee for the Island premiere of Frederic Rzewski's narrated masterpiece "Coming Together," this concert will feature rising R&B artist Kierrah for a show that will celebrate a new dynamic of vocal textures with the string ensemble.
Hailing from Syracuse, New York, Kierrah has graced the Island with her presence since 2019 when she enrolled in the SoPA program at Holland College. Subsequently, she has thrilled crowds from the stages of Sappyfest, PEI Festival of Small Halls, the Wild Threads Literary Festival, along with numerous other club performances. Islanders may also recognize Kierrah from her appearance in the Bell Fibe TV1 program "Secret Songs" alongside PEI favourites Tara McLean, Dylan Menzie, Vishtèn, Meghan Blanchard, and Logan Richard. Following the release of several successful singles, Kierrah is currently working on her debut album with up and coming producer Sid Acharya.
This collaborative performance will see a reinvention of the already released "Dedication," as well as acoustic renditions of several of the songs slated for Kierrah's upcoming record. In addition, Atlantic String Machine will deliver instrumental sets that feature arrangements of material from the Jackson Five, Erykah Badu, Stevie Wonder, Sampa the Great, and more.
Tickets are available online at www.trailside.ca or in-person at Back Alley Music.
Kierrah is a pop R&B singer songwriter from Syracuse, NY (currently residing in Prince Edward Island). Her emotive story-telling lyrics and captivating voice and presence has garnered plenty praise. She most recently starred in a series on Bell TV1 called, "Secret Songs" alongside other beloved island musicians and is currently working on releasing her debut album.