Location
Toronto Metropolitan University - Student Learning Centre
585 Dundas Street East
Toronto, ON M5A 2B7
Canada
Yensa Festival invites you AUG 28 to our Atsia Circle, a DANCE and LIVE MUSIC celebration.
About this event
Sunday August 28, 4pm: YENSA Festival's ATSIA Circle
YENSA Festival's ATSIA Circle is a DANCE and LIVE MUSIC celebration, done in a circle; featuring an incredible line-up of artists!
YENSA Festival's ATSIA Circle will feature guest artists Ranzie Mensah (Ghana/Italy), Fara Tolno (Guinea/US), King Chino, Cécé Haba, N'deré Headley-Lindsay, Collette 'Miss Coco' Murray and many more; followed by a live dance and drum celebration. 
To learn more about these artists, please visit our website at yensafestival.com.
Don't miss any events with our FESTIVAL PASS for $45 (+ taxes and service fees) that includes THREE days of dance Aug 26-28 with TWO Evening shows (Fri. Aug 26 & Sat. Aug 27) and our DANCE and DRUM Celebration - Atsia Circle. (Aug 28)
As part of the festival, you will also have access to a curated PHOTO EXHIBIT in the ARTSCAPE LOUNGE.
Wear comfortable clothing to dance in
Percussionists are welcome (bring your own djembe)
*Programming subject to change.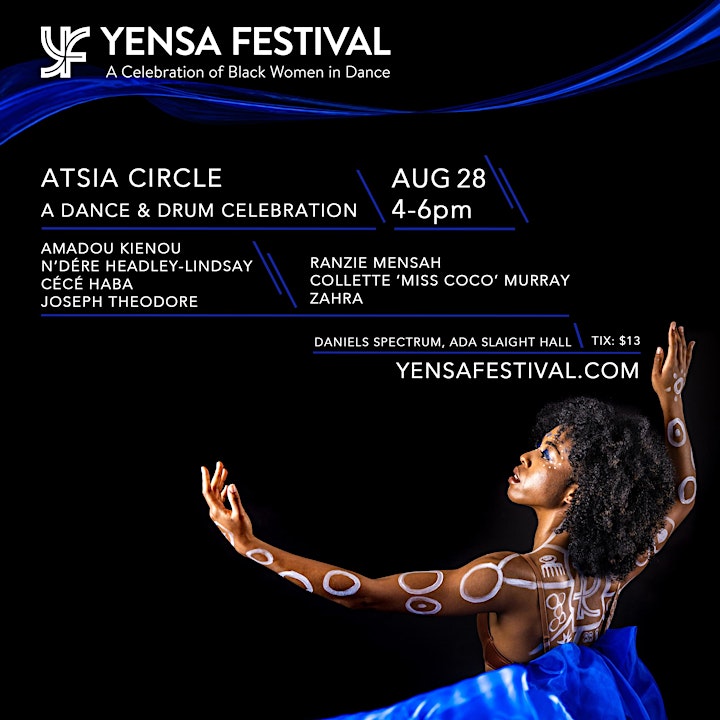 YENSA Festival, produced by Lua Shayenne Dance Company, is an international biennial festival that celebrates the work of women in dance, from African and Afro-diasporic culture.
YENSA Festival invites audiences to engage and celebrate with us the incredible evolution of Black dance, have conversations about the diversity of African Diasporic aesthetics, its histories and politics from a female perspective.
Visit our website to see the full festival schedule and lineup at yensafestival.com