Description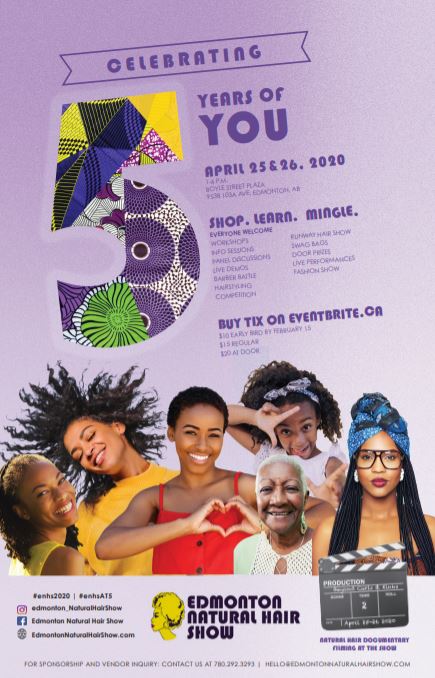 CELEBRATING 5 YEARS OF Y.O.U!
THANK YOU ALBERTA FOR SUPPORTING OUR EVENT ALL THIS WHILE.
The Edmonton Natural Hair Show (ENHS) inspires people of all ages to embrace their natural hair as part of what makes them uniquely beautiful.
ENHS builds and strengthens the natural hair community in Edmonton and surrounding areas through events and activities. The show provides tools and resources for you to care for you (or your child's) hair from businesses and individuals in the industry, such as natural hair specialists, salons, independent hairstylists, and natural hair bloggers/enthusiasts/DIY-ers/social media influencers.
Everyone is welcome!
The event provides an enjoyable atmosphere where you can:
Connect and share ideas, tips, and advice with like-minded people.

Get hands-on knowledge through DIY workshops, hair demonstrations, and information sessions.

Engage in meaningful panel discussions about natural hair.

Buy natural hair products, fashion, accessories, and other goodies.

Enjoy live entertainment by local talents (singers, spoken word artists, dancers, and fashion show models).

Be a part of a community that encourages positive body image -- from "hair" to toe.
---
New This Year
Beyond Curls & Kinks natural hair documentary. We're making a natural hair documentary and will be doing some of the filming at the show.

A three to four-hour EXTENDED DELUXE workshop for professionals who want to learn how to style Afro-textured natural hair.

A two-hour EXTENDED DELUXE workshop for natural hair folks who want to learn everything they need to know about caring for their hair, like for those moments inbetween salon visits.


All-time favourites that we're bringing back
Panel discussion: While we give guests access to resources and tools to grow healthy beautiful hair, we also like to have friendly conversations about the social issues around natural hair. Come join us!

Barber Battle: The BATTLE is on again this year! We'll be giving local artists (yes, that's what barbers are to us) the platform to show off their skills. Come watch, support your barber, and vote for your favourite!

Info sessions: Get helpful, useful practical information you need for your hair - something you can apply even before you get home.

Workshops: From hair butters to accessories, a workshop takes you through the step-by-step of how to MAKE SOMETHING for your hair.

LIVE hair styling demo: Sometimes, you just need someone in real life face-to-face taking you through how to do different styles, step by step. That's what the in-person LIVE demo is all about.

Natural Hair On The Runway: We all express ourselves through our hairstyles. Every hairstyle tells a story. We use the runway to show a #hairstory.

Live entertainment: Yes, we're all about hair hair hair. But we also like to give guests something different to enjoy at the show - and it's a great way to support local artists!

Fashion show: This is another way we try to give you something different to look forward to at the show. You'll be able to BUY OFF THE RUNWAY what you see on the models. Come grab a unique piece you likely won't see on anyone else.
Day 1 & Day 2 of the event: There'll be different stuff happening on both days of the event. Make sure to check out our website closer to the event day to see the event program.
---