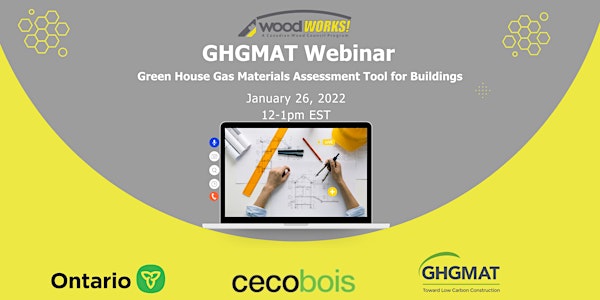 Attend a GHGMAT Demo!
Join Shervin Reyhani for a demonstration of the Carbon Calculator in action!
About this event
About the presentation
GHGMAT is a tool that facilitates the comparison of greenhouse gas (GHG) emissions associated with the choice of different structural building products. It allows users to examine multiple scenarios, using different types of materials, and allows for an accounting of the best options to reduce a building's environmental footprint. Scenarios can be modelled by either entering the quantities/volumes of structural materials or by simply selecting a predefined building archetype for which the average structural material quantities have been pre-calculated. Developed in collaboration between the Ontario, Quebec and Federal governments, GHGMAT has recently been refined to include specific considerations for buildings located in Ontario.
This presentation will give a demonstration of the tool, provide an overview of its functionalities, and illustrate results that can be generated with it.
Speakers:
Shervin Reyhani, C.E.T.
Shervin is a technical manager with Wood WORKS! Ontario, a program of Canadian Wood Council providing free project assistance, educational webinars and guidance to the design community on Light Wood and Mass Timber projects. Shervin has 33 years experience in design, marketing, manufacturing, installation and specifying wood and cold formed steel structural components used in all types of construction typologies. Shervin is an experienced product manager with a demonstrated history of working in building materials and component industry.
Marie-Ève Laverdure CPI, Conseillère technique, Cecobois
Marie-Ève holds a bachelor's degree in wood engineering from Laval University with a specialty in Timber structure. She also holds a technical degree in civil engineering, and she is currently working on a master's degree in Wood and bio-based materials engineering on characterization of glued-in rods in cross-laminated timber (CLT). Before starting as a technical advisor at Cecobois, Marie-Ève completed an internship in quality control and process improvement at Norbord Inc. She then went to perfect her technical knowledge in structural design at the Arizona State University in 2018. After that, she started at Structure Fusion where she worked for a year as an engineering intern. She is currently working with Cecobois on a new project called "Enseigner le bois'' which aims to integrate more timber-related courses in architectural and engineering undergraduate programs in Québec.