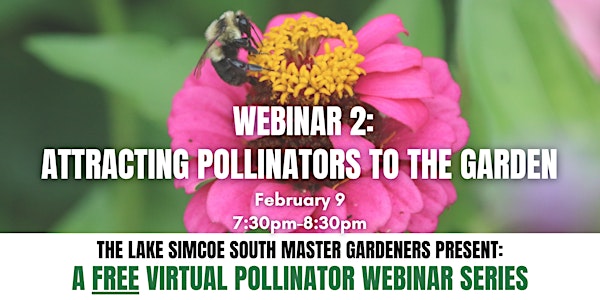 Attracting Pollinators to the Garden
Learn how to attract pollinators to your garden with these easy steps. Registration opens on January 9th.
By Schomberg Horticultural Society Garden Tour
Date and time
Thu, Feb 9, 2023 4:30 PM - 5:30 PM PST
About this event
Attracting Pollinators to your Garden
Hosted by a Lake Simcoe South Master Gardener, this second webinar is a follow-up to our first webinar on The Pollinator Crisis.
Pollinators have been present on Earth as essential workers in our ecosystems for the past 125 million years. But just in the past 30 years there has been a startling decline in the population of pollinators; and our natural ecosystems are taking a big hit.
The second part of the Webinar will explain the reasons for the Pollinator Crisis. If we can understand why Pollinators are declining then we can all do our part in stopping the decline. The webinar concludes by discussing the positive steps we can all take in our backyards and in our communities to help increase the chances of survival of our Pollinators.
This webinar will discuss what can be done to attract pollinators by first reviewing pollinator nutritional needs and plants that provide these nutrients. it will also cover what can be done to provide adequate nesting material and overwintering habitat for pollinators It will conclude with a brief discussion on the impact of pesticides and the benefit of using alternate methods.
We can all play a role to stop the decline in our Pollinator populations and see their numbers increase again by the simple but effective steps outlined in this Webinar.
Webinar Schedule
February 9th, 2023 7:30 pm- 8:30pm
Free event, but registration is required.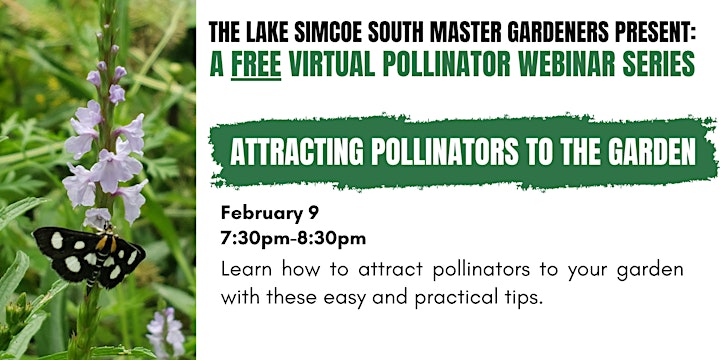 February 23rd, 2023 7:30pm-8:30pm
Free event, but registration is required
Registration opens January 23rd