Description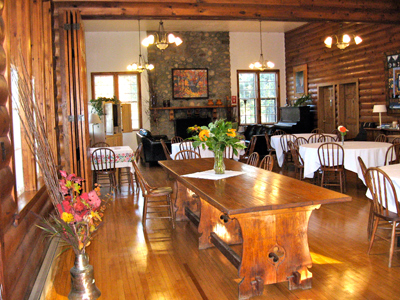 We cordially invite you the 55th annual Advanced Technology Think Tank (ATTT) with a theme of "Tomorrow's Technology Today". It is organized to provide a forum for leading experts and specialists in productivity-enhancing technologies to meet and share. You will make new friends and find that this annual trip will recharge your creativity, allow you to share what you are passionate about and learn new things.
Co-founded in 1962 by renowned author, publisher and educator Steve Krar, our ATTT is an annual opportunity to informally meet in a natural Northern Ontario setting in order to actively share concepts and new technologies among fellow visionaries to meet tomorrow's challenges.
Once again, the event will be held at the beautiful Chippawa Cottage Resort in Barry's Bay Ontario (just past Combermere, off Hwy 62, north of Bancroft) - about 3 hours from Toronto North East of Peterborough in the Madawaska Valley.
If you would like to attend in person, click here. Please reach out to our ATTT organizer Tom Gaasenbeek at 905-581-3718 (or e-mail at tomg@attt.ca) if you want to attend (or register through Evenbrite) and if you would like to speak on a topic that you are passionate about. Please come, share and inspire!
What's New:

This year again we are using the long weekend approach so that people can really enjoy the natural Northern Ontario beauty unhindered by business concerns. It also allows a minimum time off of work, and better focus when you are there, we believe. It is a trek to come, but well worth the drive. We will try to enable more free time to enjoy the surroundings and allow for informal gatherings that the ATTT is known for. We also have a new deposit requirement to help soldify numbers, pay for the actual costs and be fair to the resort.
The Cost:
Although the cost of the conference is nominal ($30), the meals and acoomodation will be no more than $300 per person for everything (usually closer to $225 actually). The cottages house 4-6 people and have kitchens and separate bedrooms for each person. If you would like to be particular people please let us know or we will set you up with new friends.
This year we are insituting a conference deposit of $50 + fees of which $30 will go to the conference costs (meals, supplies, etc) and $20 will be used as a deposit for accomodation with the resort. This deposit will be non-refundable, as it is our desire is to have all those who promise to come show up - it will be well worth it...
~~~~~~~~~~~~~~~

55th ATTT Long Weekend Conference Itinery

1. Friday - June 2, 2017
Arrive anytime after 1:00pm. Communal dinner at 7:00pm for those there early - sponsored by ATTT. Arrive when you can and check the room reservations in the main lodge.
2. Saturday - June 3, 2017
Breakfast at 8:00 am and sessions starting at 9:00am to 12:00pm. BBQ Lunch 12-1pm and session restart at 1-3pm. Free time 3-6pm, Dinner at 6:00 with even session at 7:30-8:30 pm and a special event.
3. Sunday - June 4, 2017
Brunch at 9:30 am - 10:30 am with Day 2 Sessions starting at 10:30-3:30 pm. Open time 3-6, Hot Dinner Sunday at 6-7:30 for those who book ahead. One can leave late Sunday afternoon as the official part of the conference is over at this point.
4.Monday - June 5, 2017
For those that want to stay until noon Monday for a leisurely drive home, the lodge is open for us wih a cold breakfast Monday morning and a request to be gone by noon. An extra night up North is really quite enjoyable and gives you th eoption of exploring the facility better as well.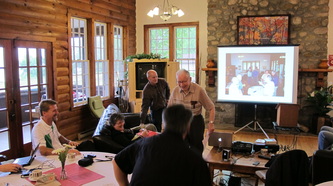 Come To Canada's Oldest "TEDx-Like"
Technical Sharing Symposium
-------

Resort E-Mail (For Don & Janet Dunn) : chippawa@igs.net
Usually Saturday Night is reserved for a special event - such as a music night with the local Barry's Bay "Jack Madrigal's Band".