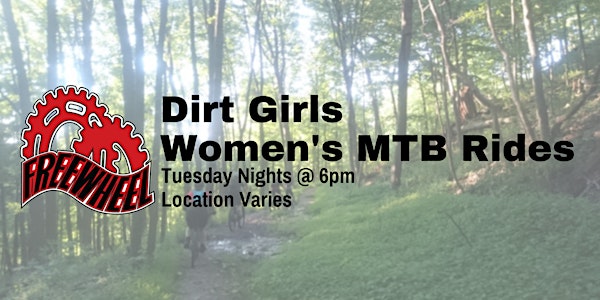 August 16th Dirt Girls Women's MTB Ride - Brantford Rotary Bike Park
A weekly all-levels mountain bike group ride for female identifying riders with an emphasis on skill building, camaraderie, fun & friendship
When and where
Location
Rotary Bike Park 400 Grand River Avenue Brantford, ON N3T 5A3 Canada
About this event
These group rides are for female identifying riders of all mtb skill levels seeking to enjoy mountain biking and improve their mtb skills with likeminded riders. The Dirt Girls mtb group values inclusion, skills progression, building fitness, camaraderie and falling in love with the sport. These no-drop rides will be split into groups based on skill and comfort level so everyone has a great time. Each group will be guided by designated Freewheel Cycle volunteers to ensure safety and no one gets lost. :)
This weeks ride will run a little different. We are going to practice our skill and just have a ton of fun at the Brantford Bike Park. Our plan is to be at the bike park between 6-6:30. As we are staying within the area start time is flexible. For those looking to carpool from the shop post up a note in the Facebook group or message freewheel cycle for more info.
As a participant, you are expected to:
Wear a cycling specific helmet less than 5 years old and have an appropriate trail bike in good working order. (Sorry but for your safety: no department store bikes!) Our service technicians are very talented but they are not magicians and cannot service your bike before the ride.
Bring water. Staying hydrated is important so bring your own water and maybe a snack to keep up your energy.
Have some level of fitness. This is a physical activity, we will be riding up hills as well as down. We don't expect you to be able to ride up all the hills but having some foundation of cardio fitness will be helpful to keep the group moving. (ie; not Day 1 off the couch)
Be self-sufficient. Mechanical issues happen and while our guides are happy to help as best they can, each rider should carry a mini-pump, spare tube and quick link suited for their own bike.
Dress appropriately for the activity and weather conditions. Bug spray and/or sun block is recommended.
Be considerate and supportive to others. Encourage each other as we push the edges of our comfort zones and try new things.