About this Event
Join beekeeping instructor Julia Common on August 15th from 9 AM to 12 PM for a hands-on honeybee colony management workshop! This workshop is intended for current beekeepers who are newer to beekeeping, or who are looking for a refresher or a little help in their fall beekeeping practices. Please note this workshops requires you to bring your own protective clothing (suit/jacket/veil and beekeeping gloves). It is required that your clothing be freshly laundered to prevent the spread of disease into the educational apiary. It will also be required that you sign a waiver of liability.
August is a very important month for beekeepers and their colonies as it typically marks the end of excess honey production and often the demise of colonies due to excess mite loads. Things can get complicated in the colony and time starts to run out for management corrections. Field work will be used as a basis for understanding colony needs and potential issues, and there will be time for conversation and questions right there around the bees. Some critical topics that must be considered in August colony assessment and management include: a general understanding of what is going on in the colony, nutrition, queen loss and replacement, supplemental feeding, varroa mite monitoring/management, general bee health assessment, prevention of robbing by other honeybees and wasps, and providing of correct amount of space relative to colony size.
This workshop will provide attendees the opportunity to assist the instructor with the inspection and in-field management of colonies being prepared for the Fall and beyond. Field work gives the opportunity to discuss how to make informed decisions for colonies on a hive-by-hive basis. The goal for this workshop is to allow attendees to better assess the status of their own colonies with an eye towards preparing them for Winter, and to provide the knowledge they need to make their own Fall management plan.
We are fortunate to have for our instructor Julia Common of Bees Actually. Julia has over 40 years of beekeeping experience and currently runs a beekeeping operation based in the Delta area of BC. She is a BCHPA certified instructor and member of the Canadian Association of Professional Apiculturalists. Julia has been involved in beekeeping since her university days. What started as a summer job became first a hobby and later a career. From 2012 through to 2019 she acted as Chief Beekeeper for Vancouver-based society Hives for Humanity, which she co-founded along with her daughter Sarah Common. Urban beekeeping has led her to a number of epiphanies concerning the health and welfare of both bees and humans. She's passionate about bees, teaching & life, and her courses stress the basic concepts of individual and colony biology, demonstrating how an understanding of these fundamentals can become the cornerstone of practical apiary management. Since her retirement from Hives for Humanity, Julia has turned her focus to bee health and research through her new endeavour Bees Actually, started in 2020.
This workshop fully takes place in one of the instructor's apiaries in the Ladner, BC area. The exact address will be provided to attendees after registration for privacy reasons. Please note that this is a rural property that only hosts the instructor's hives and it is not directly associated with Urban Bee Supplies nor is it owned by the instructor, so please be respectful of the grounds, properties and any personnel on site, and closely follow instructor direction for parking and in-field activity.
Healthy Safety: Due to Covid19, we are encouraging participants to bring their own protective wear, in particular masks/face shields and disposable gloves. Hand sanitizer will be available. Our usual workshop sizes have been reduced to 8 participants, and the workshops outdoor setting is conducive to proper spacing between participants. Please use common sense, caution and courtesy towards other participant's personal space and comfort levels during the workshop. Please follow all of instructor's directions for maintaining social distancing throughout the workshop. Prospective attendees are encouraged to let us know if they have any other preferences or requirements for their comfort in this regard and we will do our best to accommodate where possible.
Regarding Weather: Please note that field work is subject to adequate weather conditions and as such can not be guaranteed. In the unfortunate scenario that weather does not permit planned field work the workshop may by re-scheduled, delayed, or cancelled. In the case of a need for such changes attendees will be offered the option of a refund.
IMPORTANT NOTES (PLEASE READ PRIOR TO REGISTRATION):
This workshop requires you to bring your own protective clothing (suit/jacket/veil and gloves). It is required that your clothing be freshly laundered to prevent the spread of disease into the educational apiary.
Please bring your own water, be prepared for various weather conditions, and make use of washroom facilities elsewhere in advanced as they will not be available on site.
Please anticipate that a mandatory waiver of liability will need to be filled prior to beginning participation in this workshop in recognition of the inherent dangers associated with field work and handling of honeybees and related equipment.
Hive tools and any other bee/hive handling equipment will be provided by instructor. This is required to prevent the spread of disease into the educational apiary.
Regarding cancellations: Please note that if you register and must later cancel your registration for the class due to personal circumstances a full refund can be provided minus the Eventbrite fee. Cancellations must be received 48 hours prior to the start of the workshop to provide adequate time to find a new attendee. If the cancellation was requested less than 48 hours prior to the event and we are unable to fill the vacant attendee spot Urban Bee Supplies reserves the right to retain the workshop payment. Please note that the above does not apply in the case of a cancellation due to re-scheduling (such as due to weather conditions), and a full refund WILL be applied if you must cancel due Urban Bee Supplies rescheduling the event.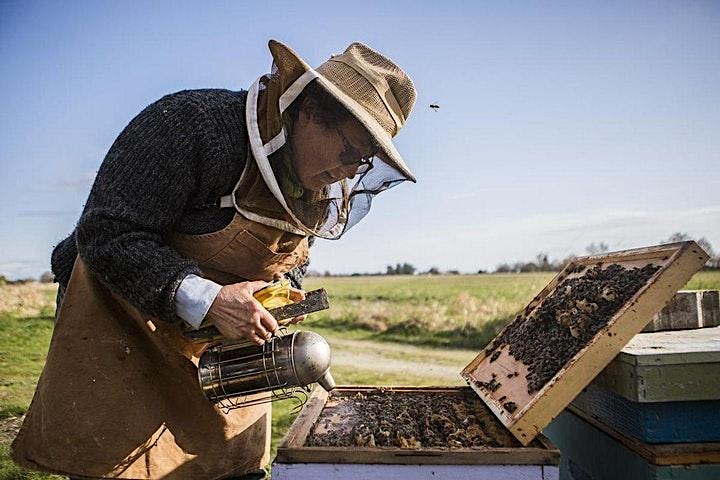 Above: Instructor Julia Common performing a hive inspection.