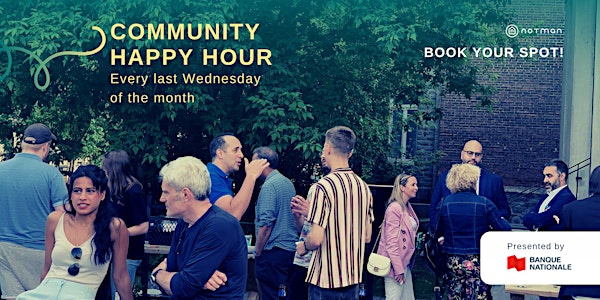 August Community 5@7 at Notman House!
Safe & Serendipitous collisions at Notman! Join us for our next in-person Happy Hour @ Notman House
When and where
Location
Notman House 51 Sherbrooke St O. Montreal, QC H2X 1X2 Canada
About this event
**en français plus bas**
Presented by the National Bank of Canada
Notman hosts a community Happy Hour every month (as long as public health allows). The next event will take place on Wednesday, August 31, 2022 at 5:00 pm at Notman House .
The Happy Hour is open to everyone. Notman members, startup founders, future entrepreneurs, alumni, technology lovers, curious people.
**Français**
Présenté par la Banque Nationale du Canada
Notman organise un 5@7 de la communauté tous les mois. Prochain rendez-vous le mercredi 31 août 2022 à 17h à la Maison Notman.
Le 5@7 est ouvert à tou.te.s. Les résident.e.s de Notman, les fondateur.rice.s de startups, les futur.e.s entrepreneur.e.s, les passionné.e.s de technologies, les curieux.ses.
Accès:
S'il fait beau le 5@7 aura lieu sur notre terrasse avant!
Sinon, ce sera dans la salle Saint-Urbain située au 3ème étage de la Maison Notman (il n'y a pas d'ascenseur). Pour y accéder entrez par le café et suivez la signalétique .
Access:
If the weather's nice, the Happy Hour will take place on our front terrace!
Otherwise, it'll be in the Saint-Urbain room located on the 3rd floor of the Notman House (there is no elevator). To get there, enter the café and follow the signs.

The Notman House
Notman House offers a vibrant and accessible environment that fosters collaboration and the transfer of knowledge and know-how between the various players in the Montreal startup community.
More than a technology campus, Notman is a third place, a strong anchor in its local community, which plays the role of a unique business hub, a unifying, prosperous and attractive living environment.
La Maison Notman
La Maison Notman offre un milieu vibrant et accessible à tous qui favorise la collaboration ainsi que le transfert des connaissances et du savoir-faire entre les différents acteurs de la communauté de startups de Montréal.
Plus qu'un campus technologique, Notman est un tiers lieu, un point d'ancrage fort dans sa collectivité locale, qui joue le rôle de pôle d'affaires unique, de milieu de vie rassembleur, prospère et attractif.