August Software Testing & Quality Assurance Information Session
Description
"In Canada, an entry-level Software Tester with less than 5 years of experience can expect to earn an average total compensation of $48,000 and the salary can grow to $77,000 within another 5 years" States Payscale.com.
Our Software Testing and Quality Assurance program has been established for professionals who are seeking to set foot in the world of Software Testing and Quality compliance. Software Testing Technicians conduct trials of newly-developed software for employers, ranging from software publishers and video game developers to financial institutions and medical research companies. The primary objective of a STQA professional is to detect bugs and performance issues before a product reaches the consumer. The common approach for software testers is to develop and run software test plans, interact with design teams and submit detailed reports of their findings. As the computer industry shows no signs of slowing down, arm yourself with skills to stay ahead.
"The best software testing practices include both automation and a human hand. While automation is important for saving time and establishing consistency in testing environments, human involvement is vital for determining relevance and making judgment calls. " Quoted from jobs.net.

Our upcoming info-session details are given below.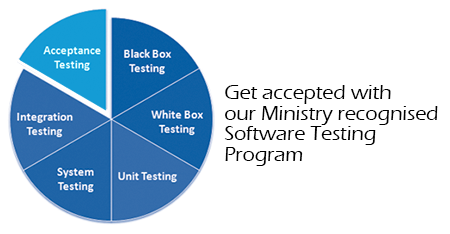 Details of the Software Testing event

Venue : Montreal College of Information Technology
Time : 5:30 PM
Date : 18th August 2017

Event Schedule

Introduction to instructors
Fundementals of Software Testing & Quality Assurance
Mentorship programs
How you can break into the field
Jobs and opportunities
Prerequsits
Enrollment & Finance options
Question time
Career advice
Refreshments


Domain leaders



Chintan Acharya
QA Project Manager at CN • SAP Test Specialist • Integration Test Manager • Senior Business Analyst


Who should do this program
Anyone looking to have a career in Quality Assurance, Systems and Application Validation, Software Testing, Video Games, Usability, Test automation,Testing tools & techniques, Mobile development cycles, Test based development will be a good fit. The good news is that network administration positions are open to individuals of all education levels. Typically aimed at detail-oriented individuals, with a penchant for identifying bugs.

What will you learn?
This course provides a solid view into Software Testing. A complete picture of the testing process, development life cycles, Scope and prioritize testing activities, and techniques to use for optimal results. This software-testing training begins with a deep-dive into the Universal Testing Method and follows with a close look at testing phases, testing approaches, non-functional testing, and testing for different platforms.

Our upcoming info-session details are given below.

Click the "register for info-session" button to register. Please note that you can only sign up for one session per morning.
This is where you can meet experts and get an instant opinion about your career.

MEDIA RELEASE DECLARATION
Montreal College of Information Technology, its representatives and employees reserves the right to take photographs of him/her and his/her property in connection with the above-identified subject. Participants authorizes Montreal College of Information Technology, its assigns and transferees to copyright, use and publish the same in print and/or electronically. He/she agrees Montreal College of Information Technology may use such photographs of him/her with or without his/her name and for any lawful purpose, including for example such purposes as publicity, illustration, advertising, and Web content.